Pommes Anna: A Delicious Way To Eat Potatoes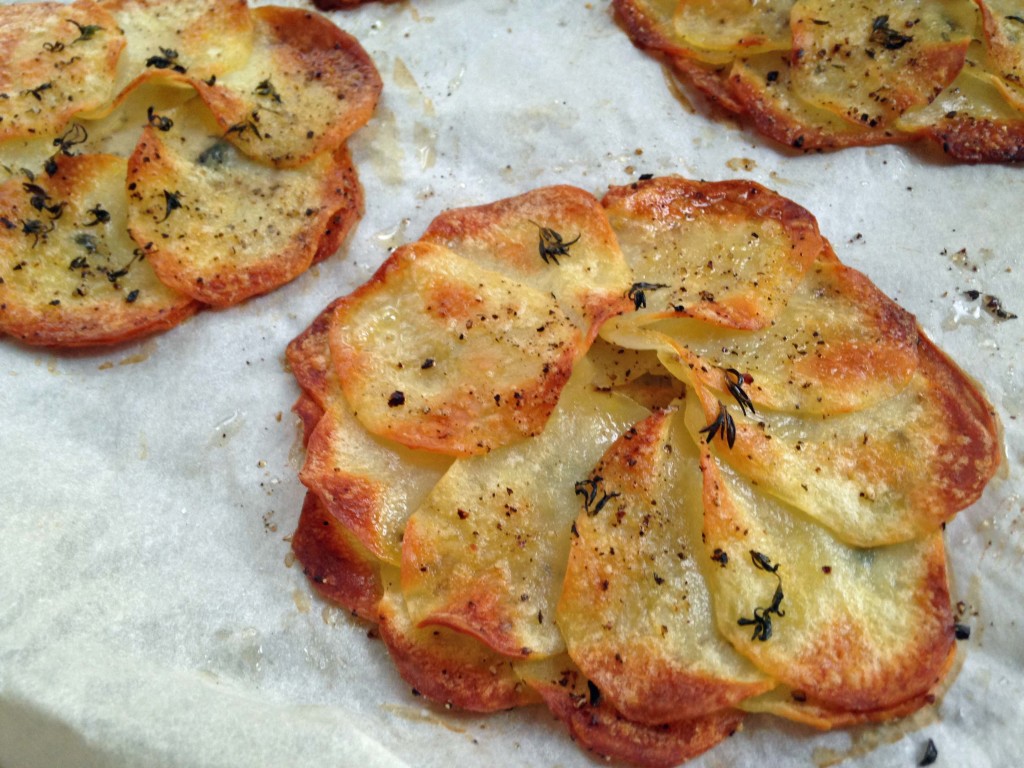 Pommes Anna
When a chef names a dish after someone, it is pretty special. Thoughts of the person have the potential to be muddled with the dish's ingredients forever. I imagine that when the chef who named pommes Anna, evidently a French dude named Adolphe Dugléré, would day dream of his Anna (was it the actress or the lady of the night?), his heart pitter-pattered with simultaneous thoughts of spuds and butter. His body at the stove, his mind wandering away to the passions of Anna somehow intertwined with taters and buttery goodness – the provocative scent of roasted potatoes hanging in the air. An inescapable menage a' trois likely interrupted by an underling – Chef! Pardon, Chef! Vos pommes de terre brûlent!. Your tubers are burning.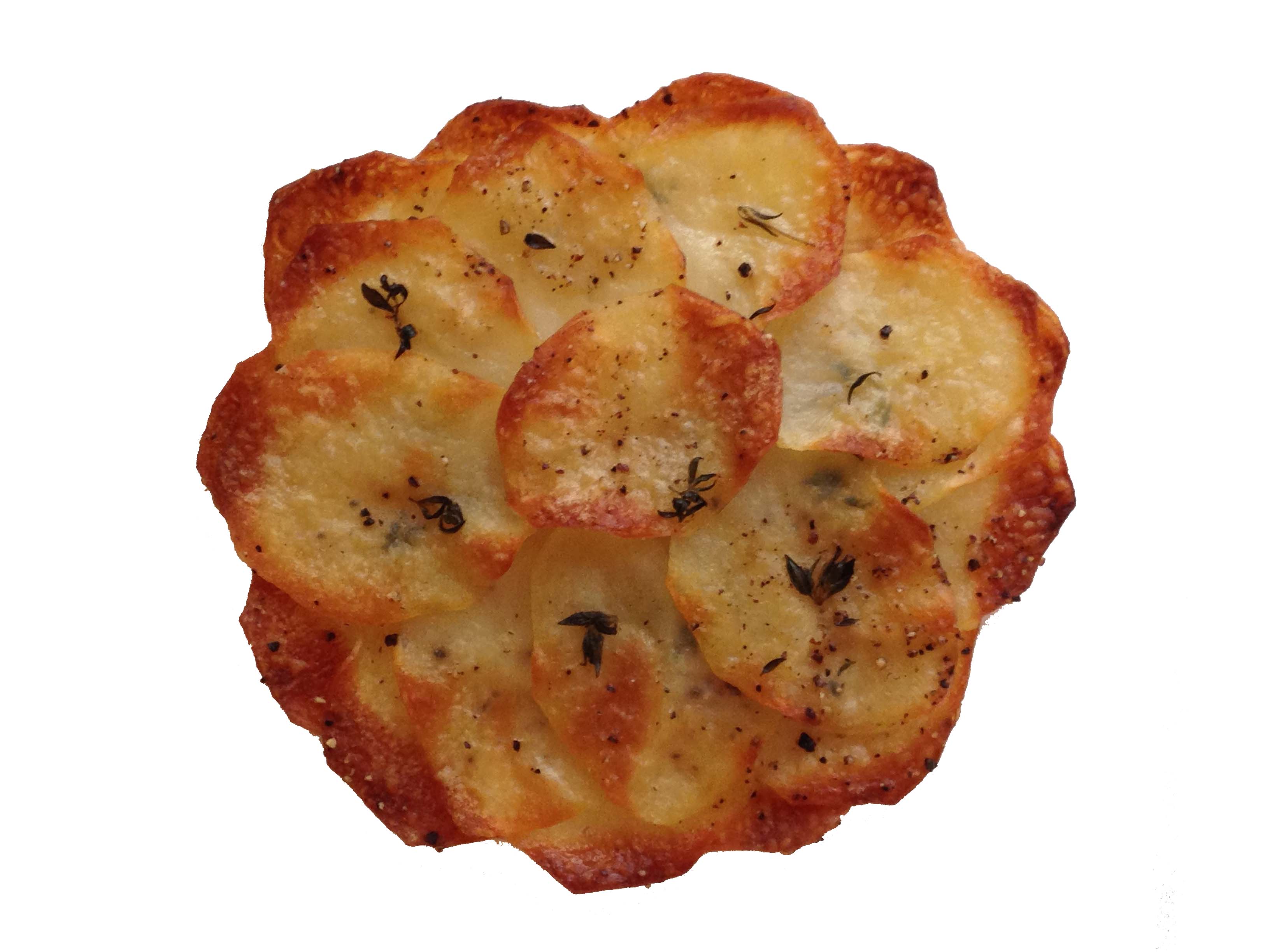 Imagine if it had gone wrong. Even scorned, no one could go forever without eating potatoes and butter. Or, could they? What would a chef do? This pair is too good to let an unhappy ending ruin eating them forever. Maybe you could replace the potatoes with sunchokes, but for matters of the intestines instead of the heart, that probably wouldn't last. Who knows? What is known, is that the coupling of potatoes and butter in pommes Anna is one the best ever. Layered potatoes, both tender and crispy, roasted in butter is simply a pleasure. Anna must have been special!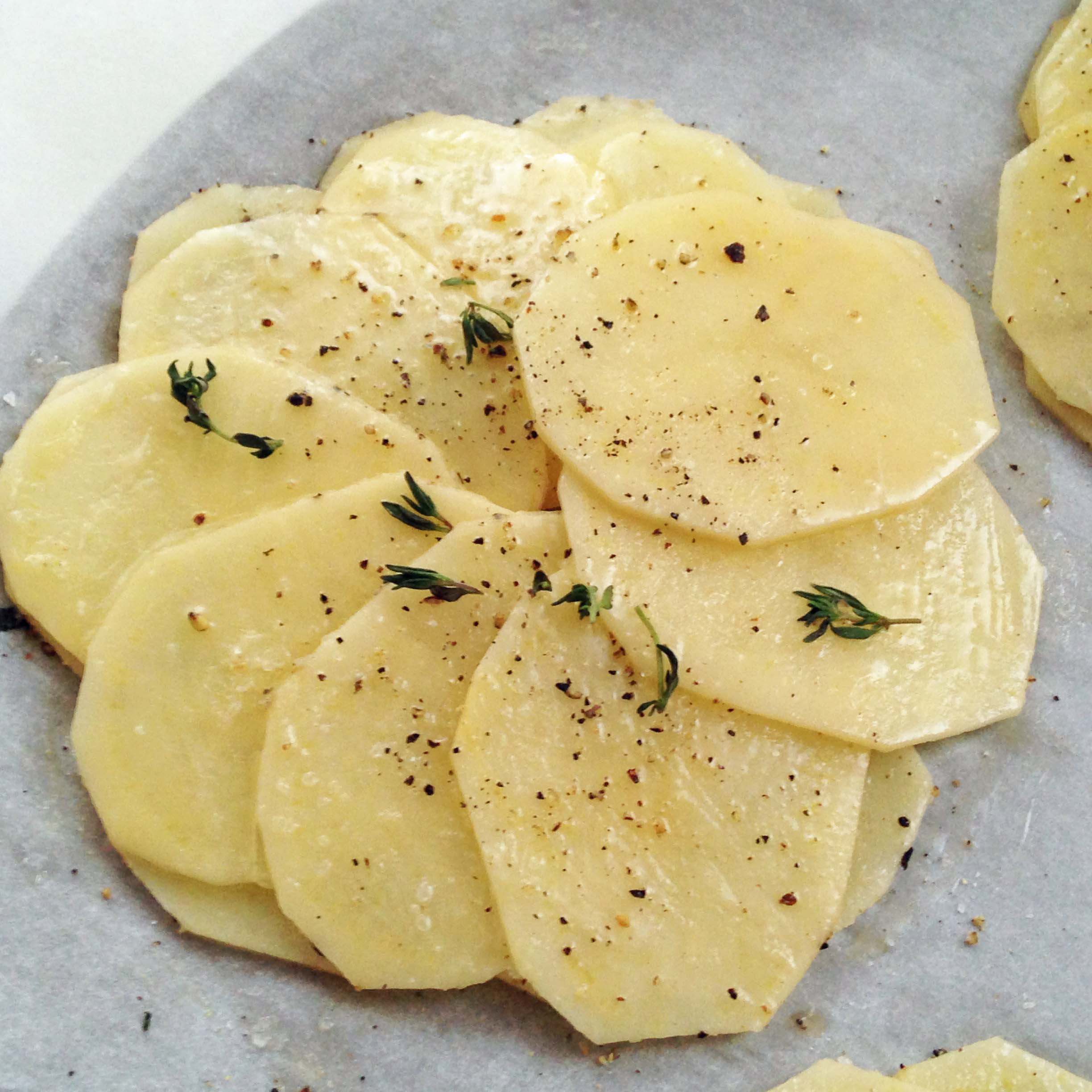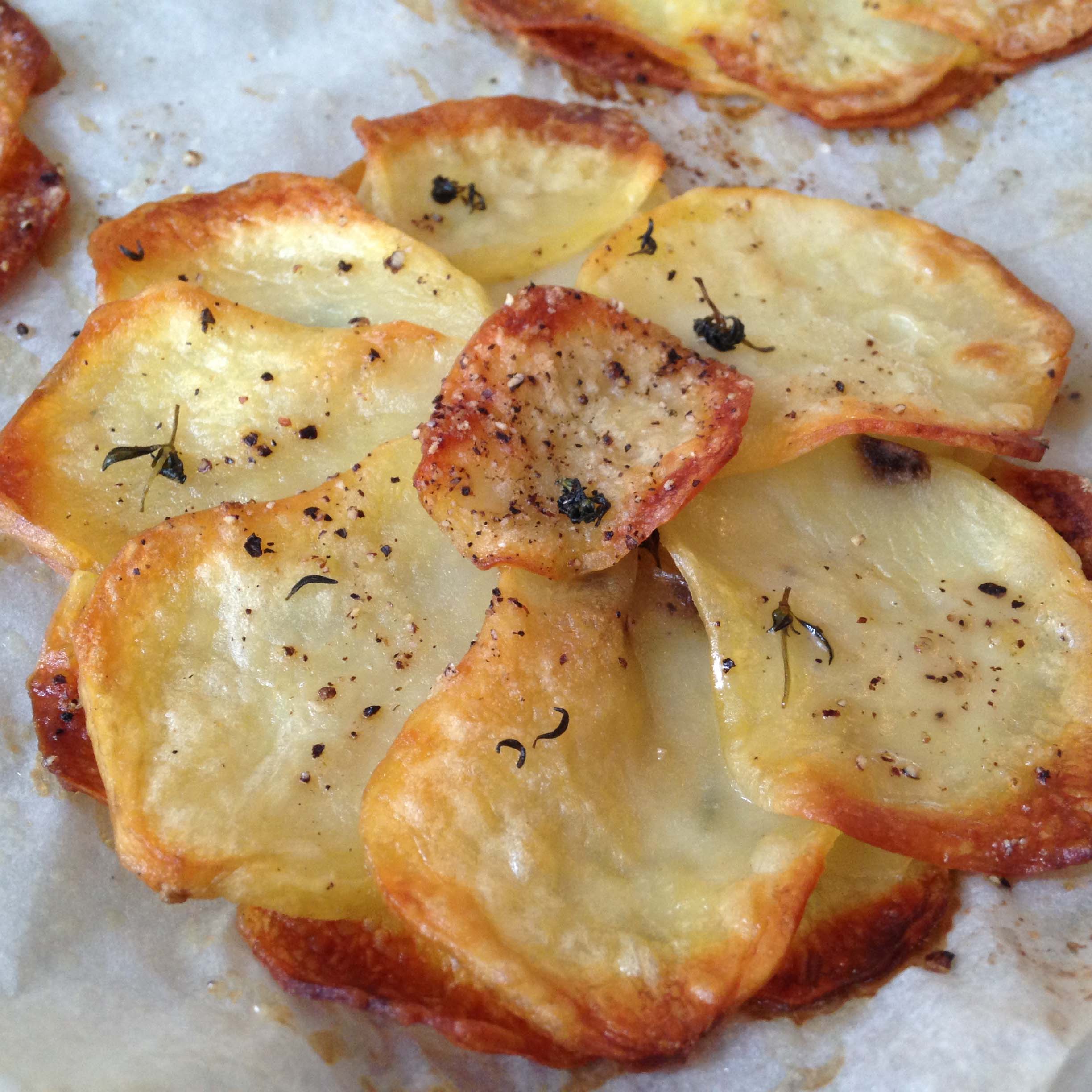 The making of pommes Anna is simple. The skills needed pretty much add up to peeling and slicing potatoes plus melting butter. Slicing the potato as thinly as possible – shooting for 1/8 inch is good – helps, but the end of the world is no closer if they are not perfect. If there is a mandolin or v-slicer in the cabinet, this is a perfect time to use them.
A starchy potato, like your classic Idaho will do the job for pommes Anna. The starchy kind works to help the layers stick together nicely.
The classic pommes Anna used clarified butter, but that seems unnecessary. It is doubtful anyone could tell the difference.
The only thing left is salt and pepper and, maybe, a little fresh thyme. The thyme is optional, but it does well with the butter. It is a worthy addition to the dish.
A pommes Anna seems like a side dish that would be seen on many a dinner menu, but don't underestimate the beauty of a pomme Anna under some poached eggs at breakfast or brunch.
Pommes Anna – Step By Step Video
Here is my simple and delicious recipe for pommes Anna…
Potatoes Anna with Thyme
2015-03-26 05:17:17
Serves 4
Delicious layers of buttery potatoes - tender on the inside with crispy edges.
Nutrition Facts
Amount Per Serving
* Percent Daily Values are based on a 2,000 calorie diet. Your Daily Values may be higher or lower depending on your calorie needs.
Ingredients
3-4 medium baking potatoes
4 tbsp of butter
a small bunch of fresh thyme
salt and pepper
Instructions
Preheat the oven to 400F.
Line a baking tray with a piece of parchment paper.
Wash and peel the potatoes.
Melt the butter.
Using a knife, v-slicer or mandolin, thinly slice the potatoes (try for an 1/8th of an inch) end to end slicing as evenly as possible.
On the parchment paper, fan out one layer of potatoes in a circle about 5 inches in diameter.
Using a pastry brush, coat the potato fan with butter.
Season the potato fan with salt and pepper.
Sprinkle the potato fan with sprigs of fresh thyme.
Add a second layer of fanned potatoes. Brush with butter, season with salt and pepper and season with fresh thyme.
Repeat the above steps until 4 individual potato rounds are made.
Cover the baking pan with aluminium foil. Bake the potatoes for 25-30 minutes until they are tender.
Remove the foil and bake another 25-30 minutes until the potatoes are golden and the edges are crisp.
Serve hot.
Notes
You can add as many layers as you would like. The thicker the potatoes, the longer the first baking time will be.
The potato layers can be baked, cooled and reheated the day of the meal. For this dish, freshly made is best though.
Other herbs like rosemary can certainly be used as can finely chopped garlic. Very thin slices of sweet onion can also be put into the layers.
For a vegan option, omit the butter and replace it with vegan, soy margarine.
The Culinary Exchange http://www.theculinaryexchange.com/
I hope you enjoy!
Keep Eating! Keep Innovating!
Have you ever made Pommes Anna? Let us know all about it in the comments or on Facebook.
The Culinary Exchange can also be found on Twitter, Instagram, Pinterest, Google+ and YouTube.
Come On! Follow Along!