How To Make Apple Pie – A Revisit
I know, I know another how to make apple pie post. I know you know how to make apple pie, but even for our classics a revisit is worthwhile. No, the basics of how to make apple pie haven't really changed, but we might be able to do better than just granny smith apples. Also, a fine butter crust is very nice, but we seem to always forget to season it. Season the crust? Sure, why not? A dash of spice in the crust is nice. Oh, and then there are the raisins and streusel topping to discuss. The spring form pan, too!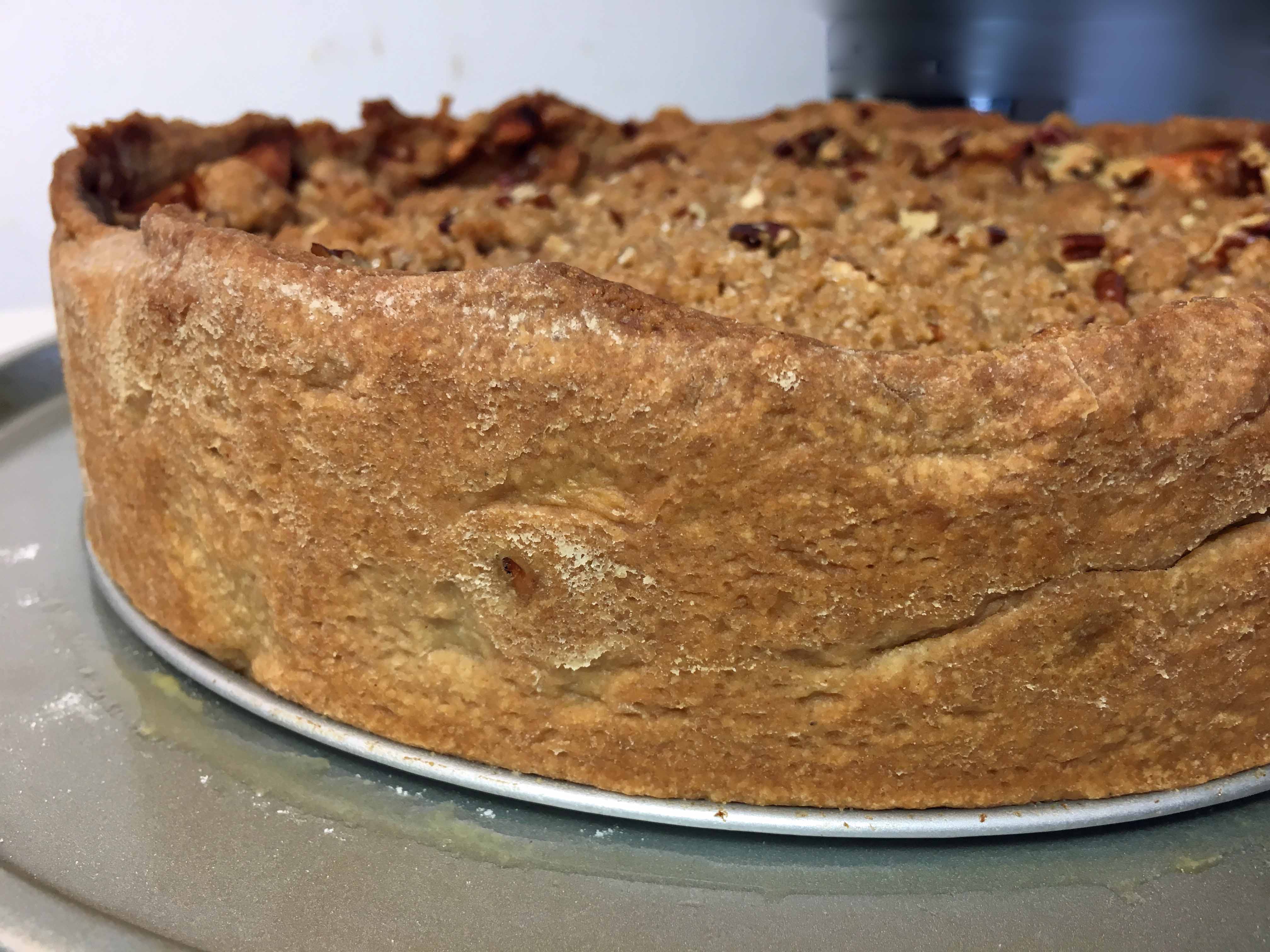 How To Make Apple Pie – The Apples
It seems right to start the discussion of how to make apple pie with the apple part. Always seems that granny smiths are the go to apples. I get it – tart apples that bake up nicely without getting mushy. But what is wrong with a little mushy? Should we not be mixing our apples such that there is a nice mix of tart and sweet apples plus firm and soft apples? By doing so we will bring lots of nice flavor and texture to the pie. I have had the pleasure of baking with goudrinette apples. They make a divine pie. If you can get your hands on some goudrinette apples or elstar apples, these will cover the tart firm side (if you can't go with granny smith). A gravenstein would work nicely, too. With the addition of some gala and pink lady you have a good balance. The pie will have nice pieces of apple with nice texture and a rich sauciness around them. Perfect! Ask you apple guy at the farmers market! They are great resource,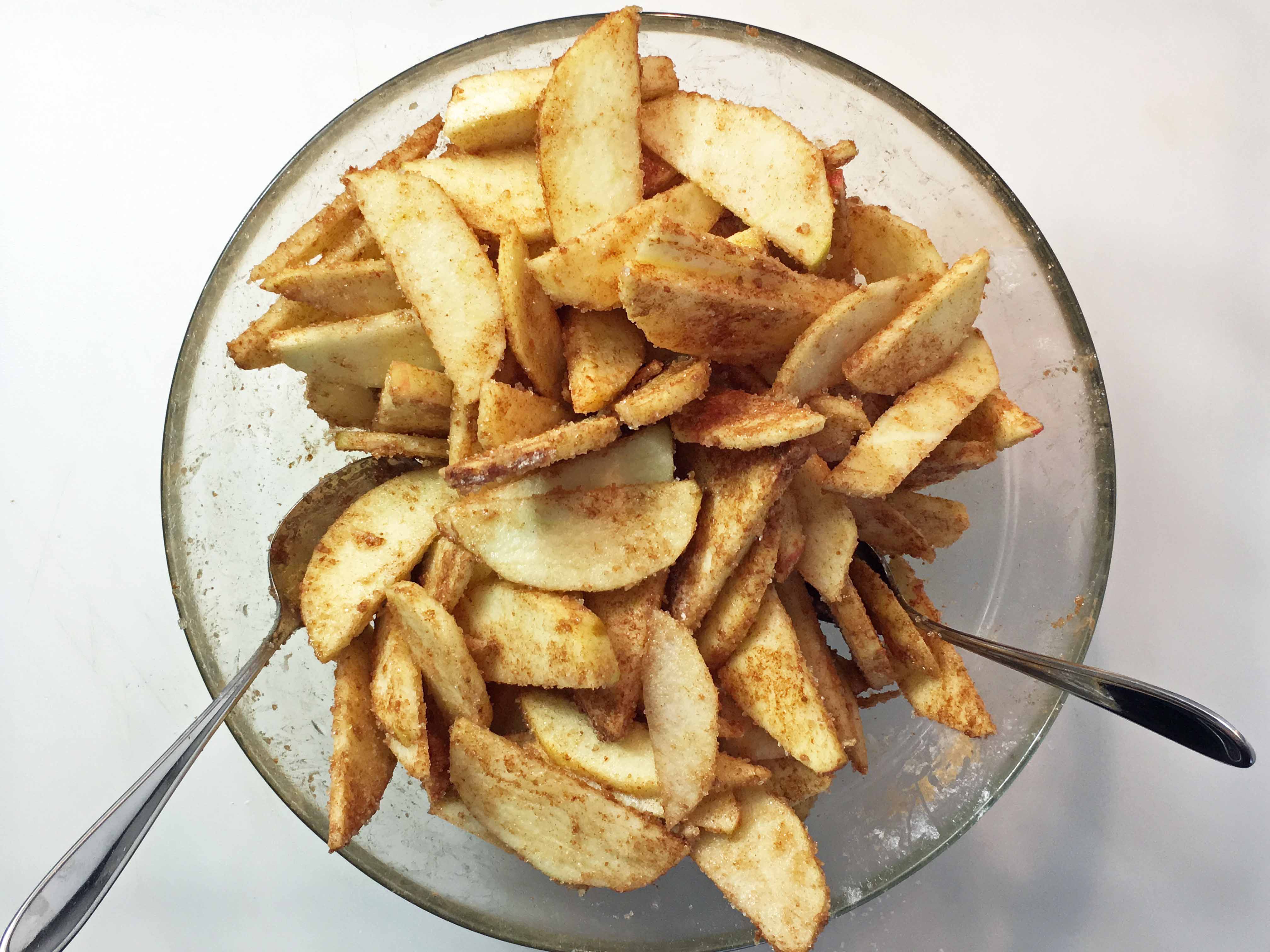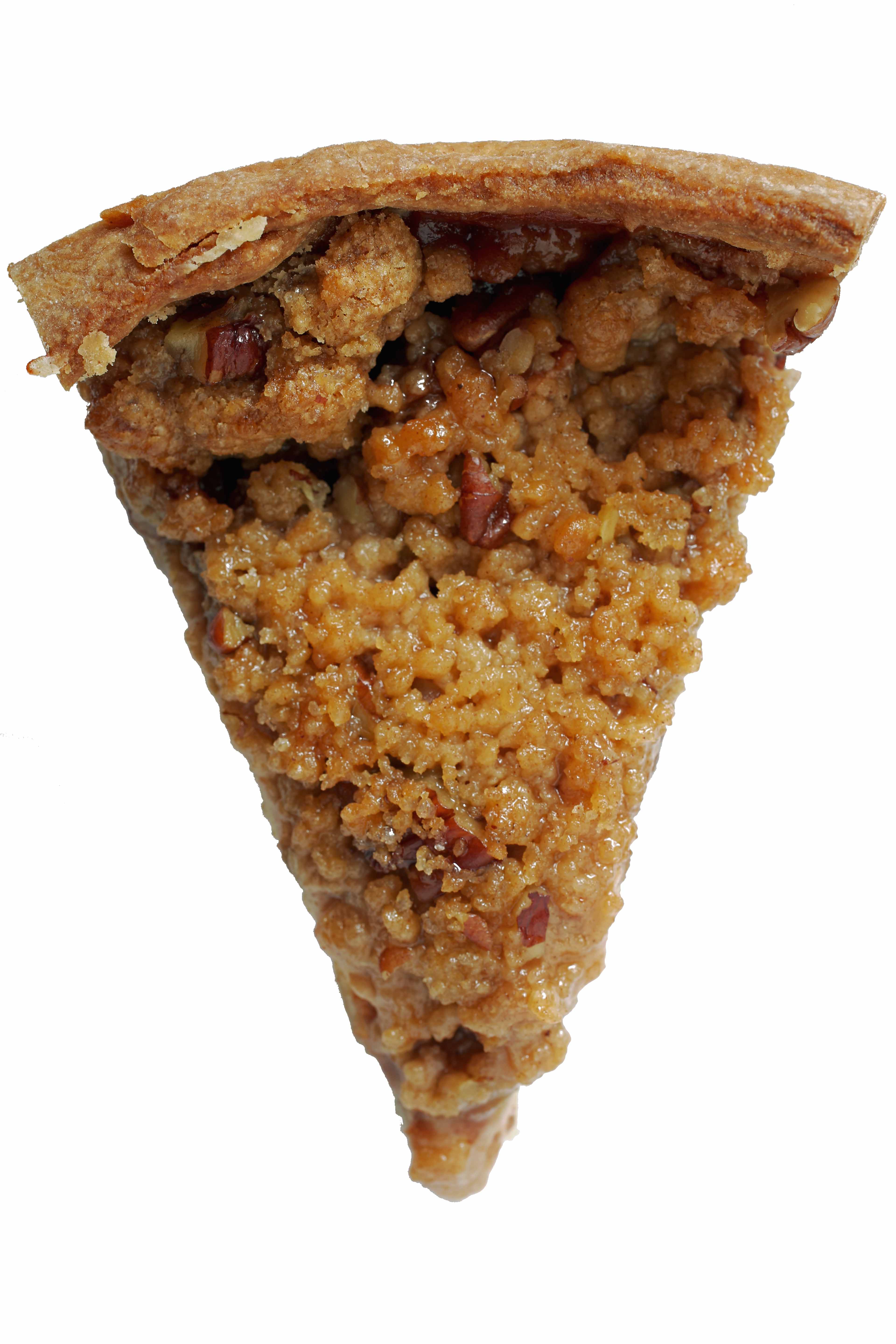 How To Make Apple Pie – The Crust
Ahh, the crust. Butter cut into flour, gently moistened and rolled out to hold the apples. A buttery, flaky crust is one to behold. You don't really ever screw with the fundamentals of a crust, but that buttery, flakiness can be made better! A little spice is nice! A pinch of cinnamon, nutmeg, ginger and cardamom in the crust does come through nicely and really goes well with the apples. It is worth trying.
How To Make Apple Pie – The Crust But Not On The Top
A crust on the top of an apple pie is nice, but a pie topped with a crunch streusel is very nice. The added spice and texture of a streusel is a joy to eat with the apples. A streusel topping on an apple pie is not used that often, but I am not sure why because it sure is good!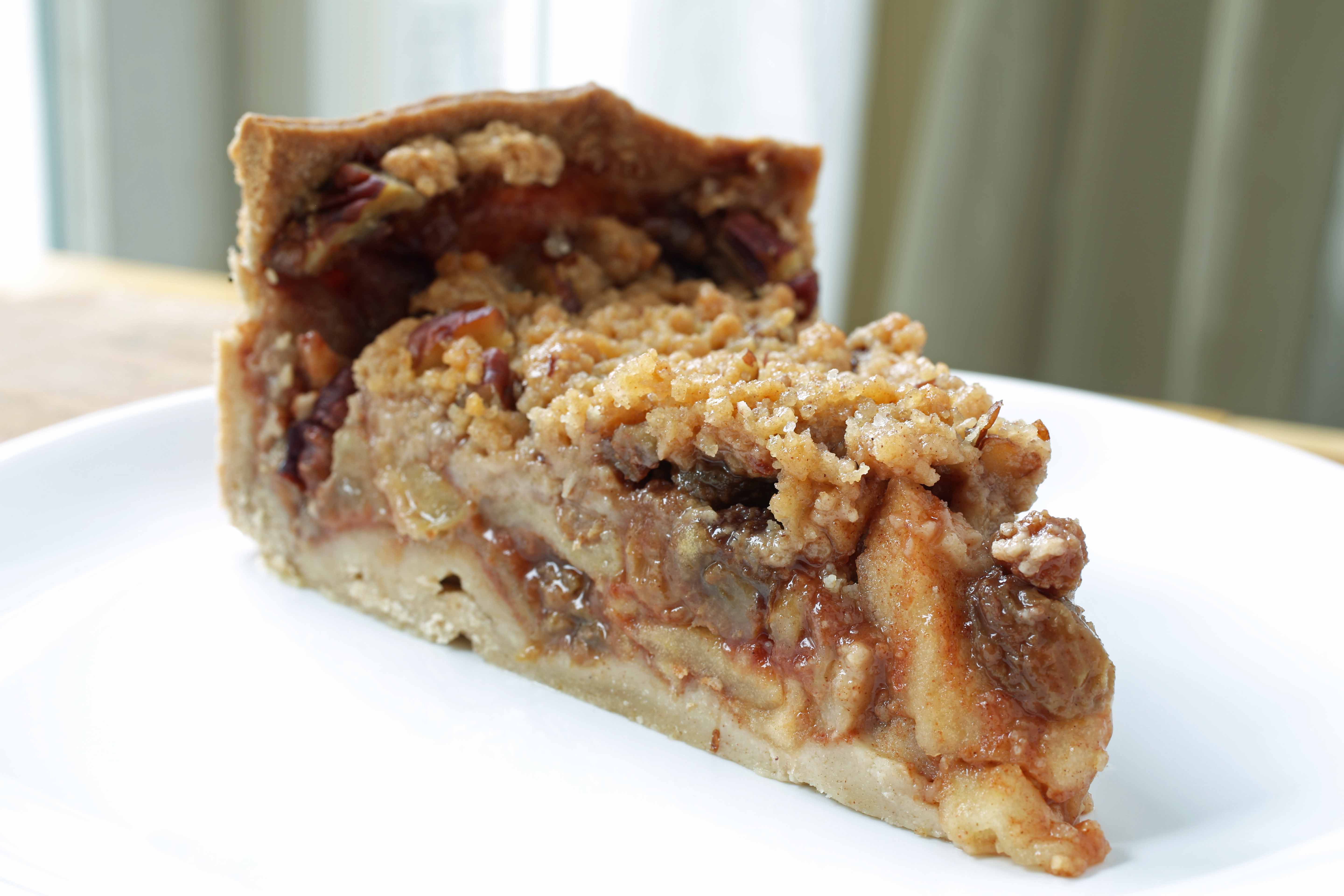 How To Make Apple Pie – The Raisins and The Pan
You are either a raisin person or not. I am usually not, unless I am looking for something a little different. The addition of some plumped raisins goes nicely with a mix of apples and spices. So for this pie, they are in. And as far as the pan goes, skip the pie tin and use a 9 inch spring-form. This brings a bit of deep dish thinking to the pie. That simply means that there is huge potential to get more apples and crust in a serving of pie. I can't see anything wrong with that at all!
It is worth noting that this pie can be made a day or two ahead and can be stored in the fridge for a few days and on the counter for a day or 2.
Yep, you guessed it – the 'How To Make Apple Pie With Streusel Topping' video is below and, yes, the full recipe follows!
How To Make Apple Pie
2017-10-31 10:28:22
Serves 12
A delicious, streusel topped apple pie!
Nutrition Facts
Amount Per Serving
* Percent Daily Values are based on a 2,000 calorie diet. Your Daily Values may be higher or lower depending on your calorie needs.
Ingredients
Butter for the pan
½ cup of raisins
For The Apples
6-8 apples - a mix of firm - tart apples with softer sweet apples (Granny Smith, Gala, Goudrinette, Elstar, Pink Lady, or your favorite pie apples)
1/2 cup of sugar
2 tbsp flour
1 tbsp cinnamon
For The Crust
2 cups of flour
½ cup of brown sugar
1/4 tsp of salt
1/2 tsp cinnamon
1/4 tsp nutmeg
1/4 tsp ginger
1/4 tsp cardamom
1 stick of cold butter
4-5 tbsp ice water
For The Streusel
½ cup of flour
¼ cup of brown sugar
¼ cup of white sugar
½ teaspoon of cinnamon
¼ teaspoon of nutmeg
1 stick of cold butter, cubed
⅓ cup of chopped pecans
Instructions
Preheat the oven to 350F.
Coat a 9 in springform pan with butter
In a small bowl, pour boiling water over the raisins. Allow them to plump for 10-15 minutes.
For The Apples
Peel, core and slice the apples into ¼ inch slices.
In a large bowl, mix the apples with sugar, flour and cinnamon.
Drain the raisins and add to the apple mixture.
For The Crust
Cube the cold butter.
In a bowl mix the flour, brown sugar, spices and salt.
With a fork, pastry cutter, your fingers, or a food processor, cut the butter into the flour, sugar, spices and salt until the mixture looks like coarse sand. If using a food processor, pulse the flour, sugar, spices and salt together then add the butter and pulse until the mixture looks like sand. The idea is to rub the butter and flour together so that the flour is totally covered by the fat.
Add water to the mixture 1 tbsp at a time mixing or pulsing between additions until the dough, when pushed together between your fingers, just sticks together and can form a ball. You probably will need 4-5 tbsp, use as little water as possible.
Pour the mixture onto a clean work surface and push/fold the mixture until it can be formed into a disk. Wrap the disk in plastic wrap and refrigerate for at least 30 minutes. Fully chilled is best.
After refrigeration, remove the dough from the plastic wrap and place it on a floured work surface.
Roll the dough to fit into the springform pan making sure it reaches fully up the sides.
Pour in the apple mixture.
For The Streusel
In a medium bowl, mix the flour, brown sugar, white sugar, cinnamon, and nutmegl. Rub the cold butter into the streusel mixture until it looks sandy. Stir in the pecans. Mix well.
Spread the streusel on top of the apples evenly.
Place the pie onto a baking tray to catch any drippings.
Bake the pie on a baking tray for about 1 hour until the pie is bubbling and the streusel is golden brown and crisp.
Serve warm with ice cream.
The Culinary Exchange http://www.theculinaryexchange.com/
I hope you enjoy!
Keep Eating! Keep Innovating!
How do you make apple pie? Like Deep Dish Apple Pie? Let us know in the comments or on Facebook.
The Culinary Exchange can also be found on Twitter, Instagram, Pinterest, Google+ and YouTube.
Come On! Follow Along!