How To Make Brussels Sprouts with Pancetta and Pecorino
There are many ways to make Brussels Sprouts. Pretty much anything is possible from roasting the sprouts to shaving them thin and making a Brussels Sprout slaw. My favorite way to make Brussels sprouts is to simply roast them with a dash of olive oil and salt and pepper, but sometimes I really like to gussy them up. As with many things, bacon (or in this, case Pancetta) brings out the best in other ingredients, Brussels sprouts included. Pecorino is another great addition. The salty, nutty flavors in the cheese with the porky goodness of the pancetta go well with the cruciferous notes of the Brussels sprouts, and also brings out their sweetness. DELICIOUS!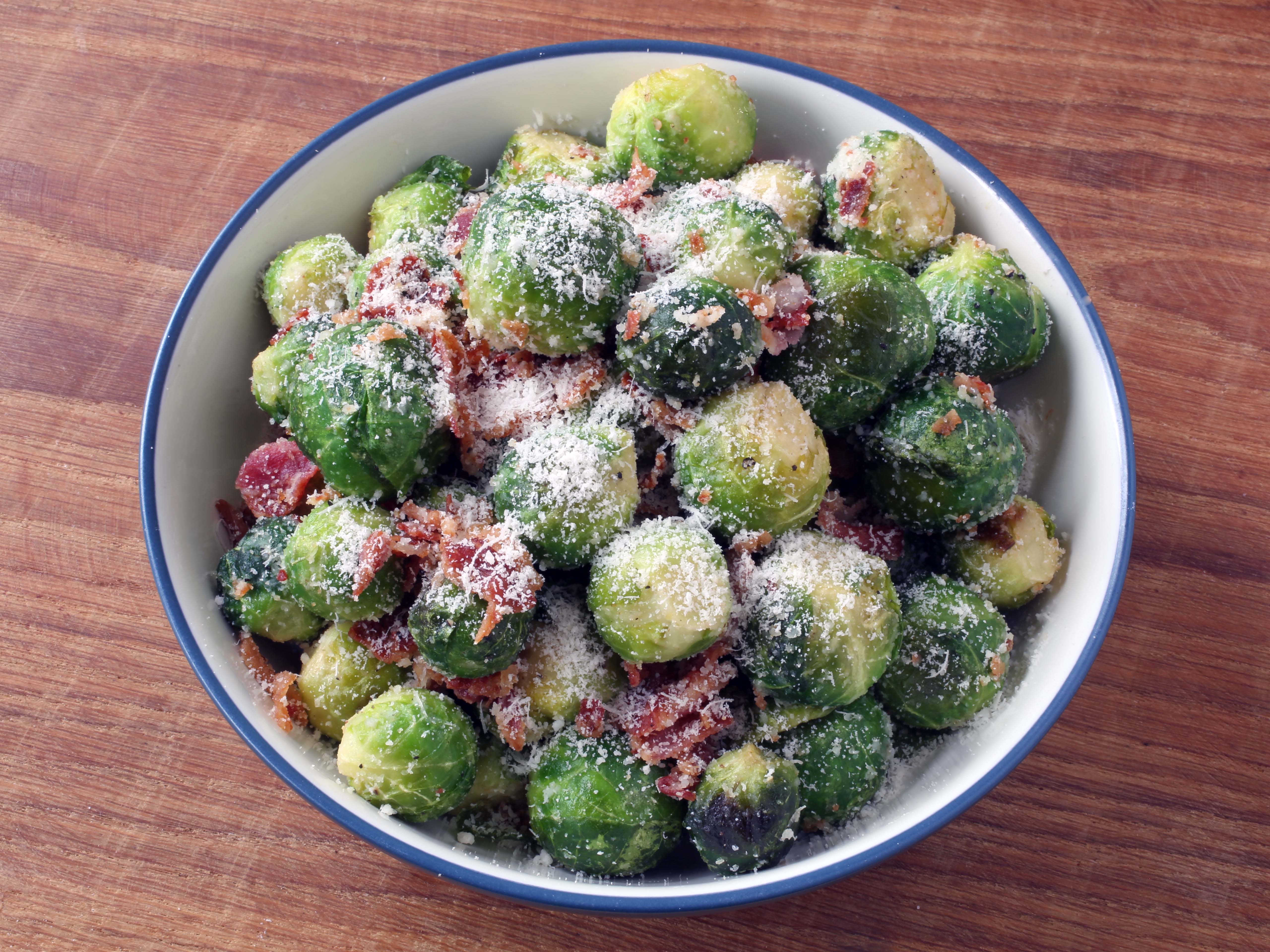 The Sprouts
For this side dish, the sprouts are simply roasted in some olive oil. Anytime I make Brussels sprouts, I try and find the tiniest ones available. They cook up sweet and tender. Of course, if I am in a rush, I try and find the pre-cleaned Brussels sprouts and go with those. Trimming Brussels sprouts is likely their only downside. I never met a Brussels Sprout I didn't like, except the ones that have been cooked until grey and mushy. They should be roasted until just tender and still nice and green.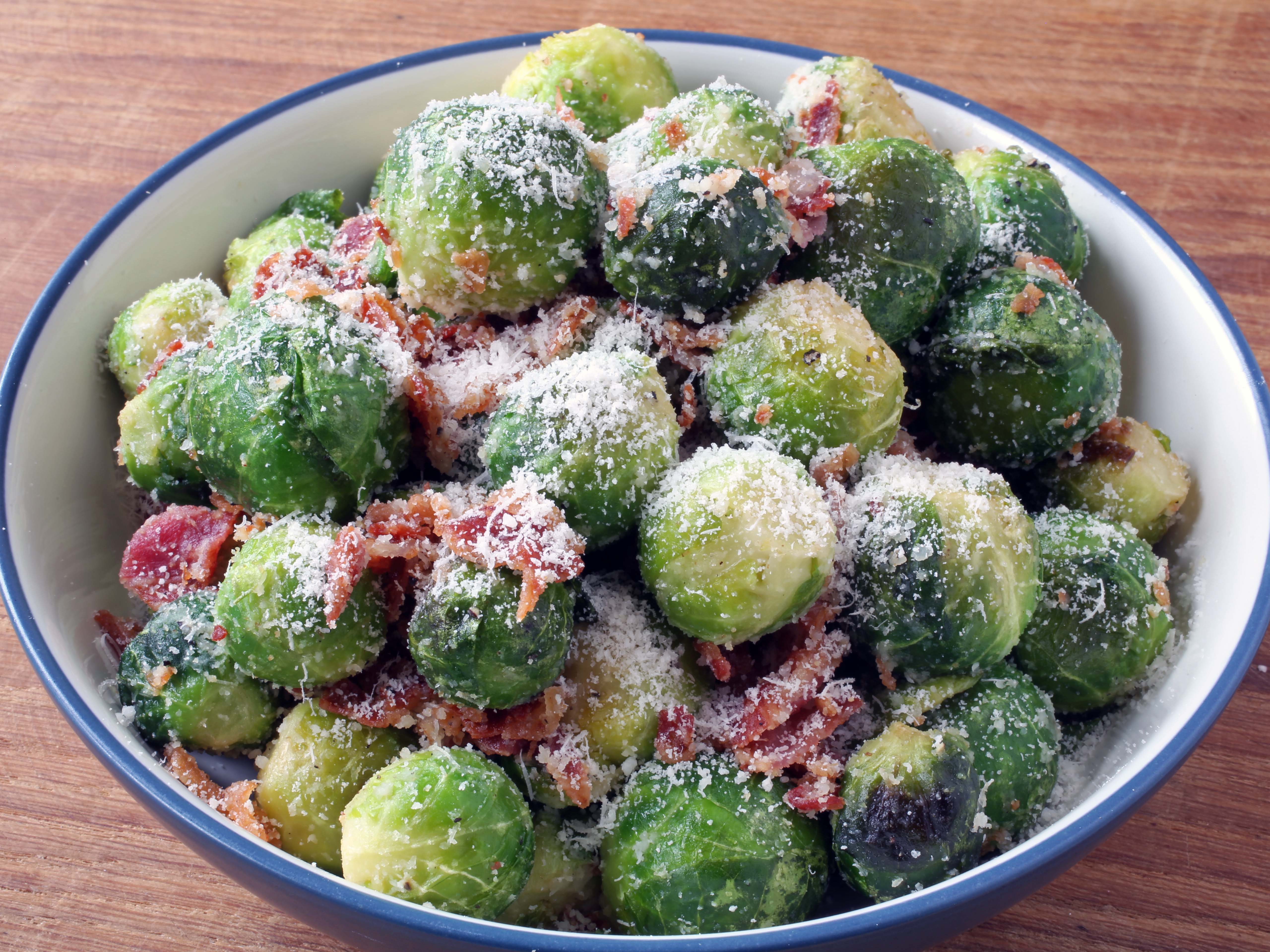 Make Brussels Sprouts Better with Pork
The saltiness and crunch of pancetta go very well with Brussels sprouts. Sure, you can use regular bacon, but find some pancetta and try it out. Pancetta is only salt cured, not smoked, so there is more porky flavor in it. In Italy, pancetta is often eaten raw, but for this side dish, I prefer to cook it in the oven until it is just crisp. Sprinkled in with the roasted sprouts gives the dish a little extra crunch that is most welcome.
Make Brussels Sprouts Great with Cheese!
A little tang can be a great idea for Brussels sprouts, especially when that tang comes from sheeps milk cheese. Pecorino is a great addition to this dish. Its tangy, nutty flavors go very well with the salty pancetta and nutty, roasted notes of the sprouts. Yes, sure, you can default to parmesan, but you would be missing out. Try the pecorino. This cheese is great in many pasta dishes, too, like cacio y pepe and bucatini a'l Amatriciana. You can't go wrong!
The "how to make Brussels Sprouts with Pancetta and Pecorino" video is below. It shows all the steps needed to make this delicious side dish. The full recipe follows.
Brussel Sprouts with Pecorino and Pancetta
2016-12-12 03:47:39
Serves 6
An simple brussel sprout dish! So tasty with cheese and bacon.
Nutrition Facts
Amount Per Serving
* Percent Daily Values are based on a 2,000 calorie diet. Your Daily Values may be higher or lower depending on your calorie needs.
Ingredients
2 lb of Brussels Sprouts, cleaned
8 rounds/slices of pancetta
¼ cup of grated pecorino cheese
Olive oil
salt and pepper
Instructions
Preheat the oven to 400F.
Place the sprouts in a large bowl. Toss the sprouts with olive oil to coat.
Roast the Brussels Sprouts for 20-25 minutes until just tender.
While the sprouts are roasting, brown the pancetta over medium heat in a non-stick pan until crisp.
Drain the pancetta on paper towel. With a sharp knife, chop the pancetta into medium pieces. Add the pancetta and cheese to a large bowl.
When the Brussel sprouts are done roasting, toss them with the cheese and pancetta. Adjust the seasoning with salt and pepper.
Serve immediately.
Notes
The pecorino can be replaced with parmesan cheese. Pancetta can be replaced with bacon. The pancetta can also be baked.
The Culinary Exchange http://www.theculinaryexchange.com/
For More Brussels Sprouts Inspiration, check out
this post
.
I hope you enjoy!
Keep Eating! Keep Innovating!
How do you make Brussels Sprouts? Let us know in the comments or on Facebook.
The Culinary Exchange can also be found on Twitter, Instagram, Pinterest, Google+ and YouTube.
Come On! Follow Along!