A Not So Traditional Cacio e Pepe
I have jabbered on this blog a lot about simple, traditional pasta sauces. They exemplify cooking with only a few ingredients can be absolutely delicious. Amaticiana, Pesto, and Marinara all have the simplest of (and really very few) ingredients that, when brought together, have stood the test of time. These sauces are (and always will be) classic and so delicious! Another classic, although not as well know (unless you are a true Roman), is called Cacio e Pepe. If you thought the others had only a few ingredients, this sauce only has 3, if you include the pasta cooking water – Pecorino Romano cheese (the Cacio), Black Pepper (the pepe) and Pasta Cooking Water. Cacio e pepe is unbelievably good!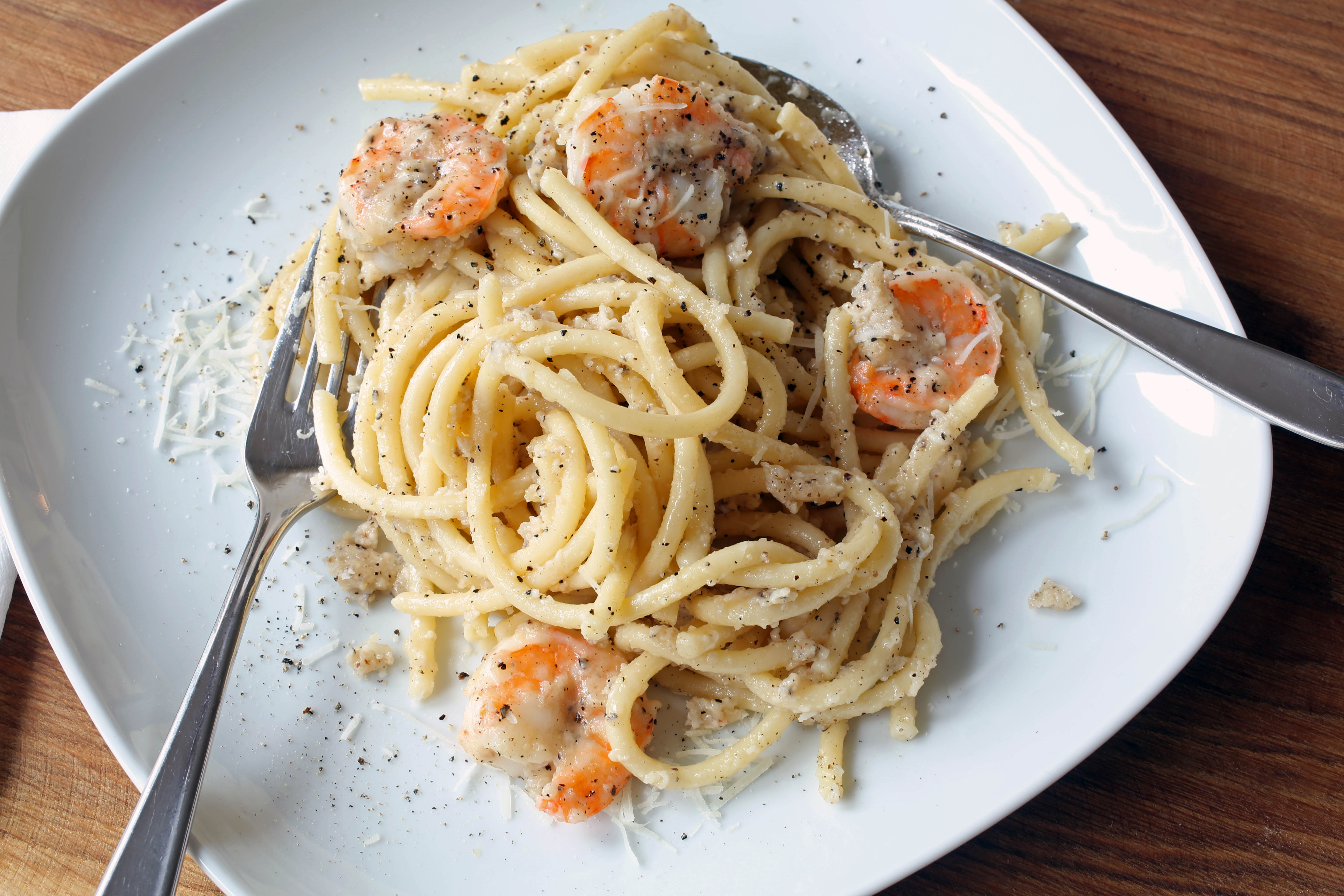 The preparation could not be simpler – mix the cheese with black pepper, melt and bind this mixture in hot pasta cooking water, and mix in the noodles. The sheepy-tartness of the cheese and spice of the black pepper are really an unbelievable pair in this Roman delight. The hardest part about Cacio e pepe may just be picking the noodle shape. Me? I like a bucatini or other long noodle, but tubes work, too.
The addition of shrimp is not at all traditional. I just figured it would be tasty and indeed it is. The sweetness of the shrimp plays very well with the black pepper. W know this from other cuisines. Yes, the cheese makes the purist gasp because cheese with shrimp or fish is some kind of sin, but I really don't think it is. The shrimp's sweetness wins the day again and fits well with the sheepy-tang of the cheese.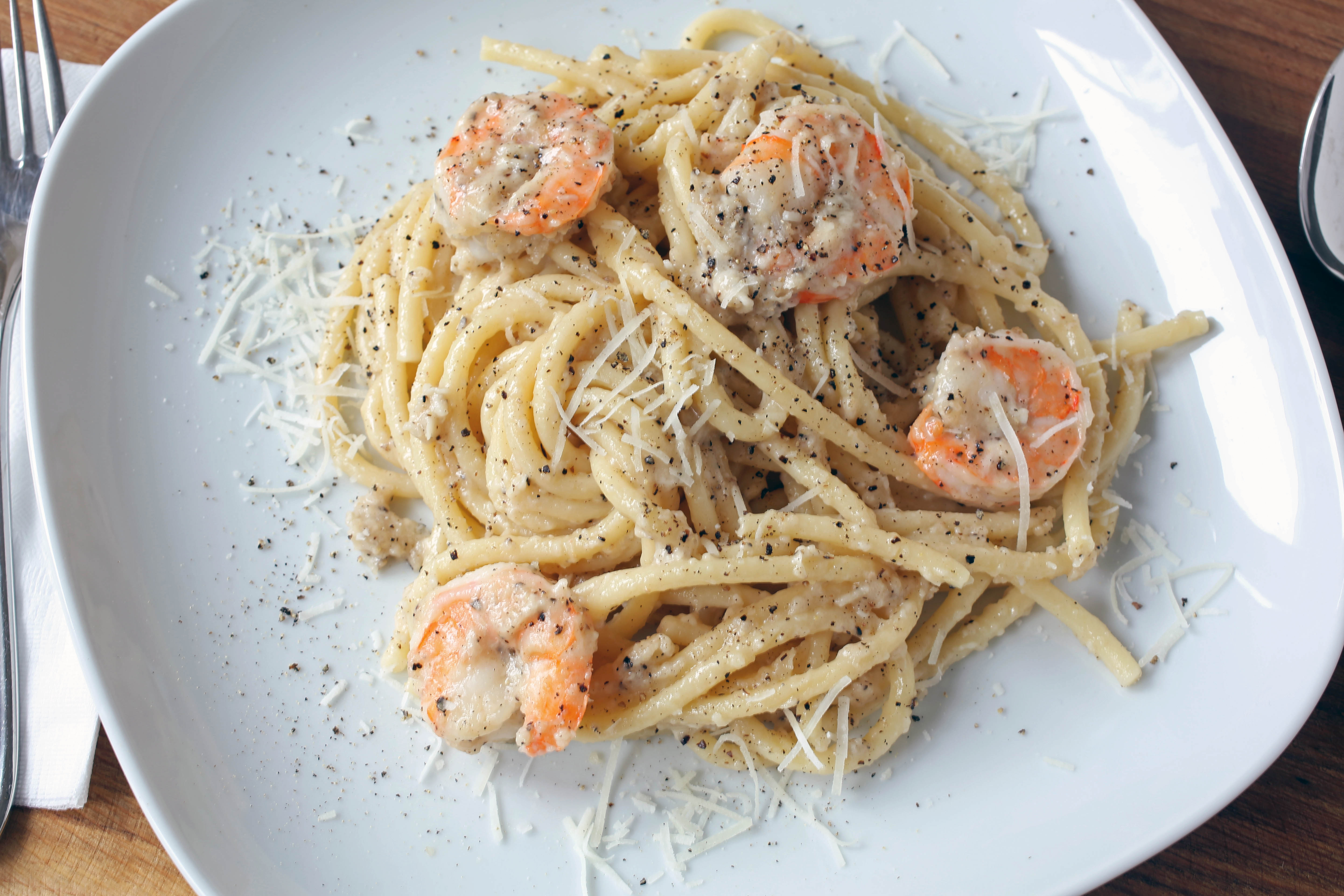 With the addition of shrimp, you end up adding another non-traditional ingredient – butter. The shrimp gets cooked in butter first and then the sauce is created in the same pan. You could cook the shrimp separately and simply make the Cacio e Pepe in a warm bowl, but it always seems to me that there is no reason to dirty one more dish or pan. If you want tradition, you will have to skip the shrimp all together.
Here is how I make Cacio e Pepe with Shrimp…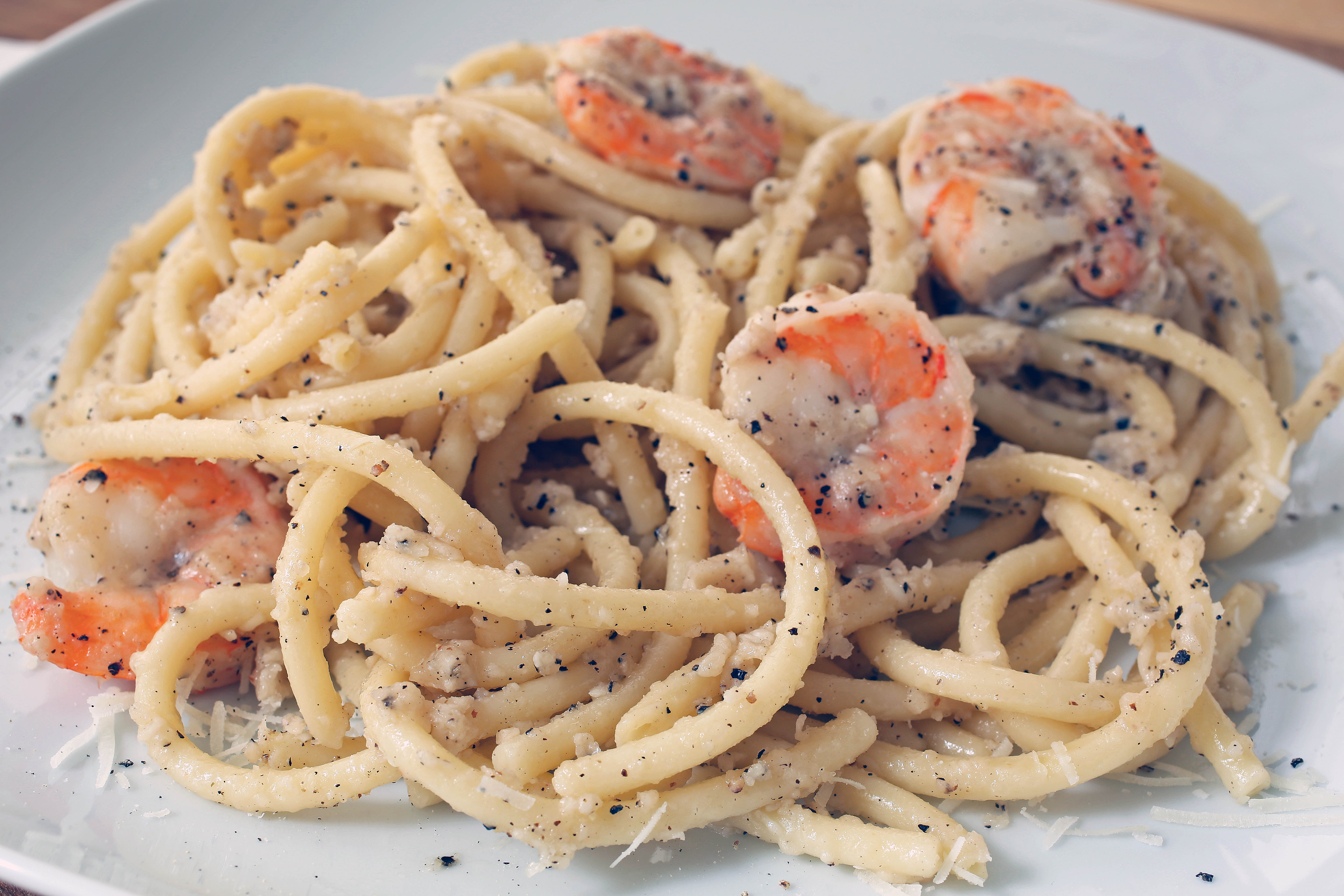 Keep Eating! Keep Innovating!
Have you ever had Cacio e Pepe? Let us know all about it in the comments or on Facebook.
The Culinary Exchange can also be found on Twitter, Instagram, Pinterest, Google+ and YouTube.
Come On! Follow Along!