How To Make Custard Style Ice Cream
To make custard style ice cream is to make the best ice cream. This is the French chef coming out in me. No, I usually don't want to take the more difficult route in the kitchen. Plus, it seems to me that all the extra work to make custard style ice cream is something that has been pushed by our "food as entertainment" culture. The shiny pictures of the nice double boilers that everyone is sure to want and the famous chef telling us how to temper eggs was fine, but, in the end, not necessary. You can make custard style ice cream, or any custard for that matter (and lemon curd for that matter), without tempering and without a double boiler. So, ow do I make it easy? All you really need is a thermometer.
How To Make Custard Style Ice Cream – Old School
A custard style ice cream is in the custard style because of egg yolks. To make custard style ice cream, it is necessary to separate eggs and, ultimately cook the ice cream base to turn it into a custard sauce, sometimes called creme anglaise. Custard sauce churns up very nicely into delicious ice cream! As it has been shown and discussed many times, the typical way to make this is to separately warm the (flavored) milk and/or cream, whisk the eggs and sugar in the top of a double boiler, then slowly temper the egg/sugar mixture with hot milk/cream. The mixture is then whisked in the double boiler until it reaches that magic state – an ability to coat the back of a spoon. This method to make custard style ice cream works fine, but it is more intensive than needed.
How To Make Custard Style Ice Cream – New School
If it is that magic state we are striving for, couldn't we just mix everything together then heat the mixture to the correct temperature? The tempering of the egg yolks is done to help make sure that they don't scramble, but heating them slowly will achieve the same thing. When the mixture reaches temperature, on a double boiler or in a regular pot, it will thicken and coat the back of the spoon. The new way to do this is to whisk the sugar and egg yolks in a bowl until pale then the milk/cream is whisked into the yolk/sugar mixture and the whole mixture is heated slowly in a regular pot with constant whisking. The magic temperature that needs to be achieved can be read with a candy or instant read thermometer. So, what is the temperature then? About 175-180F, maybe a dash hotter. You will see it thicken and it will coat the back of a spoon at that temperature. No, you still can't boil hotter than that because those yolks will scramble so heat slowly and whisk.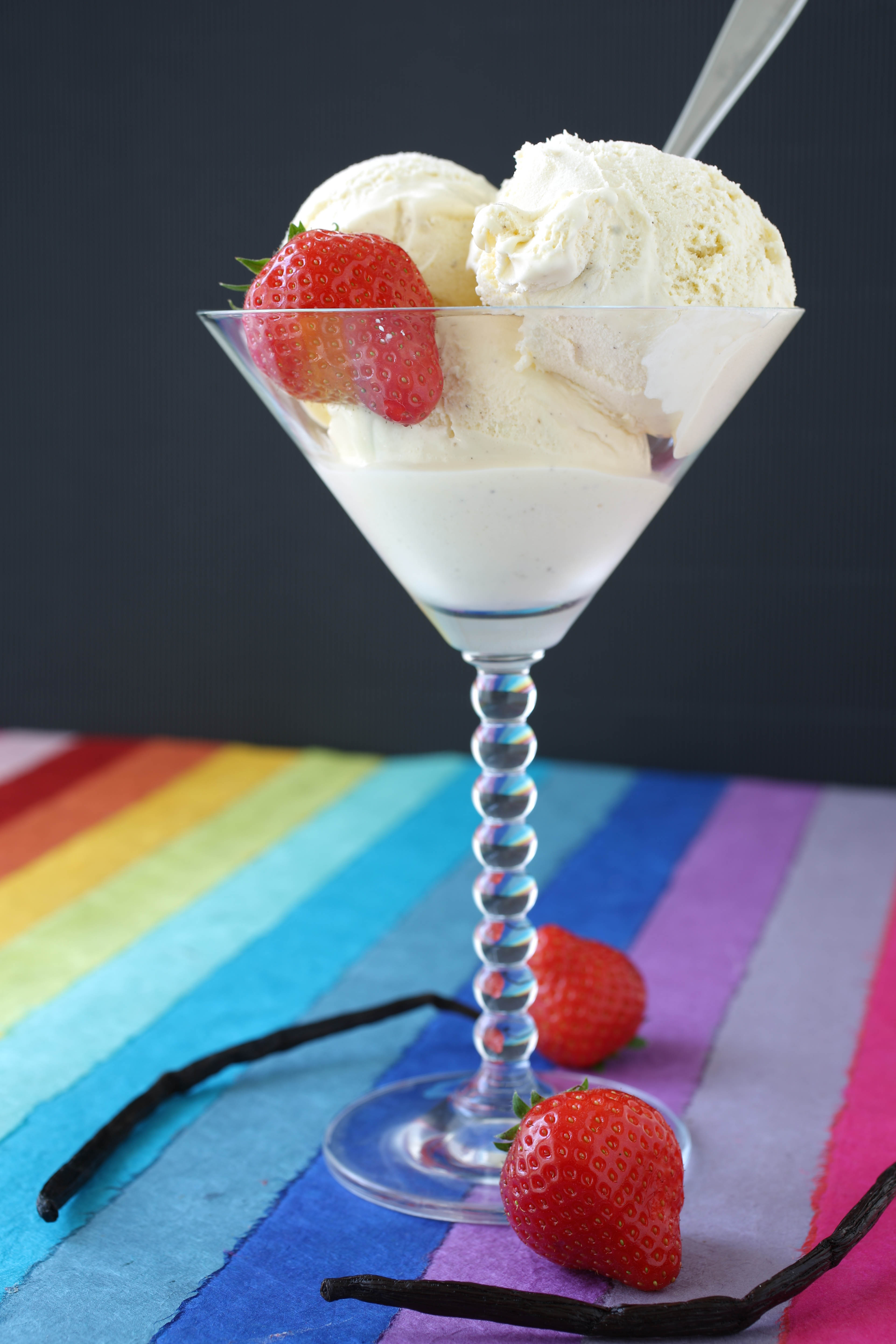 How To Make Custard Style Ice Cream – The Flavors
The new school technique begs the question – when you make custard style ice cream this way, how do you flavor it? After all, the step in which you heat the milk/cream separately is also a step where you can steep flavor into the mixture. True, but you can get around this a few ways. First, if you are just making vanilla, a little extract can be added to the yolks and sugar or the custard can be cooked with a split vanilla bean then strained when the cooking is complete. This is the same for things like cinnamon and spices. If you want a chocolate or fruit ice cream, the hot custard mixture can be poured over these ingredients and whisked together. The custard mix can then be cooled, chilled in the fridge and churned as usual.
Both the old school and new school 'how to make custard style ice cream' videos are below. They show the making of a basic vanilla custard ice cream. The recipe with the easier,new school method follows. If you want the old school method, check it out here.
How To Make Custard Style Ice Cream – Old School Video
How To Make Custard Style Ice Cream – New School Video
How To Make Custard Style Ice Cream
2017-06-22 04:17:06
Serves 6
Delicious custard style ice cream!
Nutrition Facts
Amount Per Serving
* Percent Daily Values are based on a 2,000 calorie diet. Your Daily Values may be higher or lower depending on your calorie needs.
Ingredients
4 egg yolks
1/2 cup sugar
1 cup of whole milk
1 cup of heavy cream
2 teaspoon vanilla extract
Instructions
Place the yolks and sugar in a medium bowl. Whisk the sugar/yolk mixture together about 1 to 2 minutes, until it is thick and pale yellow in color.
Whisk the cream, milk and vanilla into the egg/sugar mixture until they are fully incorporated.
Transfer the mixture to a medium pot and place the pot over medium low heat.
Heat the mixture slowly whisking constantly until a candy or instant read thermometer reads between 175-180F. The mixture should thicken and coat the back of a spoon.
(Note: Do not let the mixture boil. If the mixture curdles, remove it from the heat, and let cool. Place it in a blender and whip until smooth.)
Strain the custard through fine sieve into the bowl. Cool the mixture by placing the bowl over an ice bath. Continue to whisk the mixture. When it is cool to room temperature, refrigerate the mixture until fully chilled.
Churn in your ice cream maker following the manufacturer's directions.
Transfer to a container and store in the freezer.
Serve in a bowl or on cones.
The Culinary Exchange http://www.theculinaryexchange.com/
If you are interested in other ways to make ice cream, like no churn, check out this post here.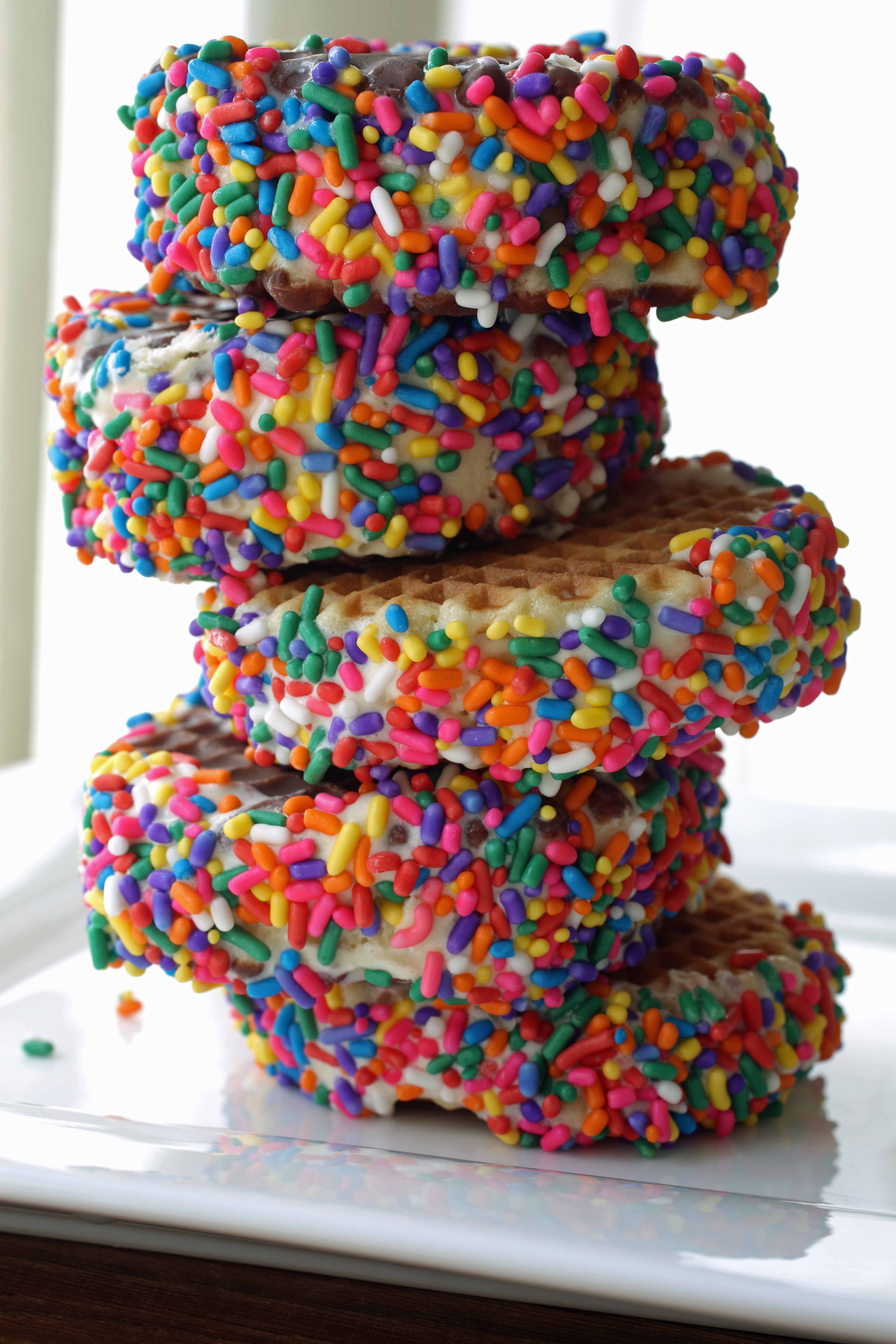 How To Make Custard Style Ice Cream – The Sandwiches
Don't forget to make ice cream sandwiches! Homemade ice cream is delicious in sandwich form. It is easy to do with purchased cookies. I like to sandwich a custard style vanilla ice cream between buttery waffle cookies – aka guafrette cookies. See if you can find some covered in chocolate! It is worth it. You could use any cookie you like. If you want a real adventure, try it with homemade chocolate mocha cookies – yum! Of course, rolling the edges in sprinkles makes them extra fun!