How To Roast Sweet Potatoes
There is a lot you can do with a sweet potato, but I really like to roast sweet potatoes. Why we seem to only think about eating them when Thanksgiving rolls around is beyond me. You would think we would make a variety of excuses to eat them anytime. After all, they are kind of the candy of the root vegetables. Plus, roasting sweet potatoes is one of the easiest things to do. You can have sweet, creamy sweet potatoes on the table in about a half hour.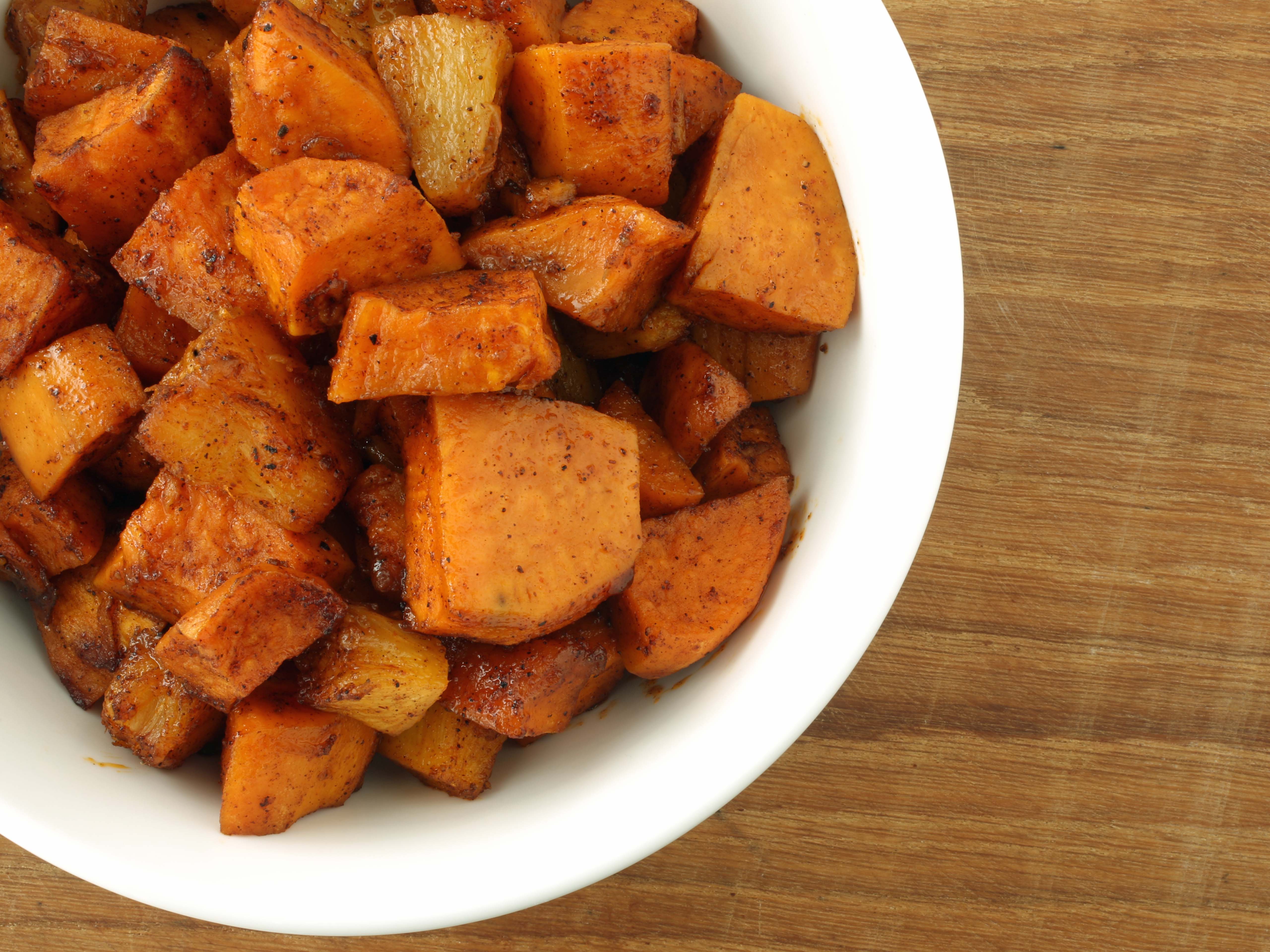 How To Roast Sweet Potatoes – A Quick Chop
When I roast sweet potatoes, I like them to be in big chunky pieces. Sure, you can simply wash them and put them in the oven to roast, but this reduces the ability to add other ingredients. Adding other ingredients and building flavors is always a welcome activity. The most difficult part of the roasting process is probably the chopping only because the sweet potatoes can be hard. Watch your fingers! Once they are chopped, it is just a matter of a quick drizzle of olive oil and some seasoning. Oh, and the addition of pineapple.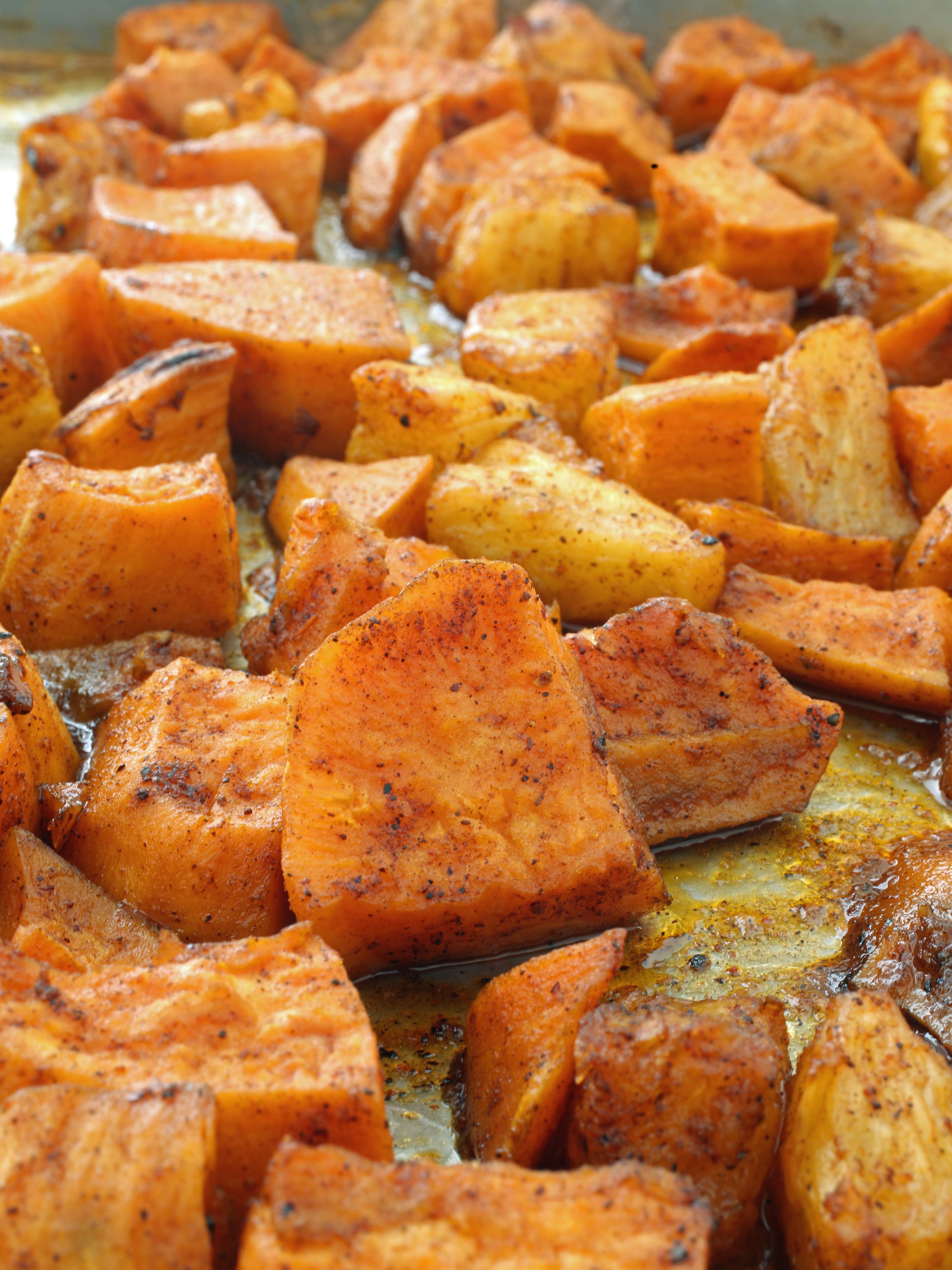 How To Roast Sweet Potatoes – Pineapple? Really?
I often wonder if adding pineapple to a roasted sweet potato dish is just old school, tired cooking. But after wondering, I say no. There is no reason to disparage this culinary duo. It is a classic, one that should be preserved. I will argue, though, that it is fresh pineapple that should be used. There is nothing wrong with canned, except the freshest pineapple yields the best results when it comes to being paired with sweet potatoes. And fresh pineapple roasts up nicely on its own.
How To Roast Sweet Potatoes – The Spice
To me, it is the spice that helps set roasted sweet potatoes apart. The sweetness of the sweet potatoes can be taken in a variety of directions. I like to bring in a little molasses note with some brown sugar (also greatwith pineapple) and then bring something a little smokey and spicy. Ancho chili powder really fits the bill here. A classic chili powder won't have the smokiness and a chipotle chili powder will be too spicy. Ancho is just right. To take it another small savory step, a little garlic powder makes for a great addition. Of course, you can go the opposite direction with the addition of some ginger or even anise.
How To Roast Sweet Potatoes – Roast and Broil
To roast sweet potatoes, all you have to do is put them in a hot oven – 400F until the chunks are fork tender. Once tender, I like to put them under the broiler for a few minutes to make sure the sugar is caramelised well.
The "how to roast sweet potatoes" video is below and the full recipe follows.
Roast Sweet Potatoes
2017-03-28 07:01:56
Serves 4
Delicious roast sweet potatoes.
Nutrition Facts
Amount Per Serving
* Percent Daily Values are based on a 2,000 calorie diet. Your Daily Values may be higher or lower depending on your calorie needs.
Ingredients
1 lb sweet potatoes
½ lb fresh pineapple, cubed
3 tbsp olive oil
3 tbsp brown sugar
½ tsp garlic powder
1 ½ tsp ancho chili powder or paprika
salt and pepper
Instructions
Pre-heat the oven to 400F
Wash and peel the potatoes. Cube the potatoes into medium pieces.
In a medium bowl, mix the potatoes and pineapple pieces.
Coat with the olive oil.
Stir in the sugar, garlic and chili powder.
Season with salt and pepper.
Transfer the mixture to a roasting pan that has been sprayed with non stick spray.
Roast until the potatoes are fork tender and beginning to caramelize.
Remove from the oven. Turn on the oven broiler. Broil the potatoes for 3-4 minutes to caramelise the potatoes even more.
Serve hot or cold.
Notes
The broiling step is optional.
The Culinary Exchange http://www.theculinaryexchange.com/
Want a different sweet potatoes recipe? How about
Sweet Potatoes And Black Bean Stew
or
Tofu and Sweet Potato Curry
?
I hope you enjoy!
Keep Eating! Keep Innovating!
How do you roast sweet potatoes? Let us know in the comments or on Facebook.
The Culinary Exchange can also be found on Twitter, Instagram, Pinterest, Google+ and YouTube.
Come On! Follow Along!