How To Make Vegetarian Chili – An Easy Recipe
I consider knowing how to make vegetarian chili very important. It is the flexitarian in me coming out. It is also knowing that it is easy to turn on a dime and add big chunks of steak.I also only accept the easy recipes for vegetarian chili. Sure, they have to be delicious, but I want my chili done fast so I can have it during the week. On a cold evening, there is nothing better than a nice piping hot bowl of chili and most cold evenings are during the week. I don't think there is any debate on this. The biggest debate is what to put it over – corn chips, rice, noodles (I know, weird, right?), or nothing. I am a bit of a rice guy, but since I end up being the only one eating it, I usually default to corn chips. No big deal, no bitterness here.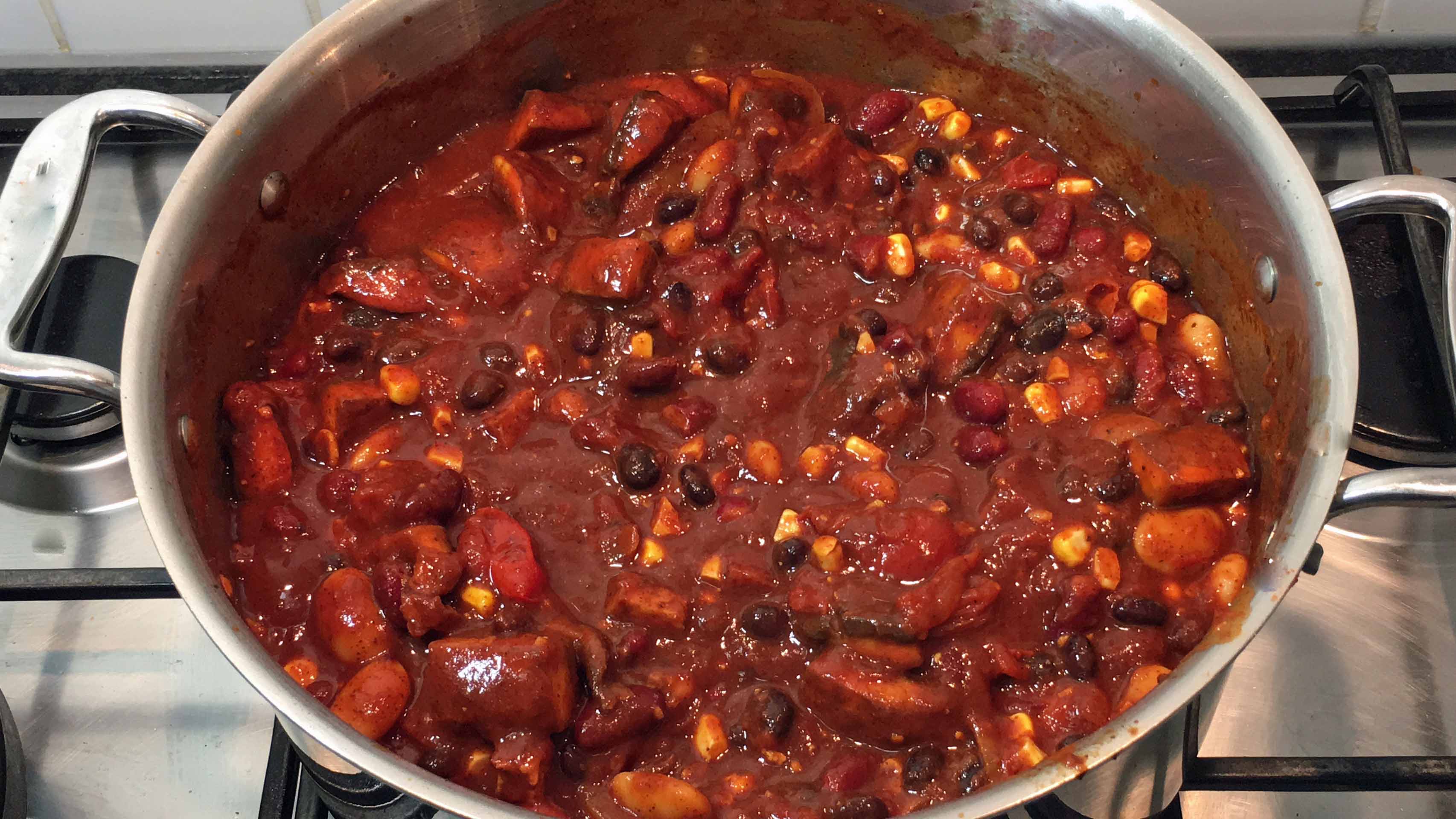 How To Make Vegetarian Chili – Yes, Easy Chili
What I mean by easy is that I can mostly just dump some ingredients into a big pot, do some simmering, then eat. I accept some chopping of mushrooms and garlic, opening of cans, the measuring of spices, even the removal of corn from a cob. As a coach whose name I forget once said, hurry but don't be quick. I apply this to chili. I don't mean to suggest that I will be careless with my chili, no. I still take some time to build the flavors appropriately.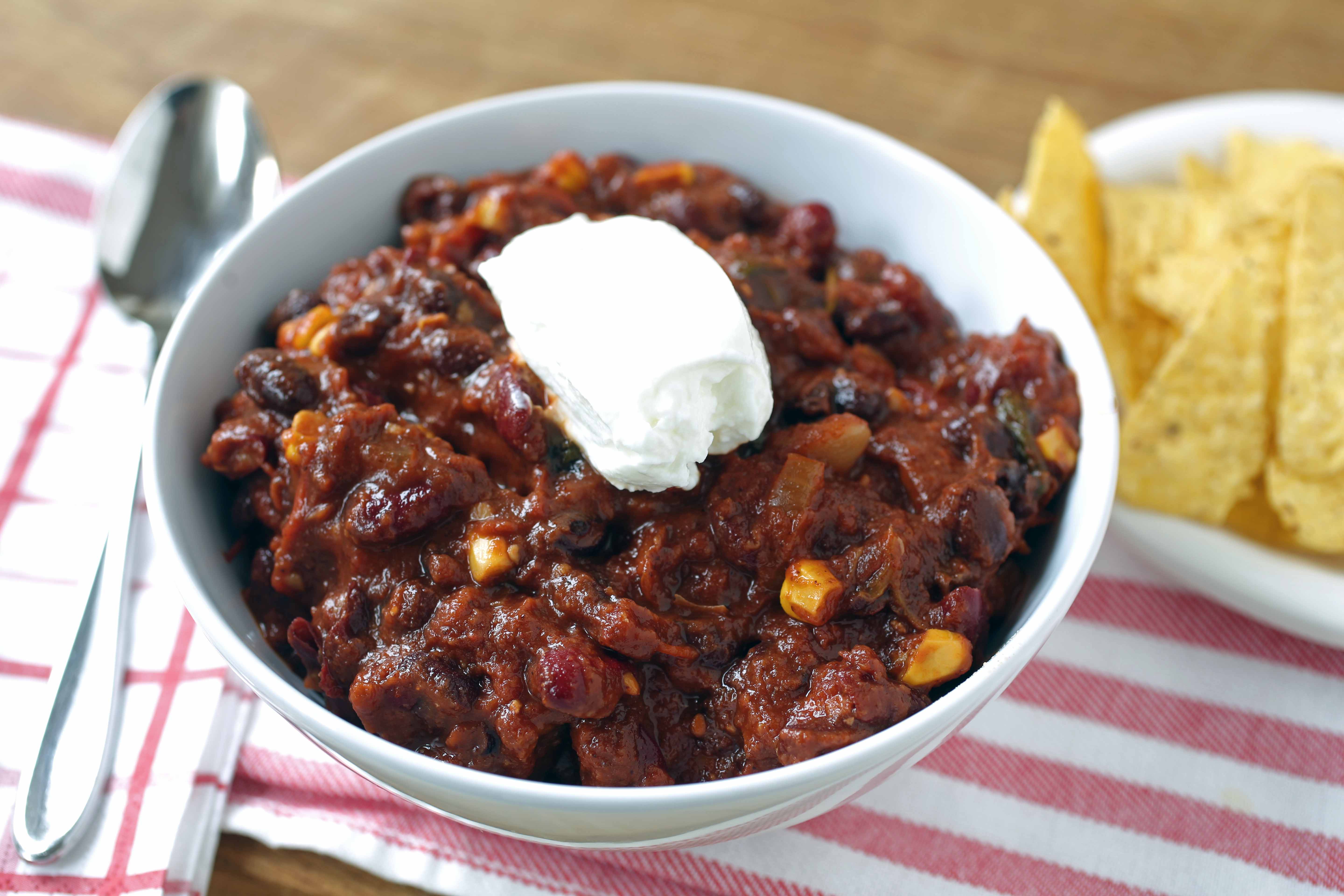 How To Make Vegetarian Chili – The Cans
While the recipe below requires chopping of garlic, onions, portable mushrooms and the removing of corn from a cob, a lot the work is opening cans. There is no doubt about using canned tomatoes and beans. Sure, it is nice to use homemade beans, but I don't think it makes that much of a difference. Plus, I really like to use those beans in chili sauce. I just like them in my chili.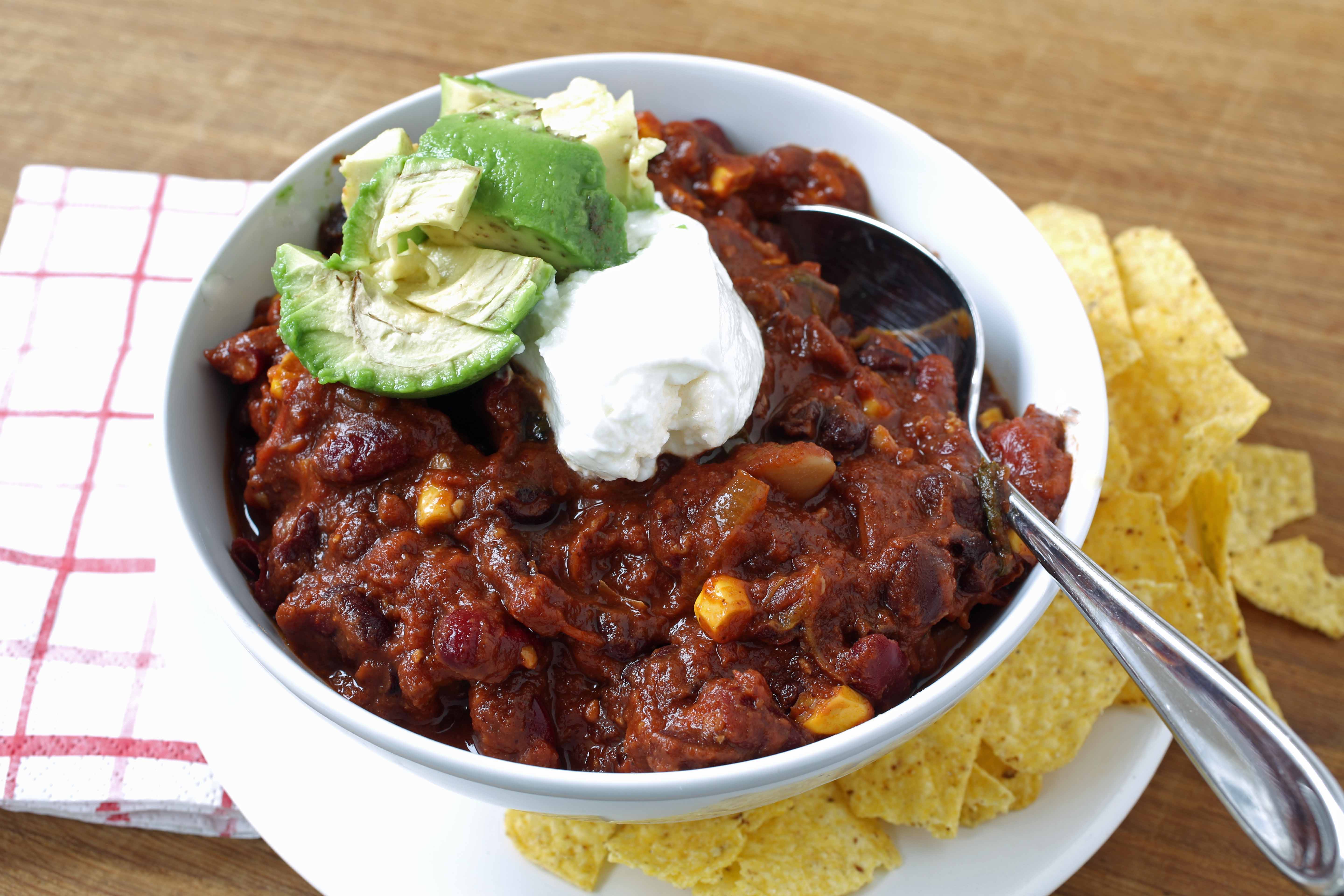 How To Make Vegetarian Chili – The Powder and Tofu
For me, the main spice is the chili powder. For reasons I won't delve into, suffice to say that since there are young ones at my table, the family doesn't really do spicy. We have some pickiness so I won't risk the meal being skipped or maligned by the young'ens because of the heat level.That means no cayenne. Spicy, in the form of hot sauce, is applied afterwards. I have found though that ancho chili powder gets the job done. Its taste is earthy and a little smoky without so much heat. Sure, I would prefer a spicy chipotle, but that is not going to happen.
The other ingredient I use to flavor the chili is tofu, smoked tofu. Smoked tofu is a great addition not just because of its protein kick, but that smokiness adds to the chili flavor nicely.
The 'How To Make Vegetarian Chili' video is below and the full recipe follows.
How To Make Vegetarian Chili
2017-09-29 07:36:32
Serves 15
A delicious and easy vegetarian chili. Great for weeknights!
Nutrition Facts
Amount Per Serving
* Percent Daily Values are based on a 2,000 calorie diet. Your Daily Values may be higher or lower depending on your calorie needs.
Ingredients
3 tablespoons of olive oil
3 cloves garlic
1 medium sweet onion
1/2 pound of smoked tofu
4 tablespoons ancho chili powder
6 oz tomato paste
4 large portobello mushrooms
32 oz whole canned tomatoes
2 lbs canned mixed beans - like black, great northern, etc
1 16 oz can of kidney beans in chili sauce
1 ear of fresh corn
1 oz of fresh cilantro
Salt and pepper
Instructions
Finely chop the garlic.
Peel the onion. With sharp knife, slice it into thick slices.
Dice the smoked tofu into small dice.
Cut the corn from the ear of corn.
Cut the portobello into quarters.
Drain and rinse the mixed beans.
Wash the cilantro. Remove the stems.
Place a large pot over medium heat.
Add the oil. When the oil is hot, add the garlic. Heat the garlic until fragrant, about 1 minute.
Add the onion. Cook the onion until it begins to soften. Season with salt and pepper.
When the onion is soft, add the tofu. Heat the tofu through.
Add the chili powder and stir well. Cook 2 minutes. Add the tomato paste and cook 2 minutes more.
Add the mushrooms. Cook until the mushrooms are beginning to soften. Season with salt and pepper as you cook.
Add the tomatoes and scrape the bottom of the pan to get the tasty bits on the bottom.
Bring the pot to a simmer. Add the mixed beans and chili beans. Add the corn.
Simmer 30 minutes, stirring occasionally.
Add the cilantro. Stir well.
Check and adjust seasoning to taste.
Remove from heat and serve with sour cream, cheese, avocado, onion, etc as garnish.
Notes
The ancho cili powder can be replaced with spicier versions like chipotle chili powder or paprika. The chili is great on rice or tortilla chips.
The Culinary Exchange http://www.theculinaryexchange.com/
I hope you enjoy!
Keep Eating! Keep Innovating!
Do you know how to make vegetarian chili? Any tips to share? Let us know in the comments or on Facebook.
The Culinary Exchange can also be found on Twitter, Instagram, Pinterest, Google+ and YouTube.
Come On! Follow Along!