How To Make Mint Chocolate Ice Cream
My wife is a bit stubborn about her ice cream. After many a summer's dinner we would troop to the ice cream parlor in search of some cool deliciousness. My son would order his 2 scoops (even though we would beg him to just get one) and I would do the same. When it came time for my wife to order she would decline. Why? No mint chip ice cream. She won't budge to other flavors. It is mint chip or bust. I am a fair-weather fan of mint chip ice cream, but I am not the biggest fan of the green color and undersized chips. So, as with so many things in the food world, if you want it right, you make it yourself. Skip the green, make mint chocolate ice cream with big mint and chocolate impact.
FYI…This 'How to Make Mint Chocolate Ice Cream' post contains affiliate links for products I like. This means that if you click on a product link on this page, and then purchase the product, The Culinary Exchange will make a small amount of money from your purchase. I ONLY link to products that I like and use in the recipes.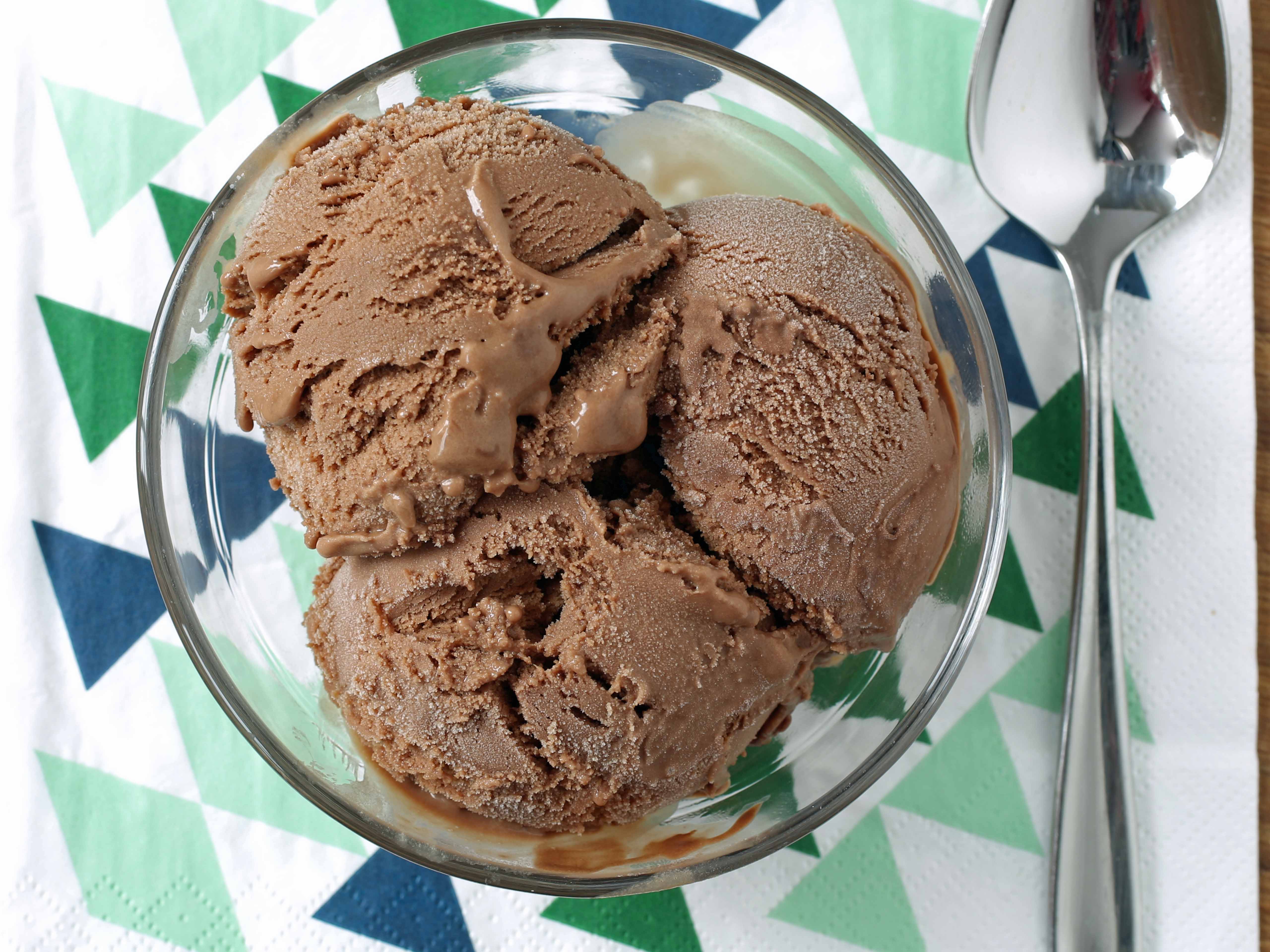 Make Mint Chocolate Ice Cream With Good Mint Chocolate
Most mint chip ice cream that I have run into in Europe is made with a candy know as After Eight. These are thin mint, chocolate enrobed squares similar to the mint patty type candies that you get in the states. It takes good mint chocolate to make mint chocolate ice cream. If you are going to make the best, I try and use great mint chocolate. No, it is not the cheapest in the world, but it does make mint chocolate ice cream that will knock your socks off. Here is a link for the mint chocolate bar by Lindt
that I like to use. There are others, but you will have to give them a try to make sure they work well. I like the bars that give rich chocolate flavor and don't skimp in the mint.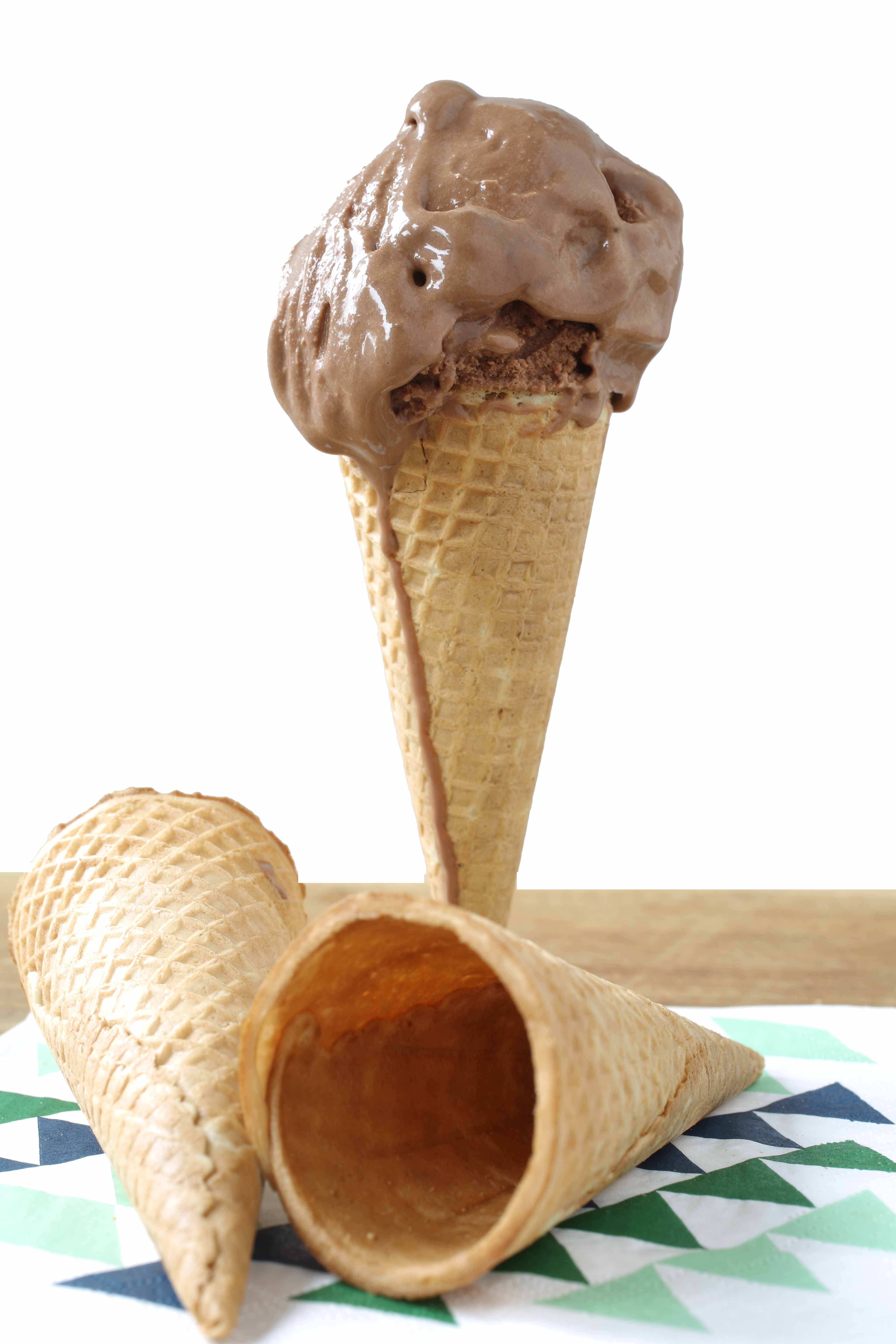 Make Mint Chocolate Ice Cream In The Custard Style
Yep, you guessed it. When I make mint chocolate ice cream, I make it custard style. The French chef gets the better of me. When it is blackberry ice cream or dark chocolate ice cream, I go with the custard style. If you are going to eat ice cream, you may as well eat the best. Custard style, in my humble foodie opinion, is the best way to go. Sure, there are other ways to make ice cream but I don't think any compare to custard style. As you will see, there is not that much extra work. The recipe below gets rid of the double boiler and egg tempering of old. Get a candy or instant read thermometer and you are on your way to easy custard style ice cream and the ability to make mint chocolate ice cream in the custard style easily!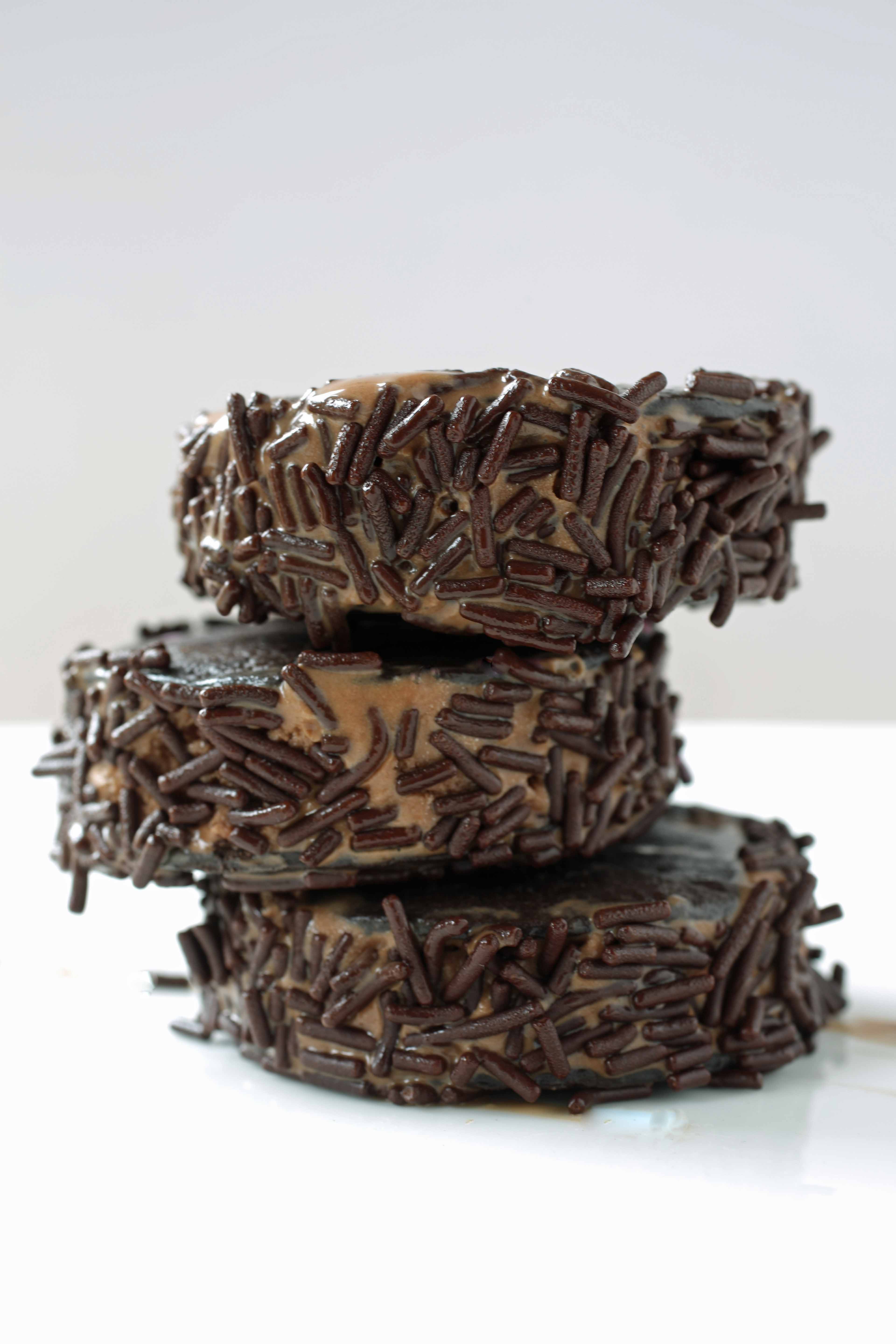 Make Mint Chocolate Ice Cream Into Sandwiches
An ice cream sandwich is a great joy. As simple ice cream sandwich can be had with some purchased dark chocolate wafers, some ice cream and sprinkles. Sandwiching mint chocolate ice cream between 2 dark chocolate cookies and then rolling the edges in sprinkles is not much extra work to make a great treat. To go to the next level, sandwich this mint chocolate ice cream between homemade chocolate mocha cookies. The espresso does great with the mint! Of course, the downside is that you have to turn your oven on in the summer. That is up to you!
The 'how to make mint chocolate ice cream" video is below which includes a brief ice cream sandwich bit. The full 'how to make mint chocolate ice cream' recipe follows.
How To Make Mint Chocolate Ice Cream
2017-06-22 03:17:47
Serves 6
Delicious mint chocolate ice cream. So minty and so chocolatey. Forget the green mint chip. You will be glad you did
Nutrition Facts
Amount Per Serving
* Percent Daily Values are based on a 2,000 calorie diet. Your Daily Values may be higher or lower depending on your calorie needs.
Ingredients
8 oz. of high quality mint chocolate
4 egg yolks
1/2 cup sugar
2 cup of whole milk (skim milk will work, too)
1 cup of heavy cream
2 teaspoon vanilla extract
Instructions
Using a sharp knife, chop the mint chocolate into small pieces. This will help it melt. Transfer the chopped mint chocolate into a large bowl. Set aside.
Place the yolks and sugar in a medium bowl. Whisk the sugar/yolk mixture together about 1 to 2 minutes, until it is thick and pale yellow in color.
Whisk the cream, milk and vanilla into the egg/sugar mixture until they are fully incorporated.
Transfer the mixture to a medium pot and place the pot over medium low heat.
Heat the mixture slowly whisking constantly until a candy or instant read thermometer reads between 175-180F. The mixture should thicken and coat the back of a spoon.
(Note: Do not let the mixture boil. If the mixture curdles, remove it from the heat, and let cool. Place it in a blender and whip until smooth.)
Strain the custard through a fine sieve into the bowl containing the chopped chocolate. Cool the mixture by placing the bowl over an ice bath. Continue to whisk the mixture. When it is cool to room temperature, refrigerate the mixture until fully chilled.
Churn in your ice cream maker following the manufacturer's directions.
Transfer to a container and store in the freezer.
Serve in a bowl or on cones.
Notes
Try sandwiching the ice cream between purchased dark chocolate wafers then roll the edges in sprinkles! YUM!
The Culinary Exchange http://www.theculinaryexchange.com/
I hope you enjoy! I know my wife will!
Keep Eating! Keep Innovating!
Any plans to make mint chocolate ice cream? What is your favorite flavor? Let us know in the comments or on Facebook.
The Culinary Exchange can also be found on Twitter, Instagram, Pinterest, Google+ and YouTube.
Come On! Follow Along!