How To Make Israeli Salad
To make Israeli salad is to make the easiest salad in the world. Really! I don't think it can get much easier. A few fresh, chopped vegetables with a spritz of lemon juice and olive oil and you are done.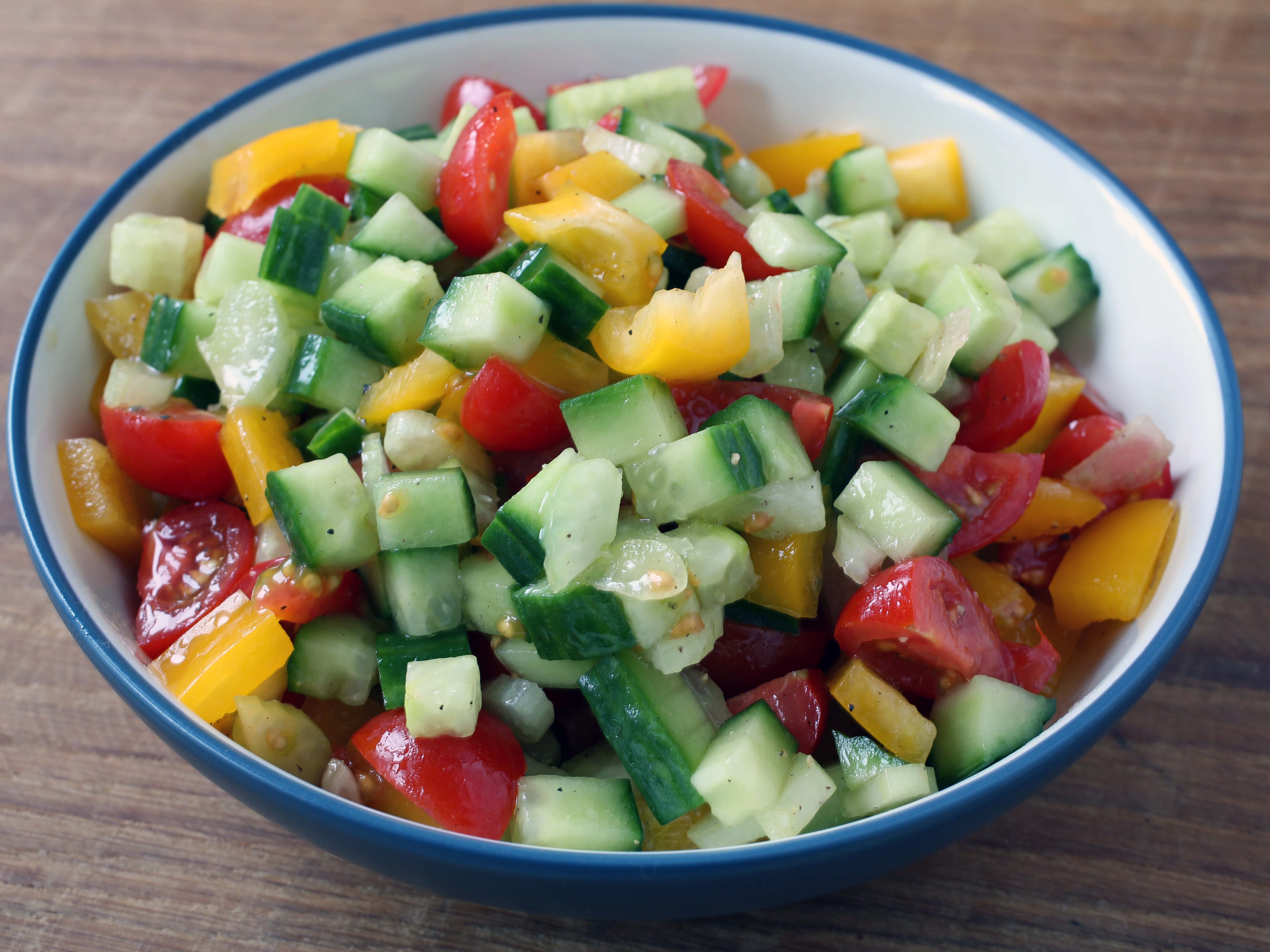 How To Make Israeli Salad – the Vegetables
When I make an Israeli salad, I stick to the classics – cucumber, tomato, celery and green pepper. It is supposed to be simple so I don't usually add things like cheese or even herbs. Sometimes it is nice to have an easy side dish to prepare, but also a side dish that fairly low key. I look at an Israeli as a simple way to include some vegetables into a meal without a lot of hassle. It especially makes for a great side dish when the meal is heavy. It is a nice counterbalance.
How To Make Israeli Salad – Chop and Toss
When you make an Israeli salad, just chop the vegetables into bite size pieces and toss them together. Some nice olive oil and squeeze of lemon for brightness and you have it. Don't forget the salt and pepper.
It is a simple dish, but who wouldn't appreciate a "how to make and Israeli salad" video? The video is below and the full recipe follows.
Israeli Salad
2016-12-12 12:56:18
Serves 8
A simple salad of cucumber and tomato that is easy and delicious.
Nutrition Facts
Amount Per Serving
* Percent Daily Values are based on a 2,000 calorie diet. Your Daily Values may be higher or lower depending on your calorie needs.
Ingredients
2 English cucumbers
½ lb of cherry tomatoes
1 stalk of celery
2 red or yellow bell peppers
1 lemon
olive oil
salt and pepper
Instructions
Dice the cucumber into a medium dice.
Quarter the cherry tomatoes.
Chop the celery.
Dice the bell peppers.
Mix all the vegetables in a large bowl.
Season with salt and pepper.
Drizzle the salad with lemon juice and olive oil to taste.
Notes
Any number of other vegetables can be added including green onion, sweet onion and even carrot. Add other vegetables to taste.
The Culinary Exchange http://www.theculinaryexchange.com/
I hope you enjoy!
Keep Eating! Keep Innovating!
Do you make Israeli Salad? Let us know in the comments or on Facebook.
The Culinary Exchange can also be found on Twitter, Instagram, Pinterest, Google+ and YouTube.
Come On! Follow Along!