How To Make Frittatine
Perhaps before broaching the subject of how to make fittatine, we should discuss what frittatine is. Frittatine is variations on the flat omelet. Fritatine comes in a few varieties like frittatine alla trippa where a delicate flat omelet is sliced into strips and tossed/cooked in a tomato sauce. This Tuscan version is a sort of very distant cousin of shakshuka. There are certainly Italian versions of shakshuka – like eggs in purgatory from Compagnia. Of course, a frittatine can also be a flat omelet topped with toppings like mushroom and cheese. It's flexible!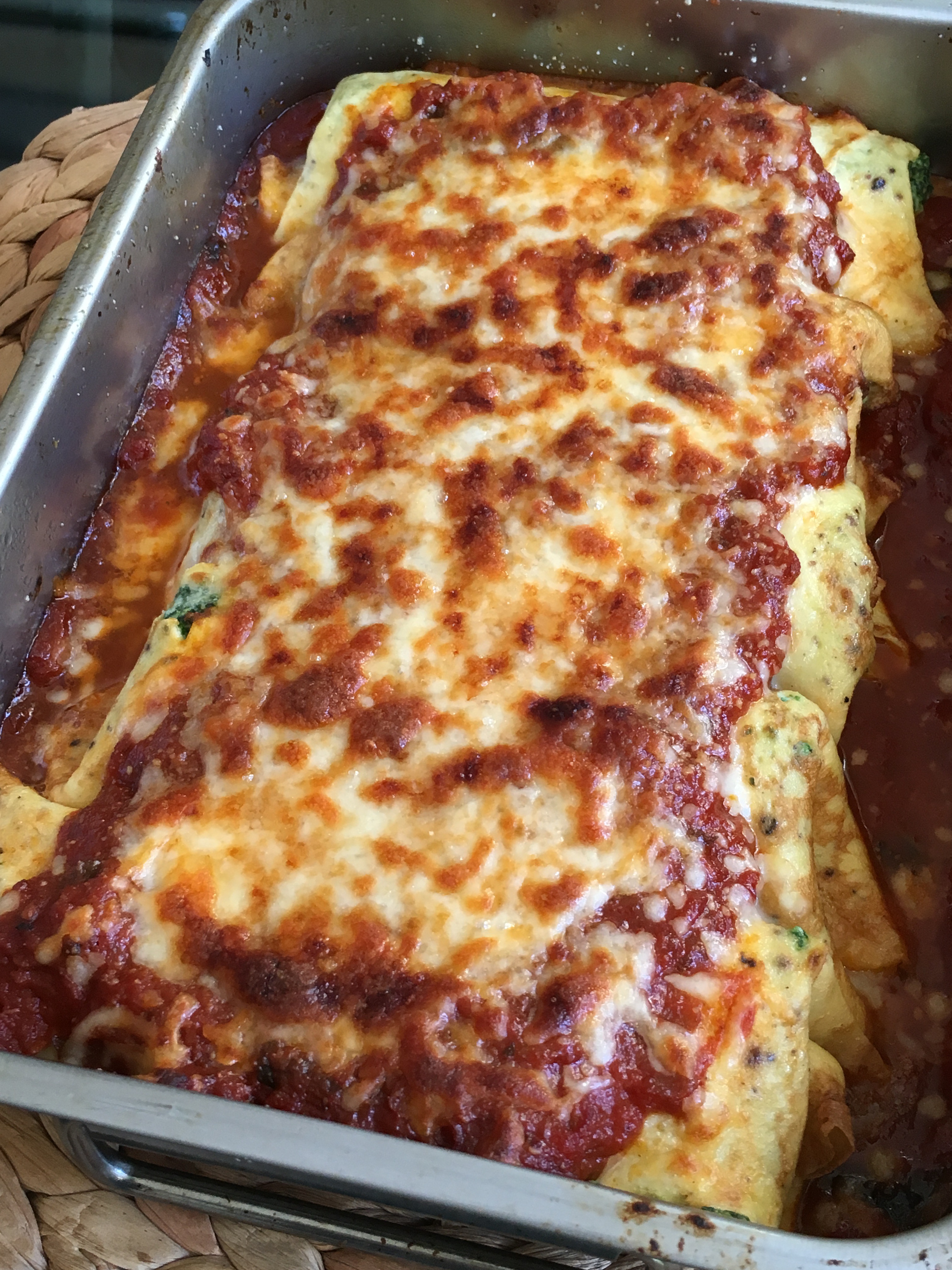 How To Make Frittatine – a.k.a. Stuffed Omelets
Since it can be anything, this how to make frittatine post takes a turn toward stuffing the omelet and making it a baked dish. Here, the delicate flat omelet is stuffed with a ricotta and spinach mixture, rolled, slathered with tomato sauce and cheese and baked. Instead of eggs cooked in spinach and ricotta, it is spinach and ricotta cooked in eggs and brought to the next level by baking it in tomato sauce. Delicious!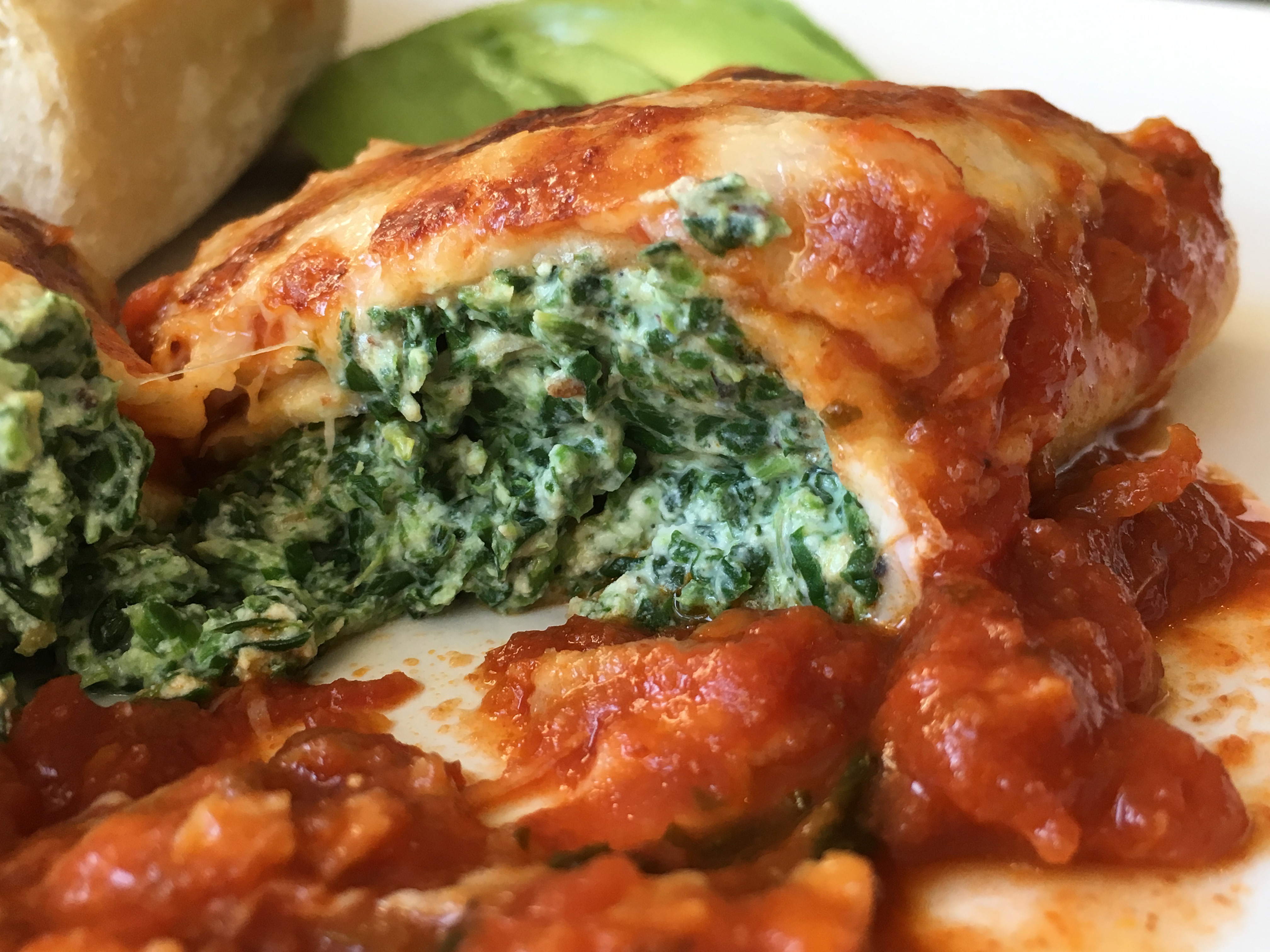 How To Make Frittatine – The Eggs
If you are making flat omelets for breakfast, use 2 eggs per omelet. If you are stuffing the omelet, use 1 egg. One egg will make a very thin, very delicate omelet which is exactly what we want for frittatine. Plus, with one egg, you don't even need to flip it in the pan. The egg will cook through with no problem. A one egg flat omelet is easy to wrap around some spinach/ricotta mixture (like that found in a vegetable lasagna). Even if it does tear, no worries, it is slathered in tomato sauce so nobody will see it! As far as the rolling goes – think burritos. Just wrap the omelet over the spinach mixture tucking in the sides as you go – simple!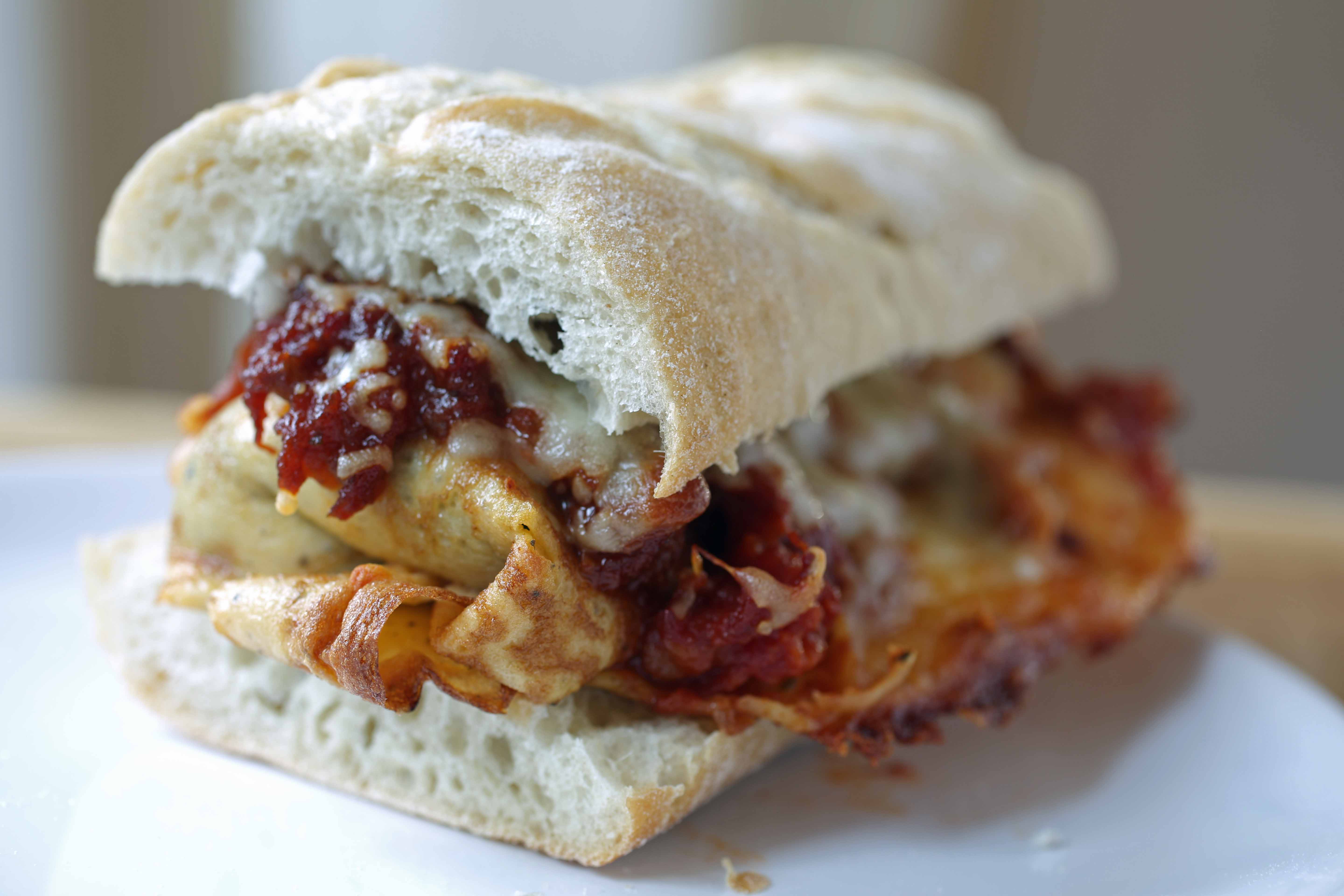 How To Make Frittatine – The Sauce
Tomato and egg are a delightful combination and any good tomato sauce will be fine. I like to use my all purpose tomato sauce for this as it is tasty and the added fennel seed goes equally well with the eggs. With a melted mozzarella and parmesan cheese topping, the whole dish becomes a hearty dinner or brunch item that everyone is sure to love.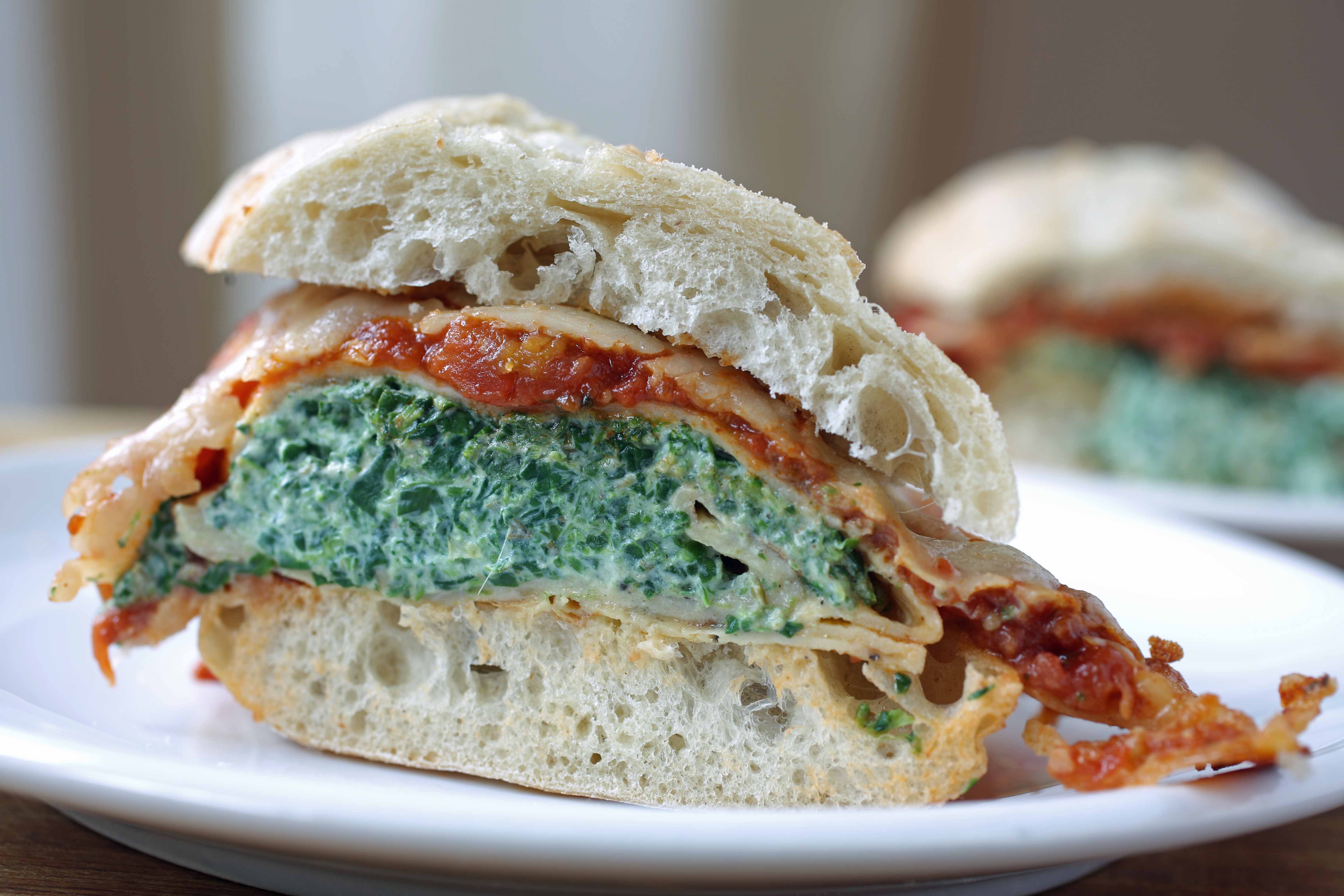 How To Make Frittatine – The Sandwich
As an aside, when considering how to make frittatine, consider that it can be a great sandwich. The stuffed omelet version of a frittatine sandwich is a hearty beast, but any real sandwich lover will relish in it! It is worth a try! Of course, strips of flat omelet tossed in tomato sauce make a fine sandwich, too!
The 'How To Make Frittatine' video is below and the full recipe follows.
How To Make Frittaine a.k.a Stuffed Omelets in Tomato Sauce
2017-11-14 04:31:52
Serves 4
A simple, but hearty dish made by stuffing flat omelet with spinach and ricotta cheese then baking it in tomato sauce.
Nutrition Facts
Amount Per Serving
* Percent Daily Values are based on a 2,000 calorie diet. Your Daily Values may be higher or lower depending on your calorie needs.
For The Filling
½ lb ricotta cheese
½ pound chopped spinach – Frozen spinach is fine. Thaw and drain it well
2 tsp oregano
For The Eggs
6 eggs
6 tbsp milk, divided
butter for cooking the omelets
salt and pepper
For The Tomato Sauce
2 cups of your favorite tomato sauce
For The Cheese
½ cup of mozzarella
¼ cup of parmesan
salt and pepper
Instructions
Preheat the oven to 400F.
For The Filling
In a medium bowl, mix the ricotta, spinach and oregano. Mix well. Season to taste with salt and pepper.
For The Flat Omelets
Crack one egg in a medium bowl. Add 1 tbsp milk. Season with a dash of salt and pepper.
In a medium pan over medium heat, melt a teaspoon of butter. Pour in the egg mixture. Swirl the egg mixture in the pan so that it makes a flat, thin omelet.
Cook the omelet through. You can flip if desired, but it is important to keep it flat and thin. Remove the omelet to a large plate. Let cool completely. Make 5 more flat omelets. Set them all aside and let cool.
Spray a small baking pan with non-stick spray. Spread ¾ cup of tomato sauce on the bottom of the pan.
Lay one of the omelets on a clean flat surface. In the middle of the omelet spread 1/6 of the ricotta-spinach mixture.
Spread the mixture in the center of omelet. Fold and roll the omelet around the filling. Place the filled omelet in the pan.
Stuff and roll all of the omelets and place them in the pans.
Cover the rolled omelets with the remaining sauce
Sprinkle the cheese on top.
Bake the omelets for 25-35 minutes until they are fully heated through and the cheese is melted.
If needed, turn the broiler on and brown the cheese. Keep an eye on the cheese as it can burn quickly.
Serve hot.
The Culinary Exchange http://www.theculinaryexchange.com/
I hope you enjoy!
Keep Eating! Keep Innovating!
Do you know how to make frittatine? Have you ever heard of it?Let us know in the comments or on Facebook.
The Culinary Exchange can also be found on Twitter, Instagram, Pinterest, Google+ and YouTube.
Come On! Follow Along!