FYI…This root beer post contains affiliate links for products I like. This means that if you click on a product link on this page, and then purchase the product, The Culinary Exchange will make a small amount of money from your purchase. I ONLY link to products that I personally recommend.
How To Make A Root Beer Float
I have always been a fan of dunking things – cookies in milk or shortbread in cold brew coffee. When I think of a root beer float, I have it in my mind that someone was taking dunking to the extreme and decided that ice cream should also be dunked in the nearest beverage which happened to be root beer. Nice, but not quite. It turns out that the guy who invented the root beer float just ran out of ice and used ice cream to cool his customer's beverages. Now that is culinary innovation!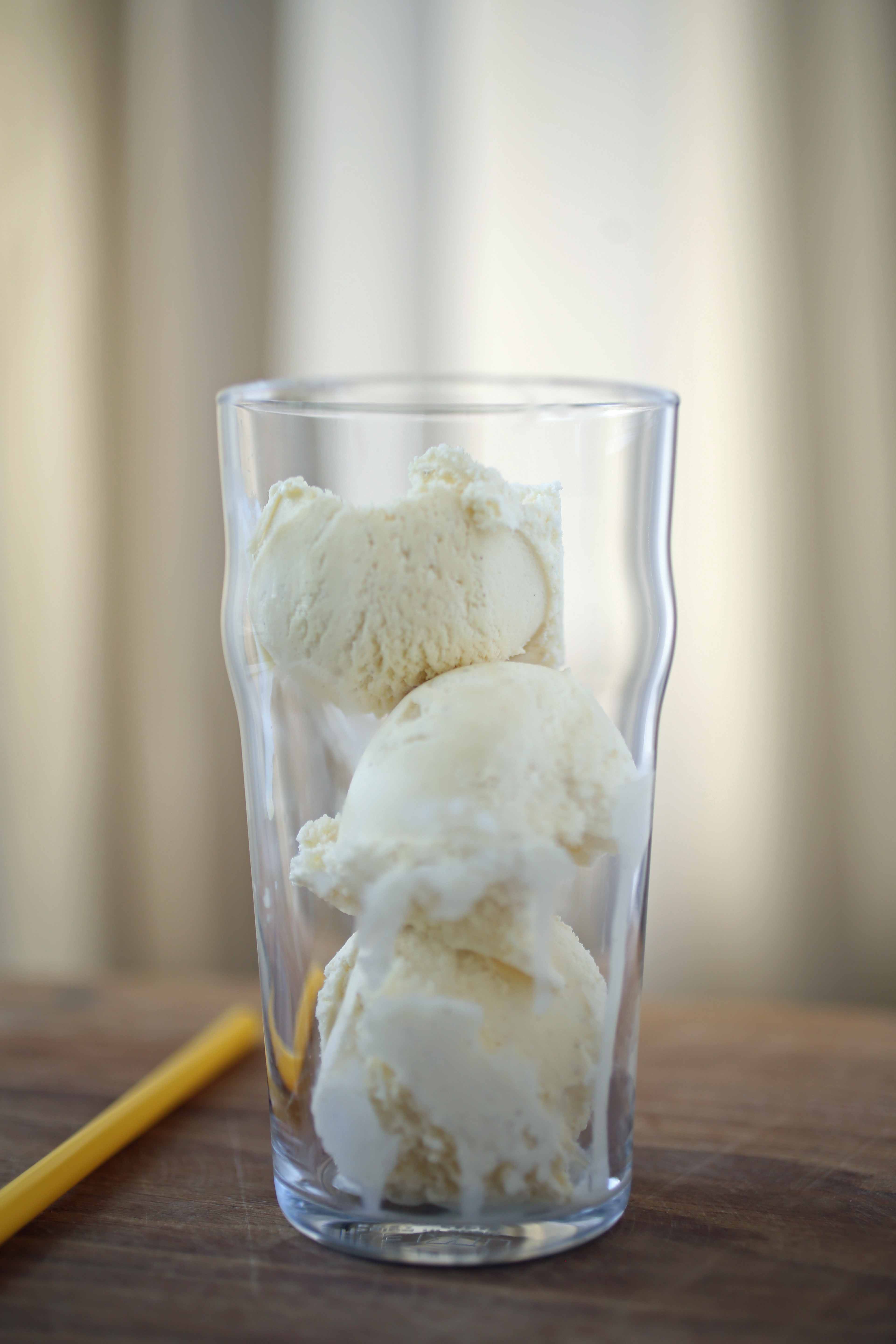 How To Make A Root Beer Float – The Ice Cream!
Regardless of the history, suspending ice cream in a rich root beer is nice on any day of the year, but, obviously, especially so in the dog days of summer. It is fun to state the obvious, but more fun to make a root beer float. When I make a root beer float, I very much like my ice cream homemade. A rich, custard style ice cream suits a root beer best because, as it melts, the liquid custard has the density to lend immense creaminess to a root beer. Big YUM!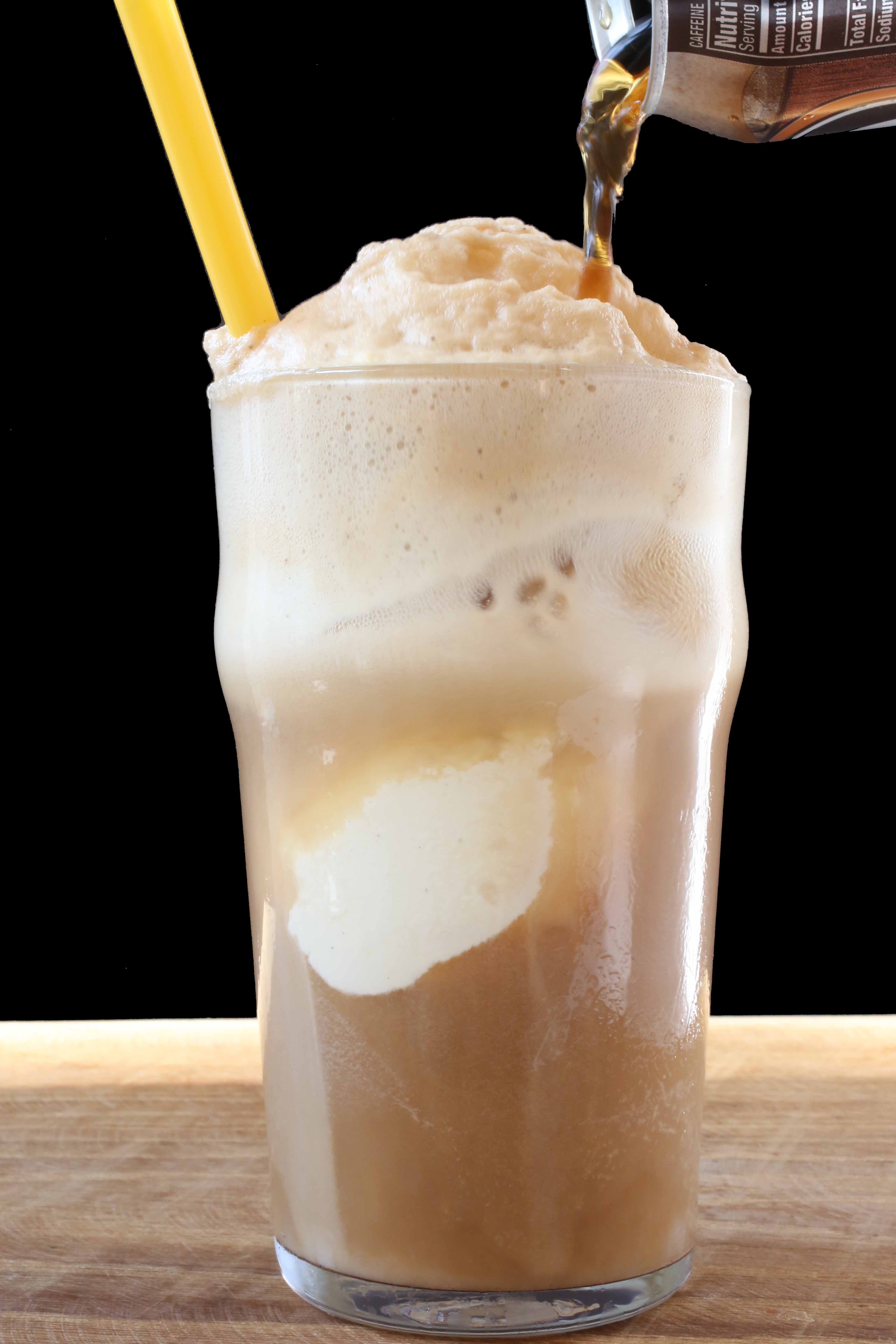 Sure, a custard style ice cream might be more work due to the need for egg separating, but if you are careful, you can dispense with the whole double boiler. The eggs and sugar are creamed together until pale, then cold milk and cream are whisked in. It is typical to heat the milk first then temper the eggs. No need to do this. The mixture can simply be heated slowly with whisking until it coats the back of a spoon. This is made even easier if you use a thermometer. The custard base should read 175-180F. You will see it thicken. Just go slow so you don't scramble the eggs! The custard base is then cooled and chilled and then churned in an ice cream churn.
How To Make A Root Beer Float – The Pour
The rest is easy – scoop ice cream in to a big glass, pour over the root beer. Pro-Tip: Never skimp on that ice cream when you make a root beer float. As for the root beer, it is one of those things that you have to search for to find the one you are most passionate about. There are many a root beer on the market. One must search to find the best for the float. Me, I like one of those mass produced root beers. I have no shame. It is the taste I grew up with. It takes me back! When I make a root beer float and watch that thick foam bubble to the top with the rich ice cream floating in the bubbly liquid, all I can think of is how refreshing it will be and how i drank it down as a kid.
The "how to make root beer float video is below". The full recipe follows.
Classic Root Beer Floats
2017-06-07 05:44:15
Serves 4
With this recipe is it easy to make a root beer float. The homemade ice cream makes it extra special!
Nutrition Facts
Amount Per Serving
* Percent Daily Values are based on a 2,000 calorie diet. Your Daily Values may be higher or lower depending on your calorie needs.
Ingredients
4 egg yolks
1/2 cup sugar
2 teaspoon vanilla extract or 1 vanilla bean
1 cup of whole milk
1 cup of heavy cream
4 cans of root beer
Instructions
If using vanilla bean, split the vanilla bean and scrape the seeds out.
Place the yolks and sugar in a medium bowl. Whisk the sugar/yolk mixture together about 1 to 2 minutes, until it is thick and pale yellow in color.
Whisk in the cream and milk.
Transfer the mixture to a medium pot. Turn the heat to medium low. Slowly cook the mixture until it thickens and coats the back of a spoon or until a thermometer reads between 175F and 180F.
(Note: Do not let the mixture boil. If the mixture begins to curdle, remove it from the heat, and let cool. Place it in a blender and whip until smooth.)
Strain the custard through fine sieve into a bowl that is in an ice bath. Cool the mixture. Refrigerate until fully chilled.
Process in your ice cream maker following the manufacturer's directions.
Scoop the ice cream into big glasses.
Pour the root beer over the ice cream.
Serve immediately.
Notes
A double boiler can be used to cook the ice cream base. It will take much longer.
Any soft drink can be used in place of root beer. Diet beverages can also be used.
The Culinary Exchange http://www.theculinaryexchange.com/
You can also make a
cold brew coffee float
!
I hope you enjoy!
Keep Eating! Keep Innovating!
How do you make a root beer float? What is your favorite flavor of ice cream to use? Let us know in the comments or on Facebook.
The Culinary Exchange can also be found on Twitter, Instagram, Pinterest, Google+ and YouTube.
Come On! Follow Along!