Before we get really deep into the pasta recipes, there's still a few basics that you'll need to master. We've already talked about how to get going with garlic – namely, how to peel it. Of course, this is important since garlic is almost universally used in pasta, as it well should be since it's so delicious. We've also talked about how to make pasta from scratch, which is a fantastic alternative to buying dried and boxed pasta at the supermarket. And it's simple to make, to boot!
Pasta Types
Today, we're going to talk about the different types of pasta. If you head to the pasta aisle of your local grocer, you'll find seven, eight – maybe even nine different types of pasta. But in reality, there's over 170 different varieties of pasta types, ranging from the common like spaghetti to local varieties like pici, from large pastas like lasagne to minute pasta like corallini.
If you want to understand why there are so many different types of pasta, we've talked before about some of the reasons. But today, we're going to talk more about how each type of pasta is cooked and what types of dishes work best with them.
Angel Hair Pasta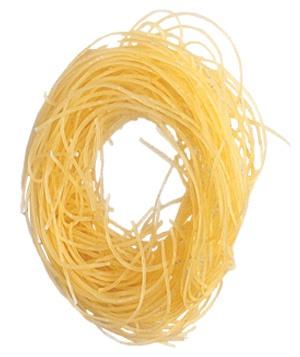 Angel hair pasta is one of the thinnest types of pasta available. Given that, it's generally used with very light sauces – think tossed in olive oil with a few fresh vegetables. Angel hair pasta works well in the summertime, when you want something light and airy, rather than heavy and too filling.
Campanelle Pasta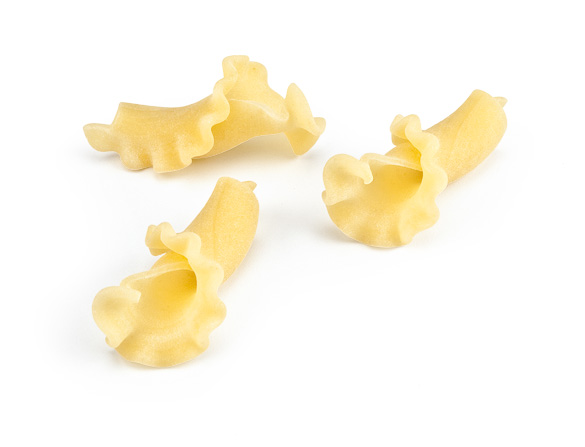 Campanelle pasta looks like a tiny layered horn of plenty – you know, the cornucopias that are so popular on Thanksgiving tables. You can find a box of these in almost every supermarket. Campanelle is a very versatile pasta type, but is often used in cold pastas such as tuna pasta salad.
Cavatappi Pasta
Cavatappi pasta is also known as corkscrew pasta. Because of its shape, it's thought to do a good job of holding in flavor, so it's commonly paired with complex sauces. It's also used in a lot of pasta salads too. You can pair this pasta with a heavy cream sauce too, and it'll be perfect.
Conchiglie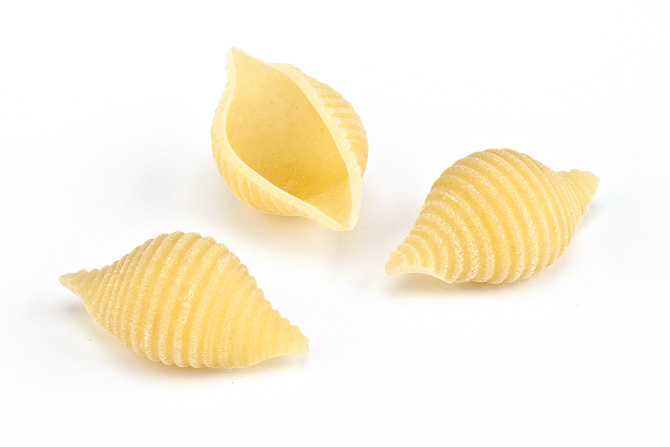 Conchliglie is your traditional shell and they come in small, medium, and large sizes. Conchliglie is almost always paired with cheese. Small shells get mixed in with a cheese sauce to make an adult version of mac-n-cheese. Large shells can be stuffed with ricotta or meat and cooked, and then topped with a tomato sauce.
Farfalle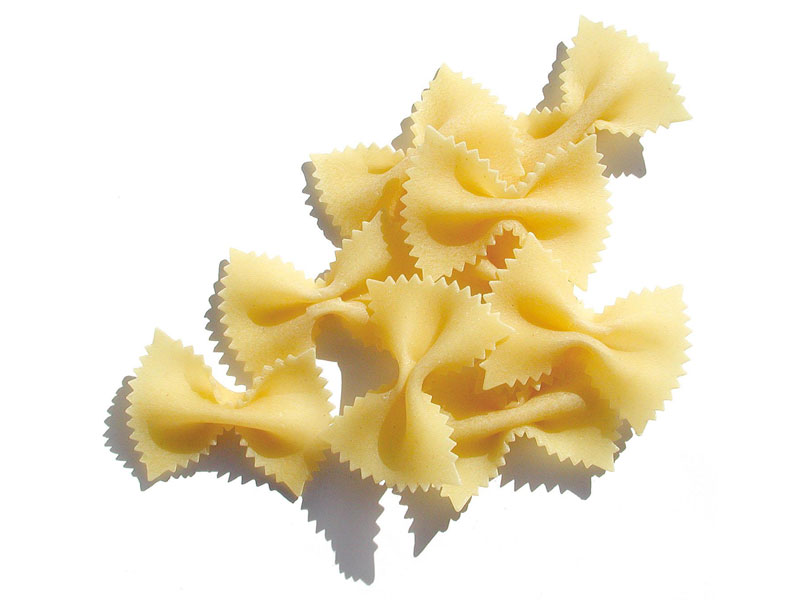 Farfalle pasta is more commonly known by it's nickname "bow-tie pasta". Not shockingly, it's because it's shaped in the form of a bow-tie. Because of its shape, farfalle pasta is a thicker pasta that works well and holds up in thick sauces and soups. Throw it into a vegetable soup for a bit of heft, or pair it with a heavy cream sauce in the winter.
Elbow Macaroni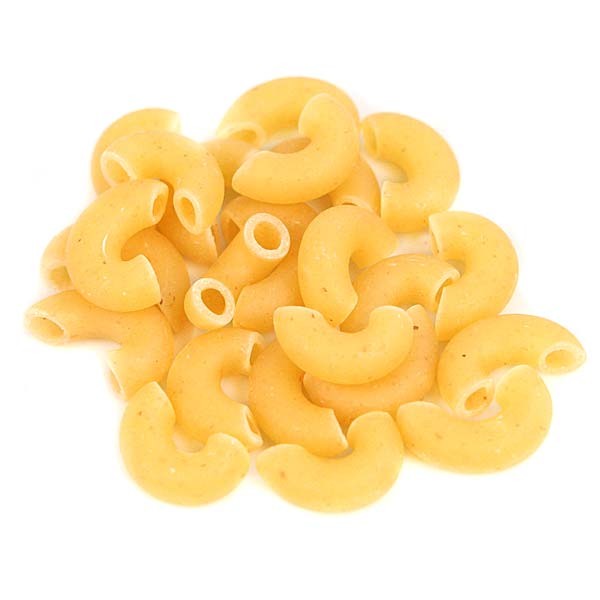 Elbow macaroni is probably best known as being the pasta that's in the kid's macaroni and cheese boxes. Aside from working beautifully in mac-n-cheese, elbow macaroni is actually another one of the most versatile pasta types. Elbow macaroni can be thrown easily into soup or mixed with a light sauce and veggies.
Lasagna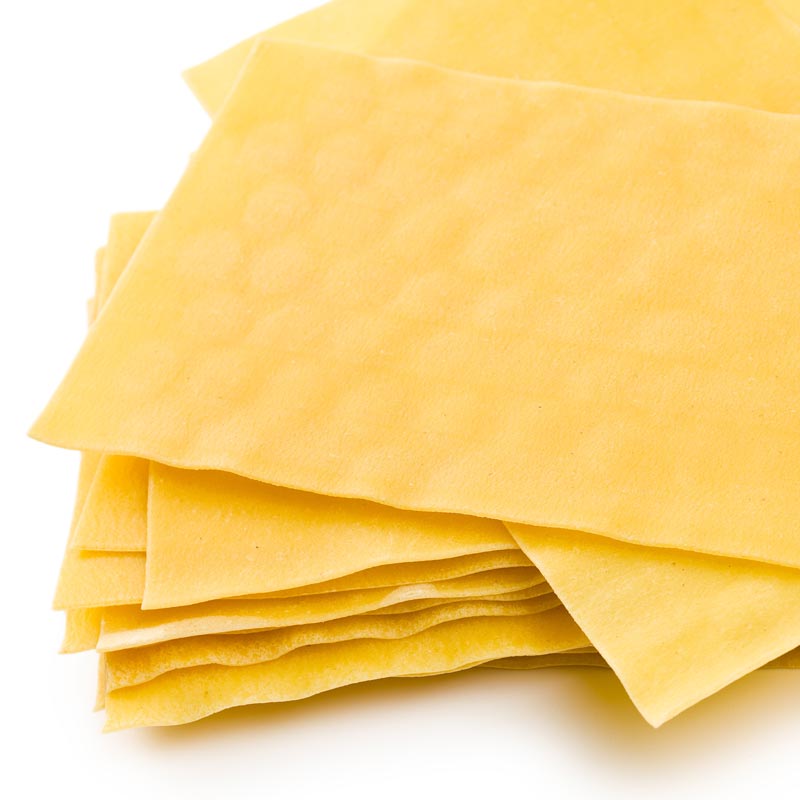 It's pretty easy to figure out what this type of pasta is used for; lasagna pasta is used to make lasagna and other pasta casseroles.
Fettuccini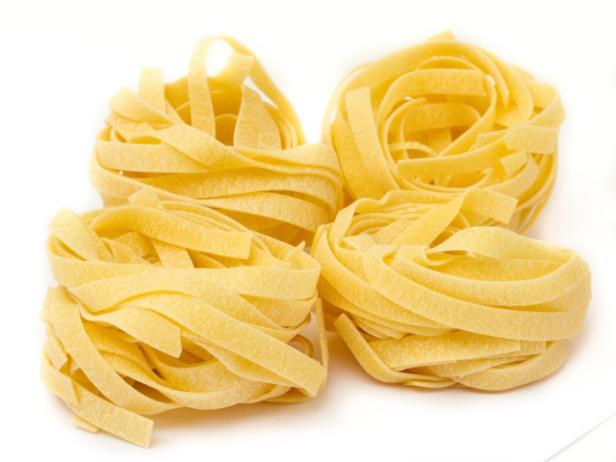 Fettuccini is a long flat noodle that's used primarily in fettuccini alfredo, which is fettuccini noodles covered in a heavy cream based sauce. But fettuccini noodles are also used for other heavy sauces – usually featuring meat in their dishes.
Fusilli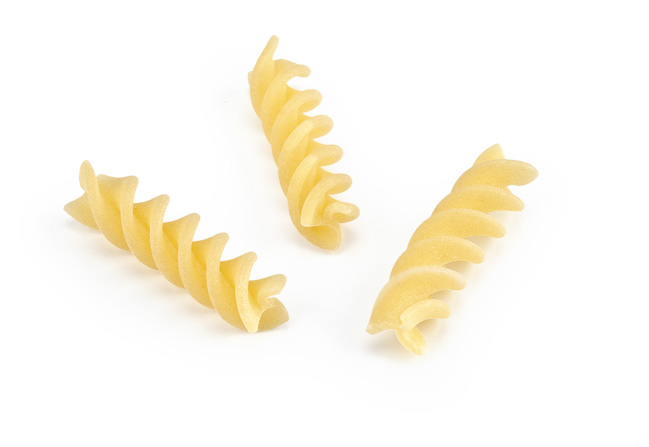 Some people get fusilli pasta confused with corkscrew pasta, but fusilli features rounded pasta in a twisted coil, while corkscrew noodles are flat and twisted. Fusilli is more similar to spaghetti noodles, actually, and works well in many of the same types of dishes: pasta salads, soups, and you can even bake these noodles.
Manicotti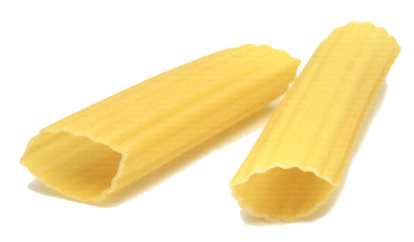 Manicotti are giant pasta noodles that look like hollow tubes and are prepared by stuffing them with whatever you want – vegetables, cheese, meat – and then baking them. They're also generally topped with a pasta sauce after baking.
Rigatoni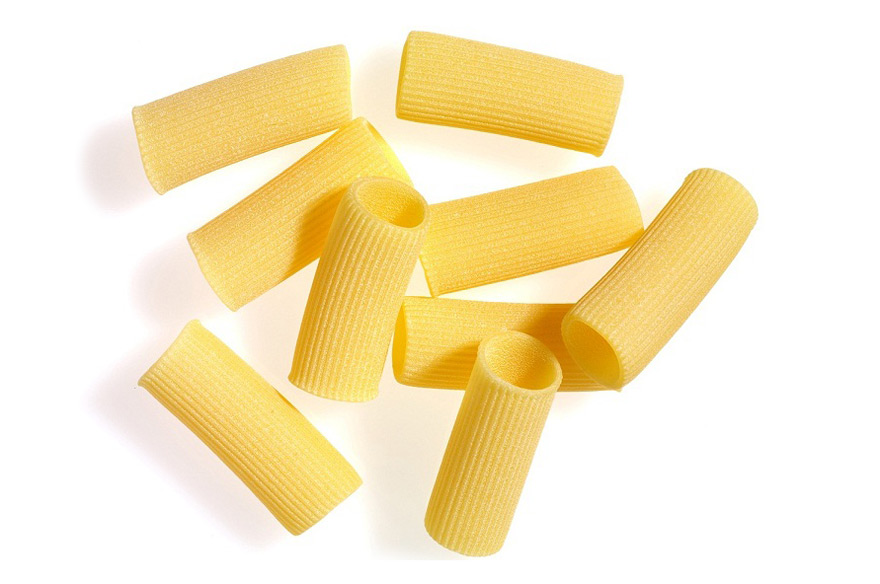 Rigatoni looks like a much smaller manicotti pasta and is commonly found in the US. It's a more traditional type of pasta and because it's on the thicker side, it works well with heavier sauces.
Penne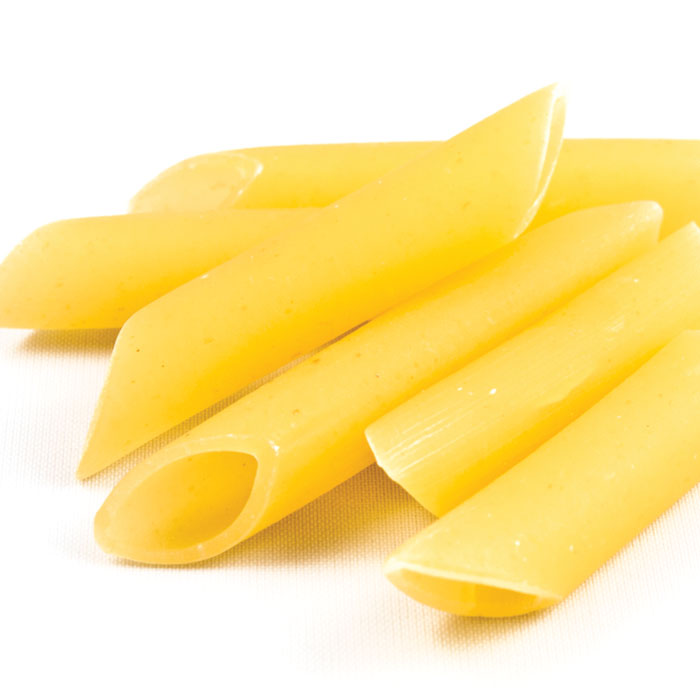 Similar to rigatoni, penne pasta is a slimmer and longer version of rigatoni. Penne is also a popular type of pasta in the US, and is used in almost every type of pasta dish imaginable – from light pasta salads to chunky tomato-based meat sauces.
Spaghetti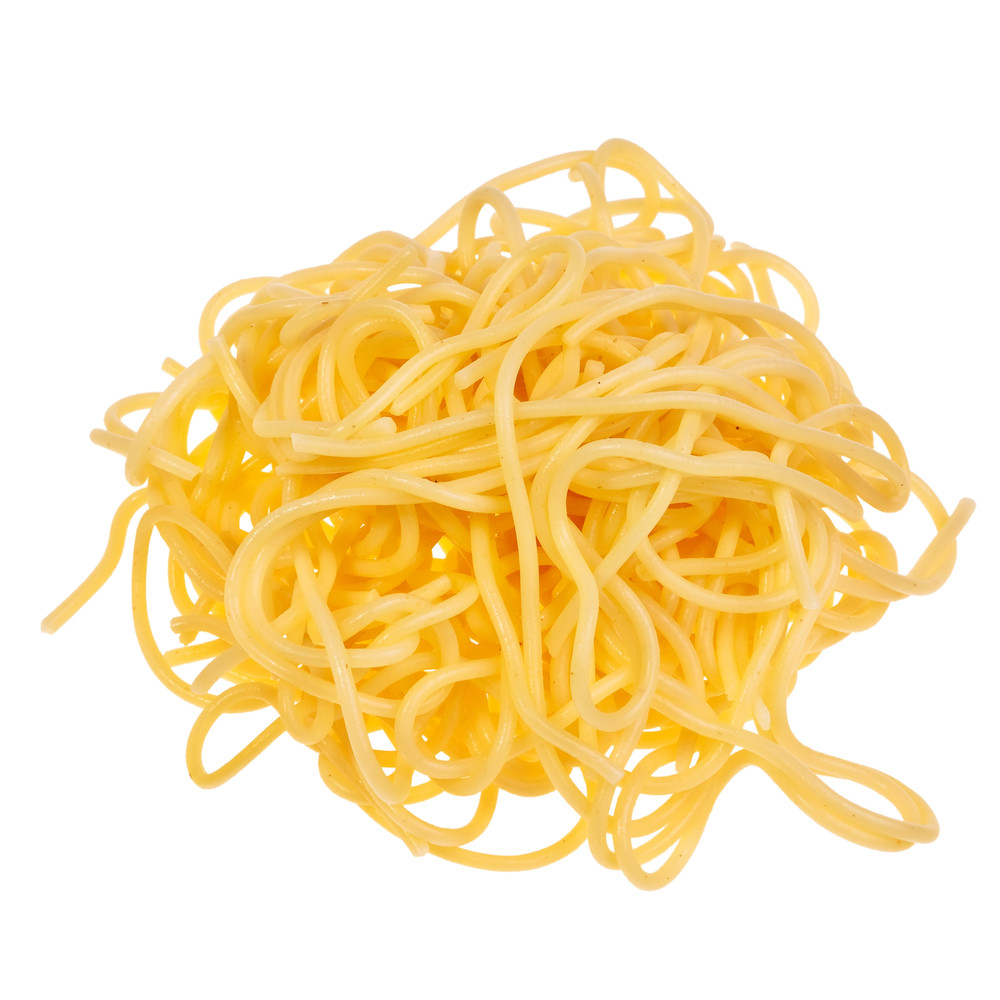 Spaghetti pasta is a long slender pasta, similar to angel hair, but thicker. It's used in its namesake dish: spaghetti. Aside from traditional tomato based sauces, spaghetti pasta also works beautifully when paired with creamy sauces.
Ziti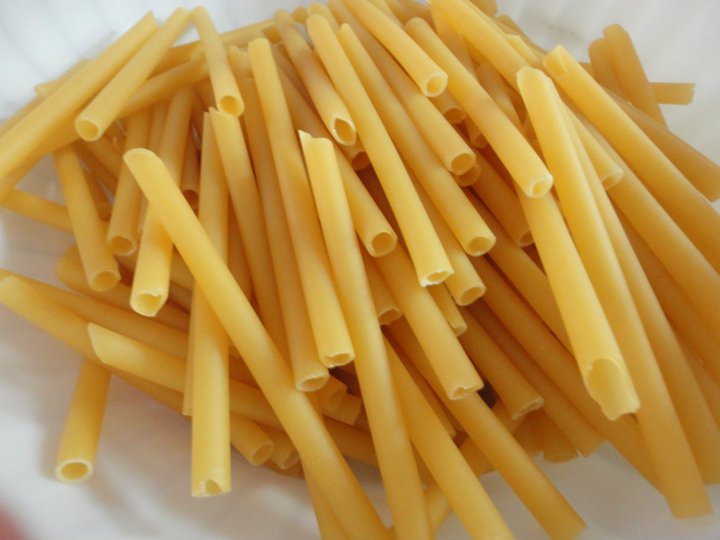 Ziti is a long, slender pasta, but with a slight twist – it's hollow inside. Since ziti is a heavy, sturdy pasta that can stand up to a lot, it's usually paired with heavy, chunky sauces. More specifically, ziti can be used in stir fry dishes, where it really shines.