An Easy Tuna Recipe – Tuna With Pesto Pasta Recipe
Most pesto pasta recipes out there are the main dish variety. There is nothing like a hot plate of pasta drizzled with the basil-y, cheesy, garlicky, nutty goodness that is pesto! The folks in Liguria knew what they were doing when they created Pesto – undoubtedly one of the most classic Italian sauces ever. Plus, pesto is one of the simplest sauces to make. There is no cooking, just chopping! It doesn't get easier than this. Another thing that makes it great – it is good cold – like on a pasta salad! And you can really up the game by adding tuna – canned tuna! Yep – canned tuna works for an easy tuna recipe
An Easy Tuna Recipe – The Pesto Recipe
Of course, any great pesto pasta recipe has to start with the pesto. The basics of pesto are simple – Fresh Basil + Pine Nuts + Parmesan Cheese + Olive Oil + Salt & Pepper. The ingredients are chopped together by hand, in a blender, in a food processor, or muddled in a mortar and pestle. The different techniques will all give slightly different textures. It really depends on your liking and, as usual when it comes to things in the kitchen, the time you are willing to give to cooking. In a pinch, that food processor is fine! If you have a chance and a mortar and pestle, give this technique a go and see the differences. I can assure you, a chunkier pesto is not a bad thing! In fact, when I am using a food processor, I pulse the basil, nuts and cheese then I add with oil without the machine running. I then give it a pulse or 3 to incorporate the oil, adding only enough oil to make it a thick pesto. This makes a chunkier pesto, but I also think it stops the olive oil from becoming bitter. Sometimes when olive oil is whipped too much I find it gets a little bitter. For a very smooth pesto, run the machine and add the oil as it is going.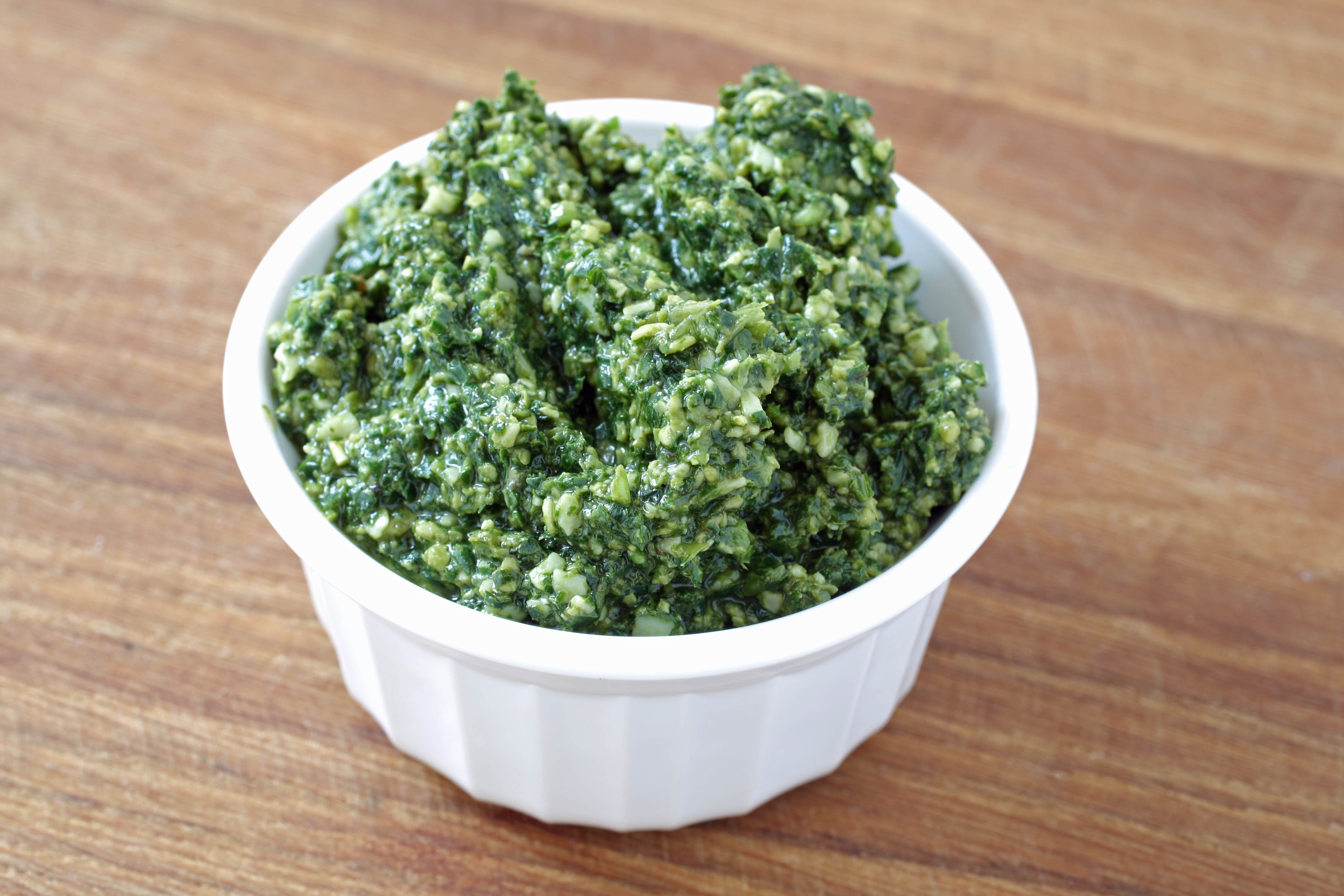 An Easy Tuna Recipe – The Pesto Change Up
The above is very classic, but you should know that this easy tuna recipe could be just as easy and tasty with a different pesto. Substitute Fresh Basil With Another Herb or Green (like Arugula)+ Substitute Pine Nuts With Other Nuts (Pecans, Walnuts, Macadamias) + Substitute Parmesan Cheese With Another Hard Cheese (Pecorino or Asiago) + Olive Oil + Salt & Pepper. With pesto, there are tons of different varieties. Pesto doesn't have to be green either. A tuna with sun-dried tomato pesto pasta would be perfect! Big yum!
An Easy Tuna Recipe – The Tuna – From A Can
Yep, that is right! Tuna from a can. Sure, you can use fresh, but that is getting more complicated. I like canned tuna! It is delicious. It makes my mouth water and it is perfect with both pasta and pesto. The tuna really takes a nice pasta dish and gives it some real protein impact.
A Easy Tuna Recipe – The Goodies
The possible additions to this easy tuna recipe are numerous – cherry tomato halves, fresh peas, mozzarella cheese, good olives. Even leaves like romaine or baby spinach can be added. Some purchased artichoke hearts or roasted vegetables are fantastic. All these additions go nicely with the pesto ingredients and the tuna. You really can't go wrong. Make a visit to to your favorite Italian deli for inspiration! Of course, adding an avocado is very nice, too.
Here is my tuna with pasta pesto recipe. It is so easy and delicious!