Easy Stuffed Tomato Recipe
In the heat of summer everyone needs an easy stuffed tomato recipe. Why? Because when I say an easy stuffed tomato recipe ,I mean one where there is no cooking involved. At least no cooking in the house. This easy stuffed tomato recipe calls for some cooked chicken, but you can march on down to the store and pick up an already cooked rotisserie chicken (or roasted chicken from home) – that will do the trick. Plus, you need to do something with summer's bounty of fresh tomatoes. Why not stuff them?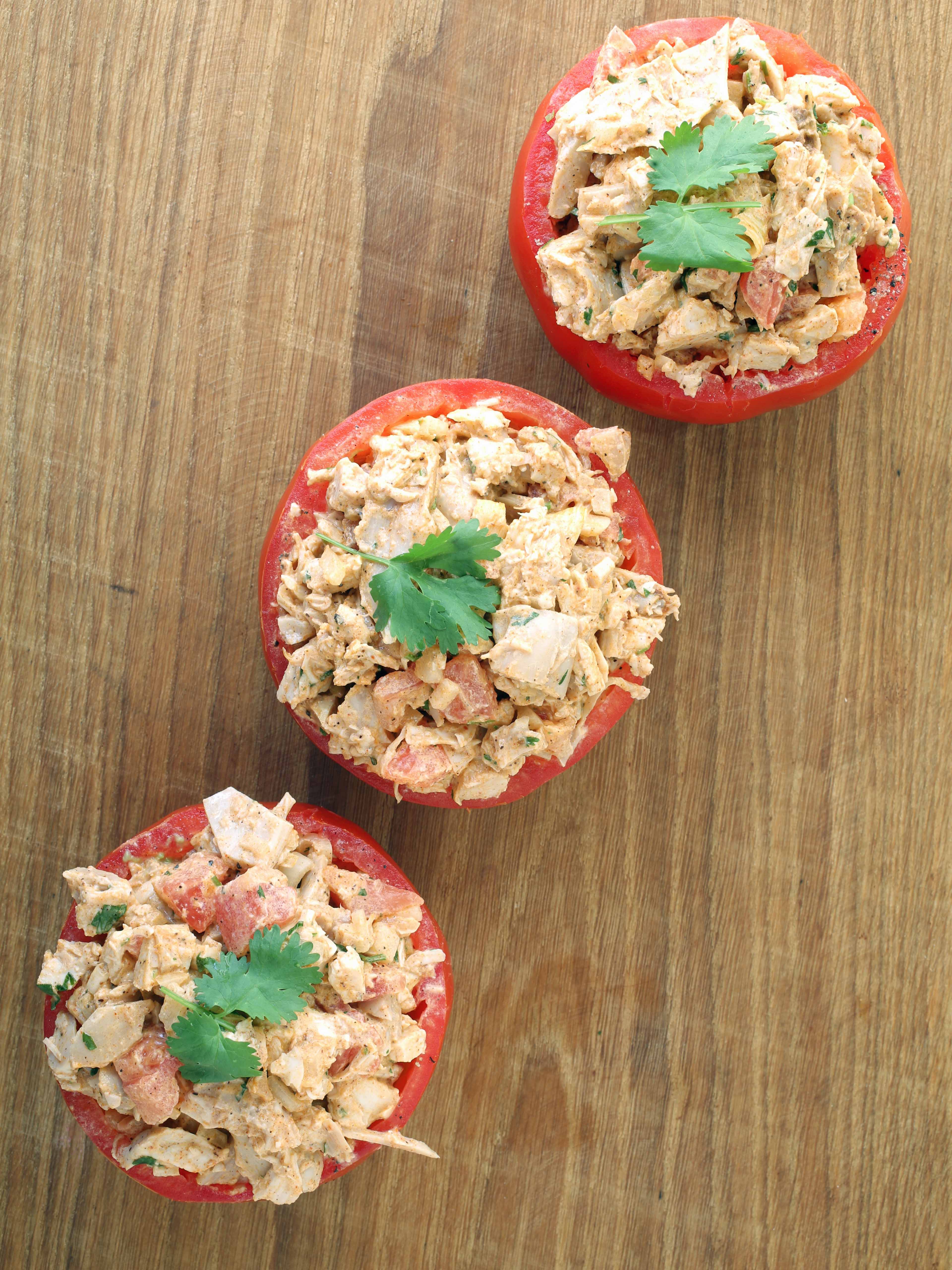 Easy Stuffed Tomato Recipe – The Tomato
Is there anything more tasty than a fresh summer tomato? With a dash of salt and pepper, a fresh from the garden, vine ripened tomato is a wonder to behold. They make for a nice vehicle, too. By cutting off the top and scooping out the insides, you have a very nice opportunity to stuff the tomato with other delicious ingredients! My preference is chicken, but tuna or even tofu works great, too!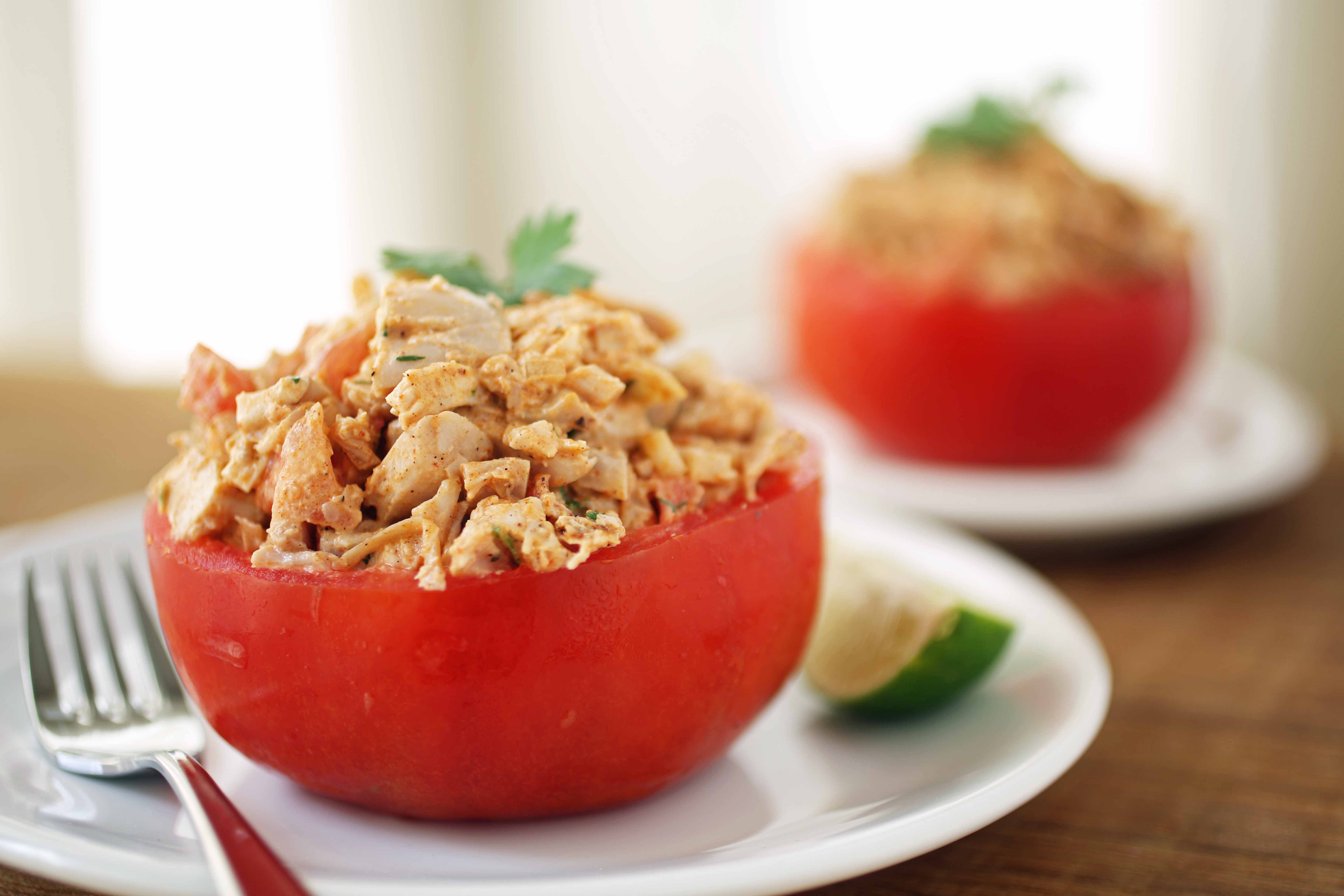 Easy Stuffed Tomato Recipe – The Chicken
As suggested, this easy stuffed tomato recipe calls for cooked chicken. When it is boiling hot out, I am not a big fan of roasting up a chicken in the oven even if I have air conditioning. An already cooked, cooked chicken is the way to go. Most of the work involves taking the meat off the bone and turning that meat into a nice chicken salad – a very jazzed up chicken salad. Such a salad makes for a nice light meal on hot days. And it is so tasty when served in a nice ripe tomato!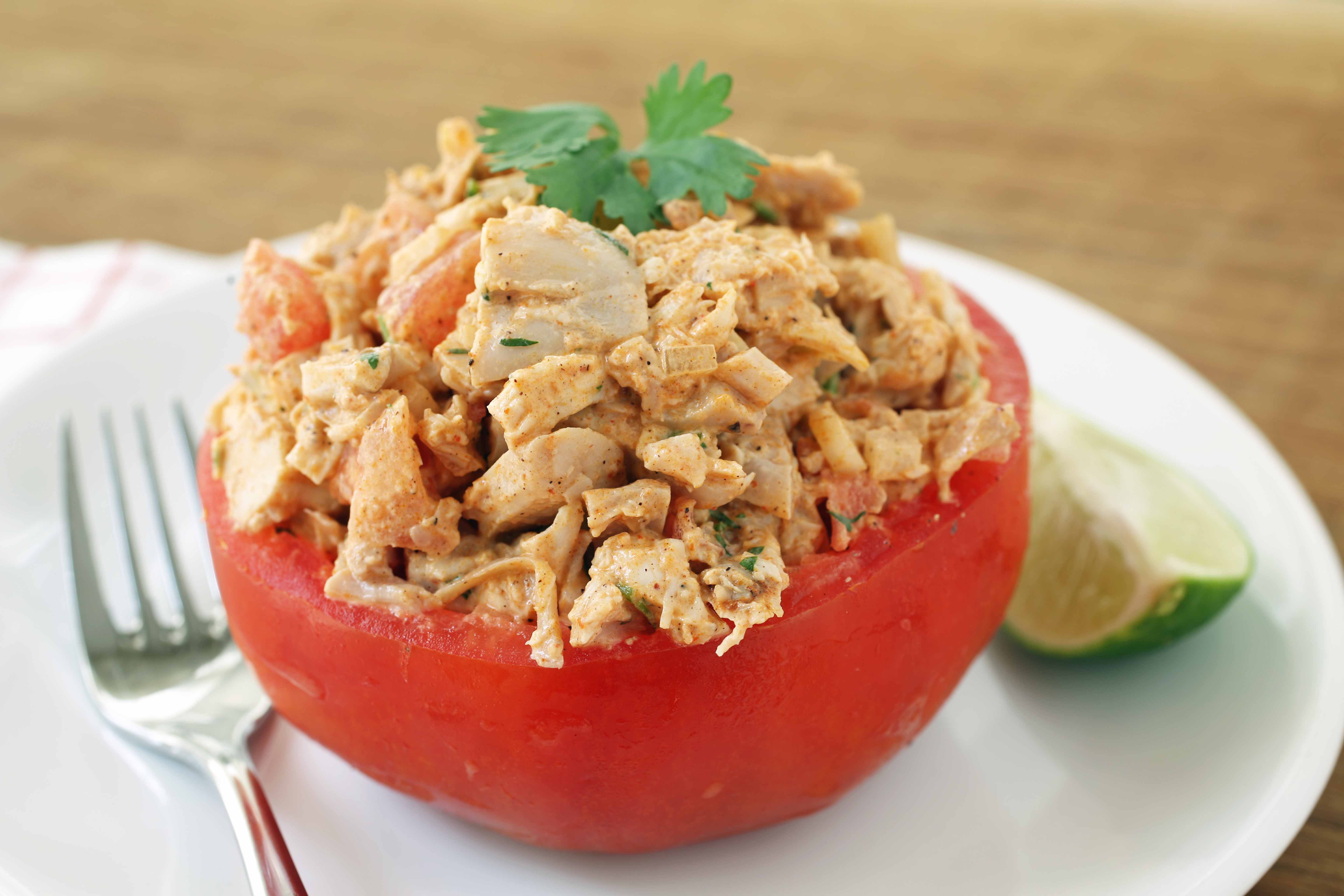 Easy Stuffed Tomato Recipe – The Flavors
For this easy stuffed tomato recipe, I like to take a page out of salsa making. That is, I use the same ingredients in salsa to make the chicken salad that stuffs the tomato. Some tomato, cilantro, sweet onion, lime juice and a dash of ancho chilli powder is all you need to make that chicken salad taste delicious! In a not so unusual twist, I still bind this salsa chicken salad with a few tablespoons of mayonnaise. The creaminess is a good thing and helps all the flavors come together nicely.
Easy Stuffed Tomato Recipe – An Added Stuffer
Since we are on a small salsa theme, I like to give the stuffed tomato a layer of extra creamy goodness. A mash of avocado, a little cucumber, some lime and cilantro makes a nice cool layer upon which the salsa chicken salad can rest. With the ancho chilli powder there can be a little heat. The avocado underneath is a nice counter balance. Plus, is there ever a bad time to use avocados? More creamy goodness is always welcome!
The 'Easy Stuffed Tomato Recipe' video is below and the full recipe follows.
Easy Stuffed Tomato Recipe
2017-07-27 04:21:54
Serves 4
An easy stuffed tomato recipe with no cooking! Great for summer!
Nutrition Facts
Amount Per Serving
* Percent Daily Values are based on a 2,000 calorie diet. Your Daily Values may be higher or lower depending on your calorie needs.
For The Chicken Salad
4 large tomatoes
1/2 of medium sweet onion
1 oz of fresh cilantro, divided
1 lb of cold already cooked chicken
2 tsp of and show chili powder
1/4 tsp of garlic powder
3 tbsp of your favorite mayonnaise
1 lime
Salt-and-pepper
For The Mashed Avocado
2 avocados
1 small piece of cucumber
1 lime
For The Chicken Salad Stiffing
With a sharp knife, cut off the tops of the tomatoes. With a spoon, carefully scoop out the flesh of the tomatoes reserving it for the stuffing. Be careful no to pierce the bottom of the tomato.
Chop the reserved tomato.
Dice the sweet onion finely.
Chop the cilantro.
In a large bowl, mix the chicken, onion, some of the cilantro, chopped tomato, spices, and a squeeze of fresh lime juice. Mix well. Add the mayonnaise. Mix well. Season to taste with salt and pepper.
For The Avocado Mash
Peel the avocados and remove the seed. Put the avocado in a medium bowl.
Finely dice the cucumber.
Mix the cucumber, avocado, and more of the chopped cilantro together. Season with fresh lime juice and salt and pepper to taste. Mix well.
Season the prepared tomatoes with salt and pepper. Scoop in some of the avocado mixture. Top the avocado mixture with the chicken salad. Garnish with cilantro.
Serve immediately or wrap the tomatoes and store them in the refrigerator.
The Culinary Exchange http://www.theculinaryexchange.com/
I hope you enjoy!
Keep Eating! Keep Innovating!
What do you stuff your tomatoes with? Let us know in the comments or on Facebook.
The Culinary Exchange can also be found on Twitter, Instagram, Pinterest, Google+ and YouTube.
Come On! Follow Along!