An Easy Chocolate Waffles Recipe
In my house, breakfast for dinner is a thing. I like breakfast for dinner – pancakes, waffles, eggs, shakshuka. Normally, though, I try and keep the breakfast more savory than sweet. I am only mildly embarrassed to say that I have made this easy chocolate waffle recipe for dinner. Its real intent was to be something more on the dessert side, but somehow we were eating chocolate waffles with chocolate sauce and whipped cream for dinner. Its ok, we had fruit salad, too. Then my son asked "What is for dessert?" Eggs.
An Easy Chocolate Waffles Recipe – The Chocolateyness
In truth, the chocolate waffle recipe I like best is not that indulgent. It is the chocolate sauce and whipped cream that can put it over the edge. The addition of some powdered sugar is not that healthy, but you have to top a waffle with something.The chocolatey goodness in the waffles comes mostly from cocoa with the addition of chocolate chips adding to the flavor. As a dessert, it works nicely. Perhaps a small reduction in chocolate chips could make it more dinner appropriate. The chocolate chips work well, but the use of a finer chocolate could really make a nice addition. A 70% cacao chocolate would do the trick.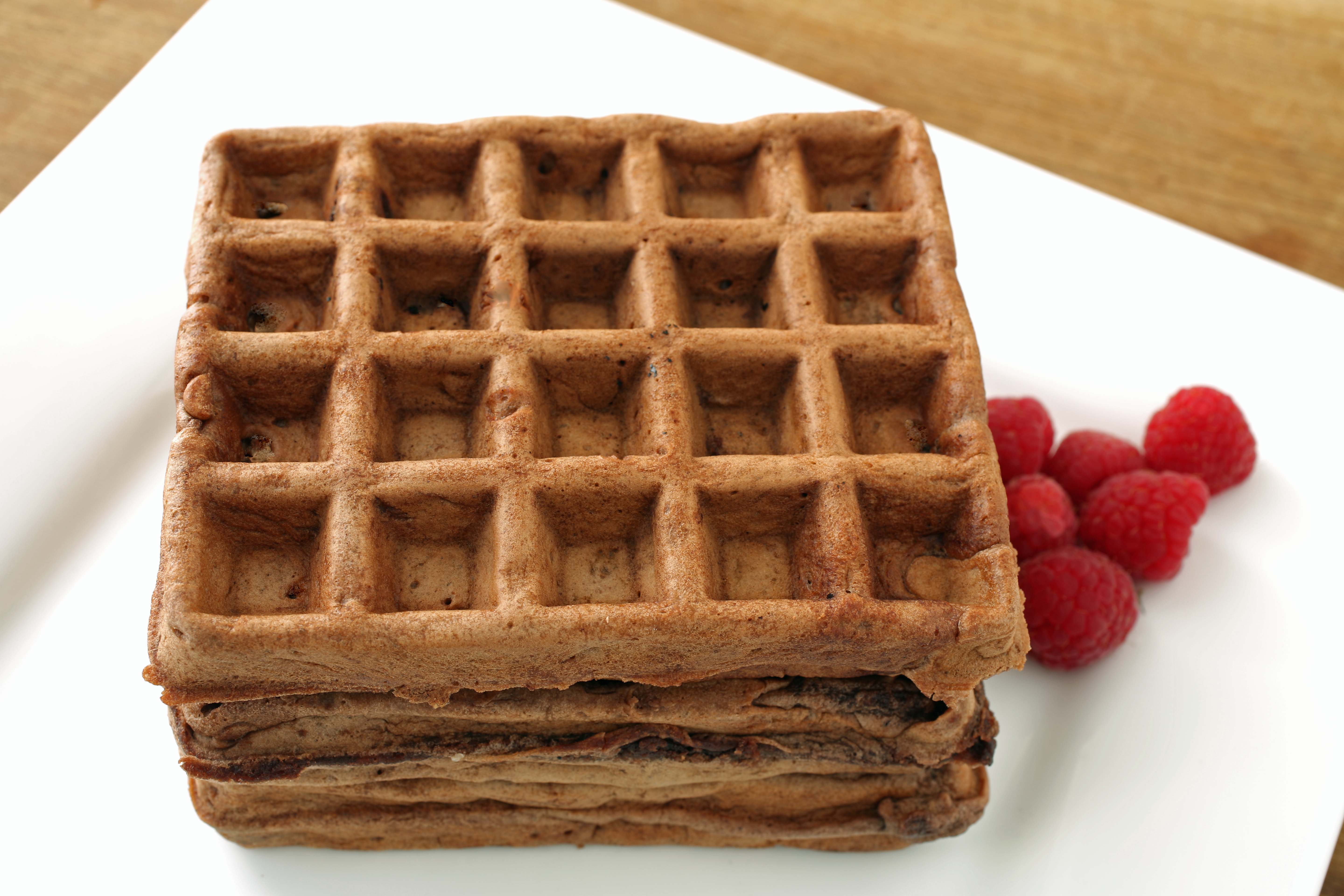 An Easy Chocolate Waffles Recipe – Beyond The Chocolate
Beyond the chocolate, the chocolate waffle recipe below is pretty straight forward. The dry ingredients are the usual staples and leveanors. The wet ingredients differ from most other recipes in that a nice portion of fat free, greek yogurt is used to add some tenderness to the waffle. I am not that big a fan of a crispy waffle. For dessert, I think something more cake-ish is best. The greek yogurt also helps keep the waffles moist and, although not that important, helps bring a little extra protein into the mix. I like using greek yogurt in my cooking and baking. I think it is a really nice addition to many dishes.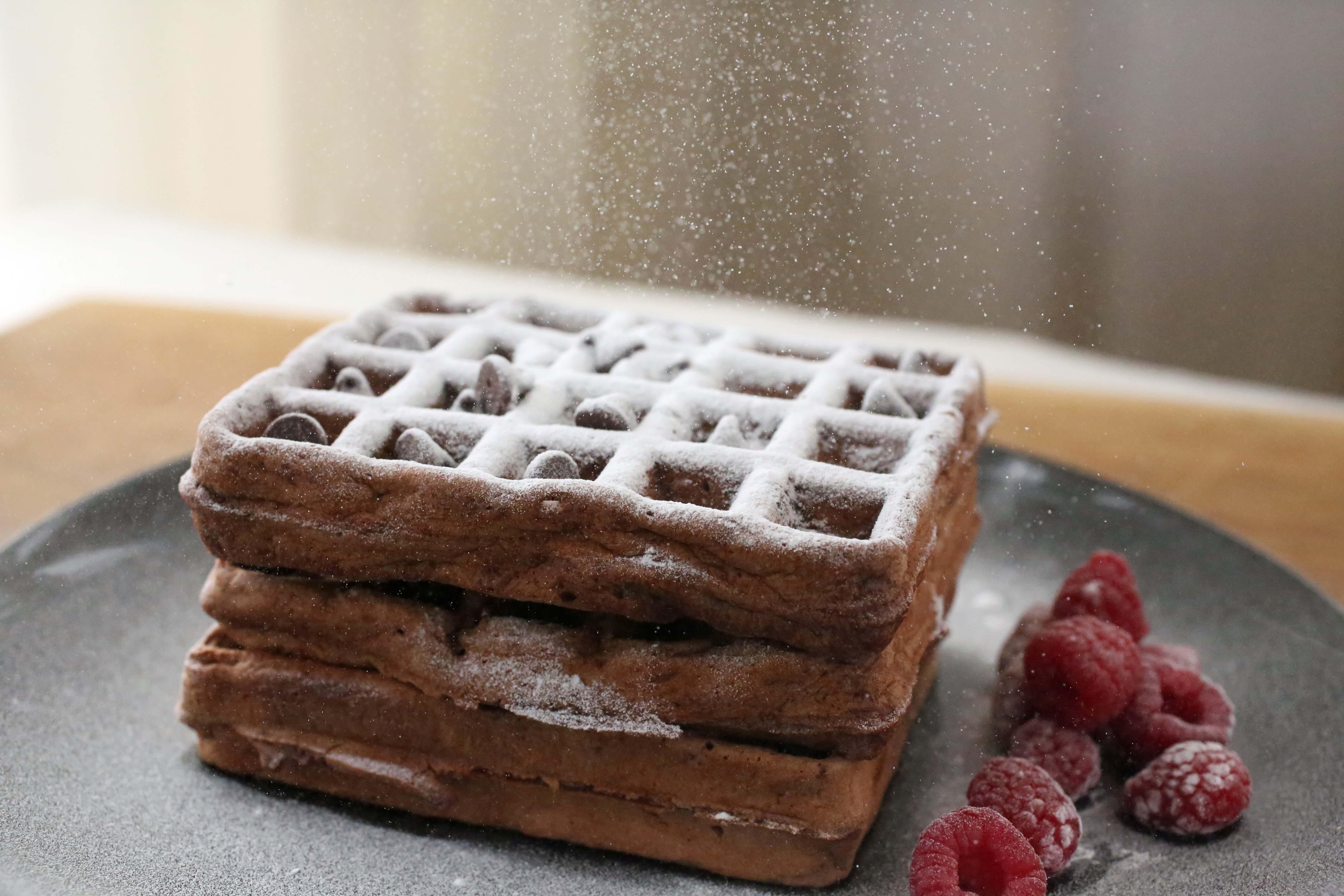 An Easy Chocolate Waffles Recipe – The Technique
As the phrase "easy chocolate recipe" implies, you won't find anything unusual regarding the making of these waffles. Dry ingredients mixed – wet ingredients mixed – dry and wet ingredients mixed to create a batter- batter cooks in a waffle iron. Pretty simple.
The "Easy Chocolate Waffles Recipe" how-to video is below. The full recipe follows.
Easy Chocolate Waffles Recipe
2017-03-31 03:39:28
An easy and delicious chocolate waffle recipe perfect for dessert, but can be used as a main meal!
Nutrition Facts
Amount Per Serving
* Percent Daily Values are based on a 2,000 calorie diet. Your Daily Values may be higher or lower depending on your calorie needs.
Dry Ingredients
1¾ cups of flour
⅓ cup of good cocoa powder
3 tbsp sugar
1 tsp baking powder
½ tsp baking soda
½ cup of your favorite chocolate chips
Wet Ingredients
1 cup of skim milk
6 oz fat free greek yogurt
4 tablespoons melted butter
3 eggs
1 tsp vanilla
Instructions
Pre-heat a waffle iron according to the manufacturer's instructions.
Pre-heat the oven to 200F.
In an large bowl, whisk all the dry ingredients together until they are well combined.
In another medium bowl, whisk together all the wet ingredients until they are well combined.
Whisk the wet ingredients into the dry ingredients until they just come together. Don't worry about any lumps.
Spray the waffle iron with non stick spray. Ladle batter into the waffle iron according to the manufacturer's instructions - usually about a half cup of batter per waffle.
Cook the waffle through to your liking using the desired waffle iron settings.
Continue to make waffles until all the batter is used. Place the waffles on a baking tray and keep the waffles warm in the oven as they are cooked.
Serve hot with chocolate chips, chocolate sauce, whipped cream.
The Culinary Exchange http://www.theculinaryexchange.com/