Herbed Chicken Schnitzel
I love a good schnitzel! Tender inside, crunchy outside! I dream about schnitzels so big that it almost hangs over the plate! I had one that big once in Switzerland! Mmmm….I remember it fondly. I am not picky about my schnitzel meat either – pork, veal (the classic) or chicken works just fine for me.
A classic schnitzel can be quite plain, but its plainness is no indicator of how delicious it is. A thin golden crust, perfectly wrapped around a tender piece of pounded veal, served with a wedge of lemon is classic. It can be spruced up in many ways, one of the simplest ways is to add dried herbs to the crust. Given the variety of herbs to choose from there is an endless array of herbed schnitzels that are possible.
Don't forget that you can also marinate the meat. This takes a little bit of extra time, but a bath of oil, lemon, garlic or whatever herbs you like will go along way to infusing some delicious flavor.
The Meat
When it comes to meat choice it really depends on my mood and what is on sale at my butcher. If veal is on the pricey side I go for pork, which is both a popular and delicious choice for this schnitzel. If I am in a chicken mood, then herbed chicken schnitzel it is. I dare say, though that you can bread and pan fry tofu, too. This is perfectly delicious when well seasoned. The flexitarian in me feels better that there is a vegan or vegetarian option when it comes to schnitzel. BTW, I make my butcher pound the the chicken breasts for my herbed chicken schnitzels. Why? Because that is his job. Sure, it is easy to pound chicken breasts between 2 pieces of parchment, but that is extra prep time and my butcher is really good at doing it fast. Plus, it is free! I ask her to get as close to 1/8th of an inch as possible.
The Breading – Flour – Egg – Bread Crumbs
One of the most classic cooking techniques is breading meat. It is, of course, the main techniques used in making a schnitzel. This is best for thinner pieces of meat as you don't want the crust to burn before the meat is cooked through. Challenge yourself and, when breading with this technique, do it with only one hand. This way one hand is clean for other jobs that may arise. This is a 4 step process. Here are the steps…
1. Dredge The Meat In Flour. Shake Off Excess
This is the foundation upon which the egg will cling to the Meat.
2. Dredge The Floured Meat In Beaten Egg
Add some water to the egg to thin it slightly. A thin coating is best. The Egg Holds the Bread Crumbs to the Meat.
3. Dredge The Meat In Bread Crumbs
This is the the part that makes it nice and crunchy. Make sure it is fully coated. Press the bread crumbs into the meat.
4. Using the back of a knife, make a criss cross pattern in the bread crumbs pushing the back of the knife into the coating.
This is a strange step, but when the coating shrinks in cooking, it helps stop it from breaking.
To Cheese or Not To Cheese
The flour step above is one that is ripe for challenge. It is possible to replace the flour with grated parmesan for an added hit of flavor. Heck, any hard cheese could work. Isn't this why cooking is so great? So many possibilities.
It is worth mentioning, that you can forgo the breading, too. An unbreaded schnitzel is a lighter alternative that will be different, but still delicious!
The Cooking
Classically, a schnitzel is cooked in clarified butter over medium high heat. The higher heat helps ensure that there is good browning of the crust and the meat cooks quickly enough so that it does not dry out before the crust is browned.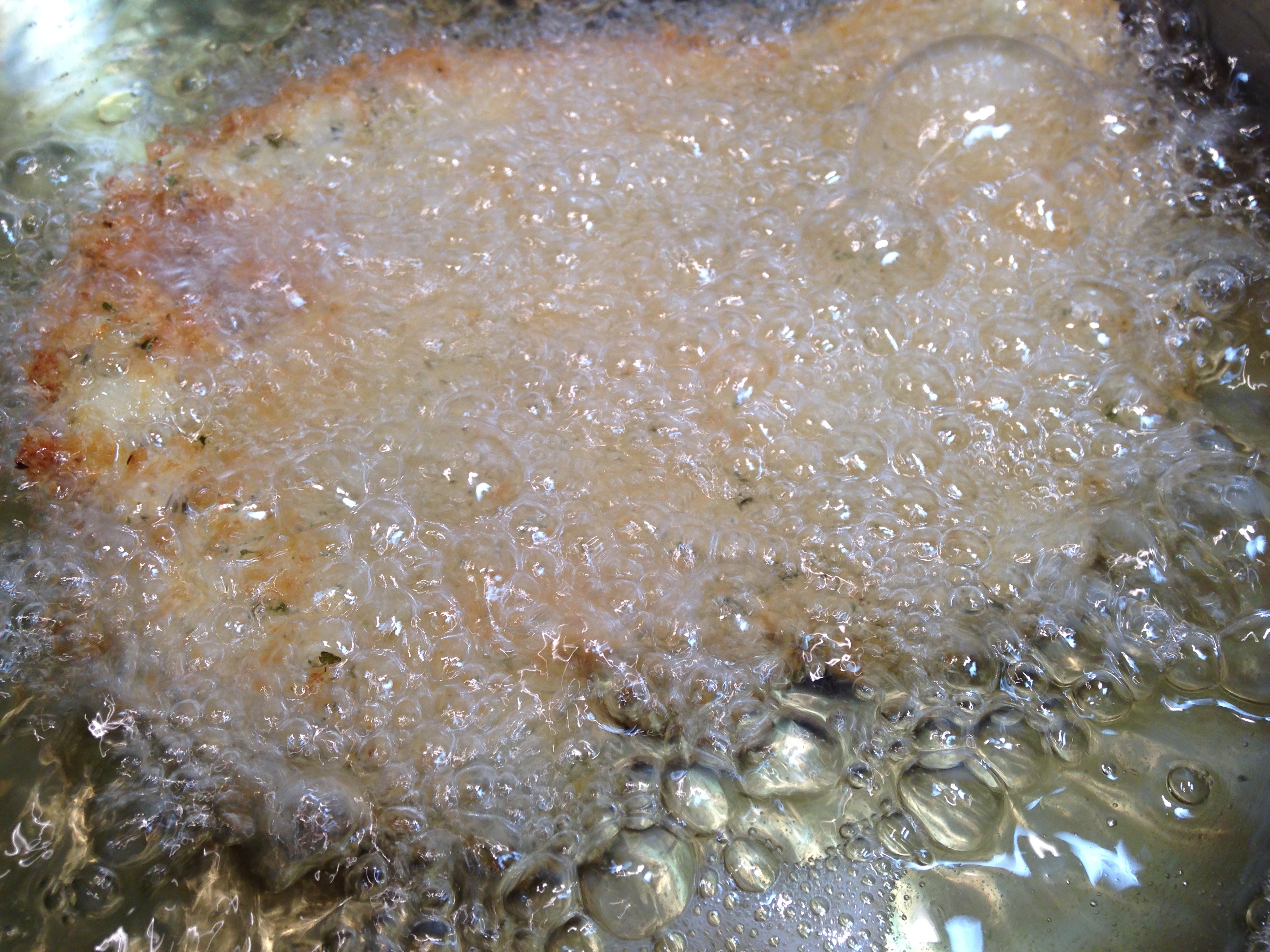 An alternative to this is to fry it in oil. A schnitzel can be "deep" fried (really only an inch or 2 of oil is needed) and a lump of butter added to the oil just before the schnitzel is done to impart a nice buttery flavor. Frying can be done in a large high sided pan, one schnitzel at a time. The schnitzel can then be drained on paper towel and kept in a warm oven until all of them are cooked. I find frying in shallow amounts of oil to be tricky. Typically, the frying temp should be about 350F. There are big fluctuations in temperature and it can be hard to keep control of it. Use a low flame so the temperature changes slowly. Let the temperature come back up to 350F between schnitzels. Try and keep the temperature as constant as possible. Fry too low and the schnitzel is greasy, fry too hot and the schnitzel and the oil could be scorched. Care should be taken not to let the oil get too hot. Frying like this takes practice! You will do great, just be careful.
Here is how I make Herbed Chicken Schnitzel…
I like to serve my herbed chicken schnitzel (or any schnitzel for that matter) with buttery noodles or vinegary potato salad.
hearty sandwich
the next day and who does not love a
sandwich
?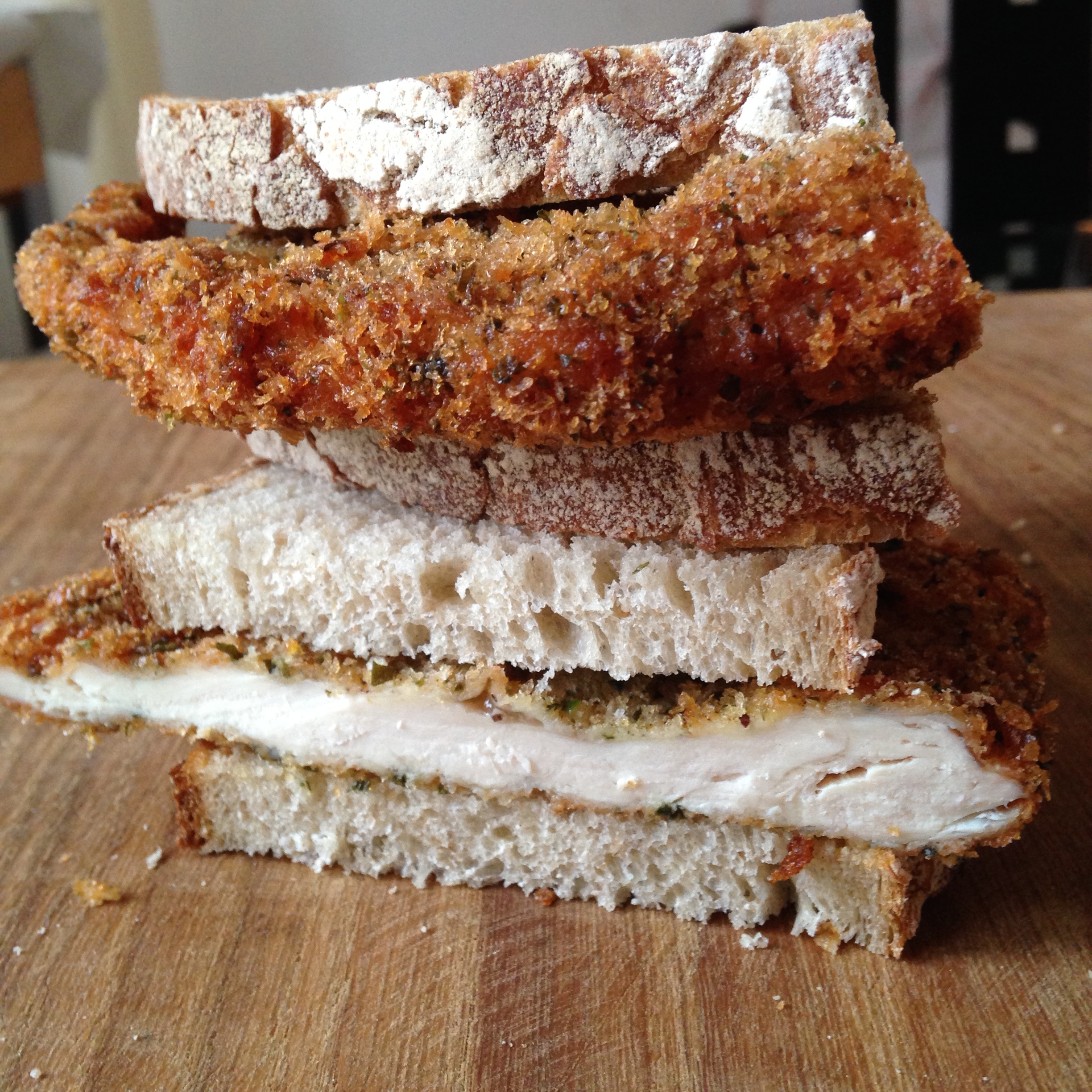 I hope you enjoy!
Keep Eating! Keep Innovating!
How do you make your schnitzel? Whats your favorite meat to use? Let us know all about it in the comments or on Facebook.
The Culinary Exchange can also be found on Twitter, Instagram, Pinterest, Google+ and YouTube.
Come on! Follow Along!