Beef and Red Wine Risotto
I love a good risotto. What I often find surprising when I go out for risotto is that it seems like you can only get mushroom risotto. Don't get me wrong, I like mushroom risotto, but there is so much more that can be done with it. For example – whatever happened to the classic risotto Milanese? You don't see that, or others on many menus. And why not a beef and red wine risotto? Red wine and beef seem to never be used and that is shame.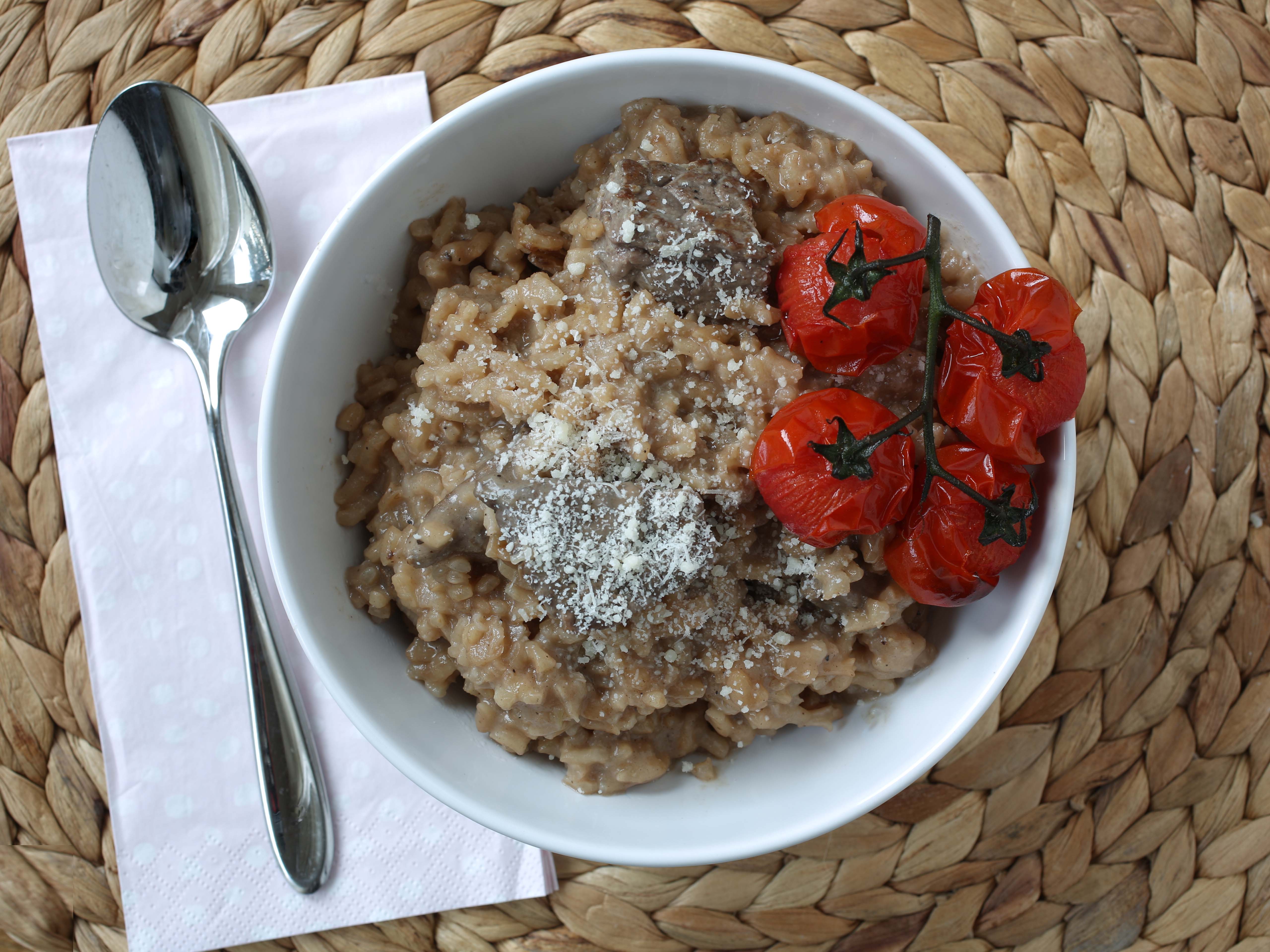 How To Make Risotto – From Standard to Not So Standard
Many times and in many recipes risotto is made with white wine and chicken stock, but it is nice to change it up with beef stock and red wine. When I make risotto with beef stock and red wine I feel like I am making a bit of a macho risotto. A beef and red wine risotto is a dish that is perfect on a chilly night. Yes, it is a hearty dish, but don't be fooled. Beef and red wine risotto can also be a very refined dish that is perfect for a romantic dinner. It does not have to be complicated either.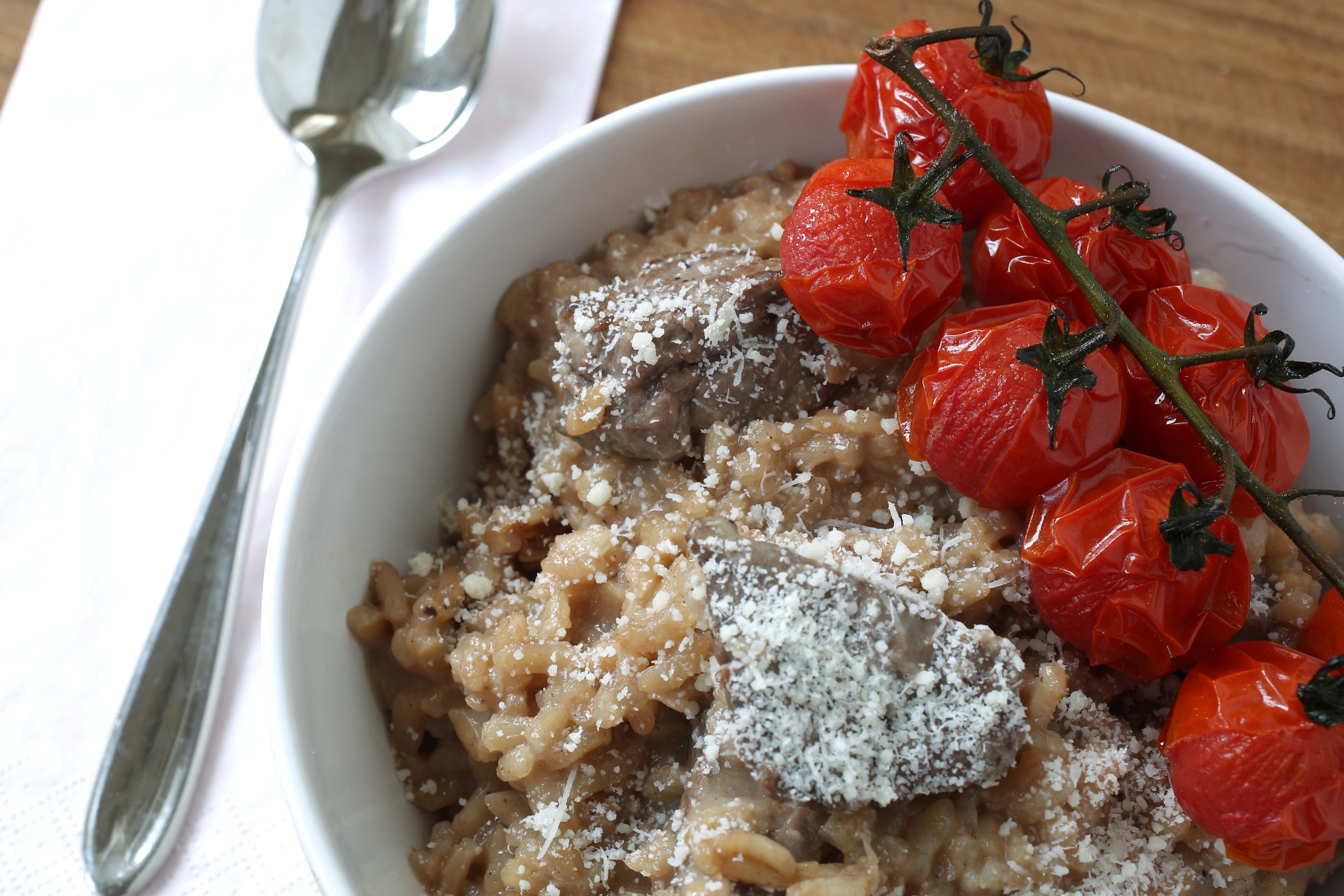 How To Make Risotto – You Can Make It Even Better
The recipe for Beef and Red Wine Risotto is simple and delicious, but there is a lot you can do with it. The addition of mushrooms would certainly be welcome. In fact, an alternative to beef could be cubes of portobello mushrooms. Using some tofu and vegetable stock with the mushrooms would create an equally delicious vegetarian or vegan option.
The video below shows you all the steps necessary to make a simple and delicious Beef and Red Wine Risotto. The full recipe follows.
Beef and Red Wine Risotto
2015-02-09 06:05:53
Serves 6
A delicious risotto done a little differently with red wine and beef!
Nutrition Facts
Amount Per Serving
* Percent Daily Values are based on a 2,000 calorie diet. Your Daily Values may be higher or lower depending on your calorie needs.
Ingredients
18 cherry tomatoes
Olive Oil
3 tbsp of butter
2 small shallots or 1 medium sweet onion
1 clove of garlic
1 lb of beef tenderloin or sirloin
2 cups of arborio rice
¾ cup of red wine - like a pinot noir or chianti
4 cups of beef stock
½ cup of cream
⅓ cup of parmesan cheese
salt and pepper
For The Prep
Toss the cherry tomatoes in olive oil and season with salt and pepper. Place the tomatoes on a baking tray and place the tray under the oven broiler. Broil/roast the tomatoes until softened and getting caramelized.
Peel the shallots/onion and dice finely.
Peel and chop the garlic finely
Trim and cube the beef into medium cubes. Season with salt and pepper.
For The Cooking
In a large pan, melt the butter over medium high heat. Add the meat and brown the cubes and cook until just medium. Remove the beef from the pan.
Add the chopped shallot/onion and garlic. Cook the mixture until they are soft.
Lower the heat to medium. Add the risotto rice. Cook a few minutes allowing the rice to absorb any liquid in the pan, about 2 minutes.
Add the wine and stir well. With continuous stirring, allow the wine to simmer and to be fully absorbed by the rice.
Add beef stock 1/2 cup at a time, stirring. Allow the stock to simmer and be absorbed before adding the next 1/2 cup. Keep adding stock until the rice is creamy and al dente.
Add the cream and mix well. Add parmesan cheese. Mix well . Simmer 2 minutes.
Add the beef and any juices back to the pan. Heat the beef through.
Season with salt and pepper to taste. Garnish with tomatoes and extra parmesan cheese.
Serve hot.
Notes
For a vegetarian option, replace the beef stock and beef with vegetable stock and tofu or cubes of portobello mushrooms. Replace the cream with an appropriate vegetarian replacement.
The Culinary Exchange http://www.theculinaryexchange.com/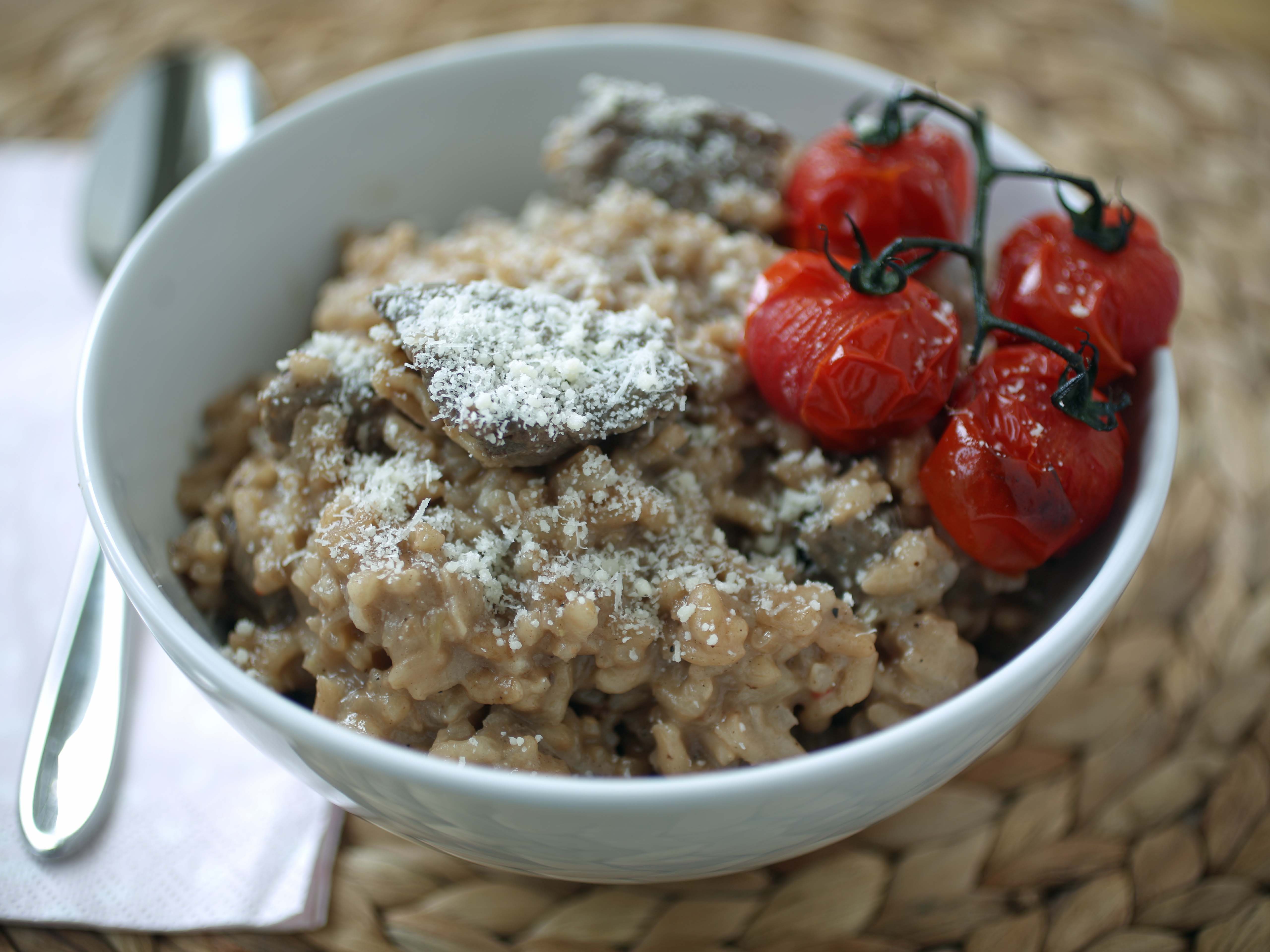 A nice robust Beef and Red Wine Risotto like this one is a great hearty meal and is easy enough to make in the middle of the week. It is nice to change it up a bit by using red wine and beef stock instead of having the same old same old. With the addition of some fennel or sautéed asparagus and crusty bread a great meal is made.