Avocado Soup
When I think about avocado, it almost immediately jumps to guacamole and delicious Mexican food. Guacamole is the primary reason why avocados are so popular. A creamy, tangy guacamole is so delicious with fresh corn tortillas, but, as you doubtlessly know, there is more to do with them then just slice, dice and mash them into guacamole. I like a nice avocado soup. Like guacamole, a creamy and cool avocado soup makes for a nice foil to lots of spicy foods. Plus, if I am not in the mood for Mexican, a variety of different herbs and spices can be used that take the soup to practically any international destination. Italian – Basil and Garlic, French – Herbs de Provence, Greek – Feta and Olive, Japan – Soy Sauce and Wasabi. It is totally flexible and allows for maximum creativity.
A soup of avocado is very easy to make. It essentially involves whipping some avocado with the stock of your choice – vegetable or chicken. The addition of some supporting flavors and cream finishes the soup, which, by the way, is all done in the blender. Since it is served cold or at room temperature, you can make it the day before or just before serving leaving time for it to cool a little before serving.
Spicy Quesadillas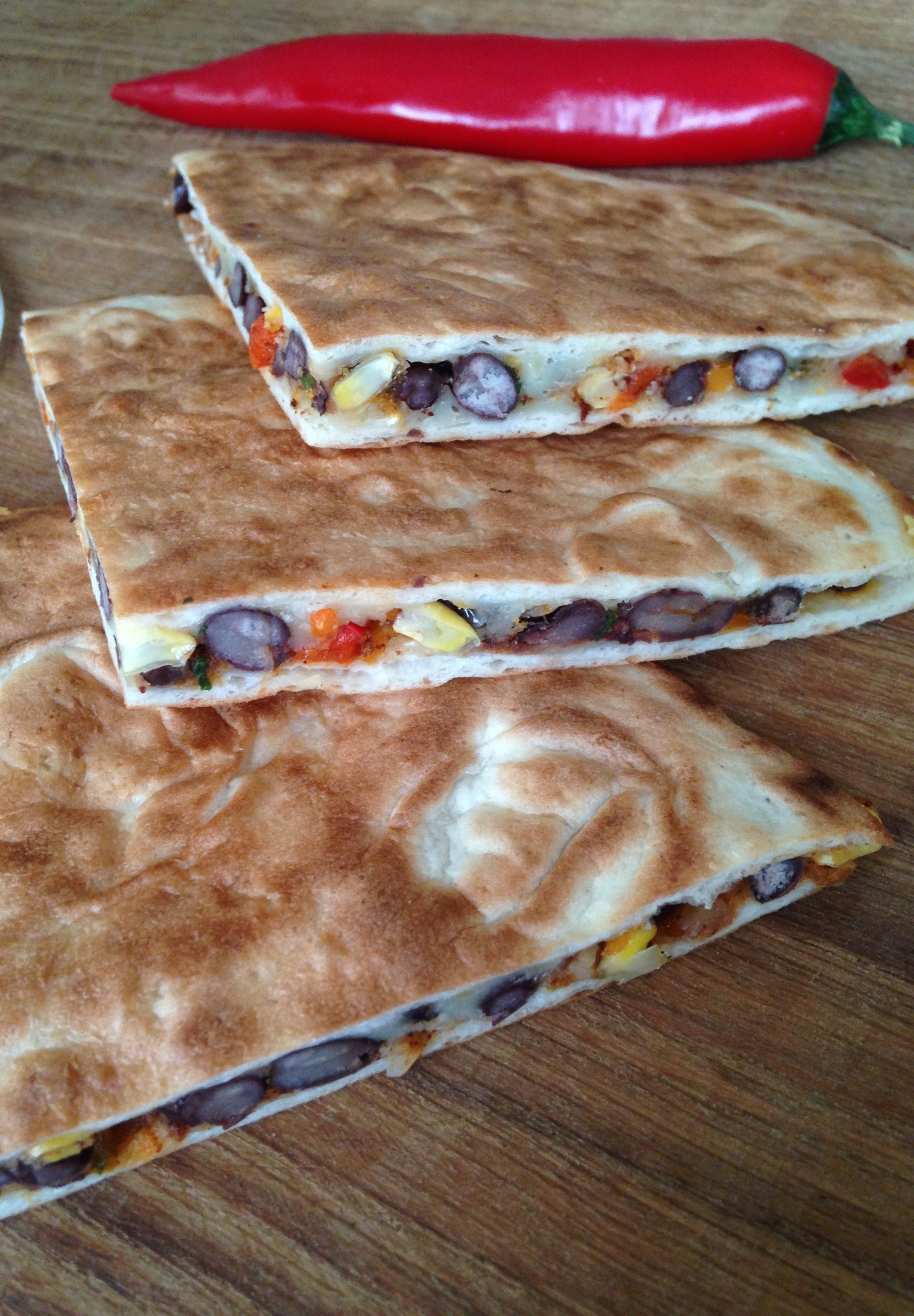 The dipping and dunking factor for avocado soup is high! In a Mexican frame of mind, what better to dip into a creamy avocado soup than spicy quesadillas. They go so well together!
I love a good bean quesadilla, not only because it fits my flexitarian mojo, but because spicing up a can of black beans is easy. Canned Beans? You ask! Yes, canned. Mostly because I don't need any broth, just beans for quesadillas. Plus, canned are perfectly cooked and a blank slate. I can season as I like.
A layer of spiced beans sandwiched between 2 corn or flour tortillas with a layer of good cheese and pico de gallo, and melted together as you would a grilled cheese sandwich (sans butter in the pan though) makes a great meal.
You can turn this into a tostada of sorts by making ten open faced. Just bake them on a baking sheet instead of making them on the stove.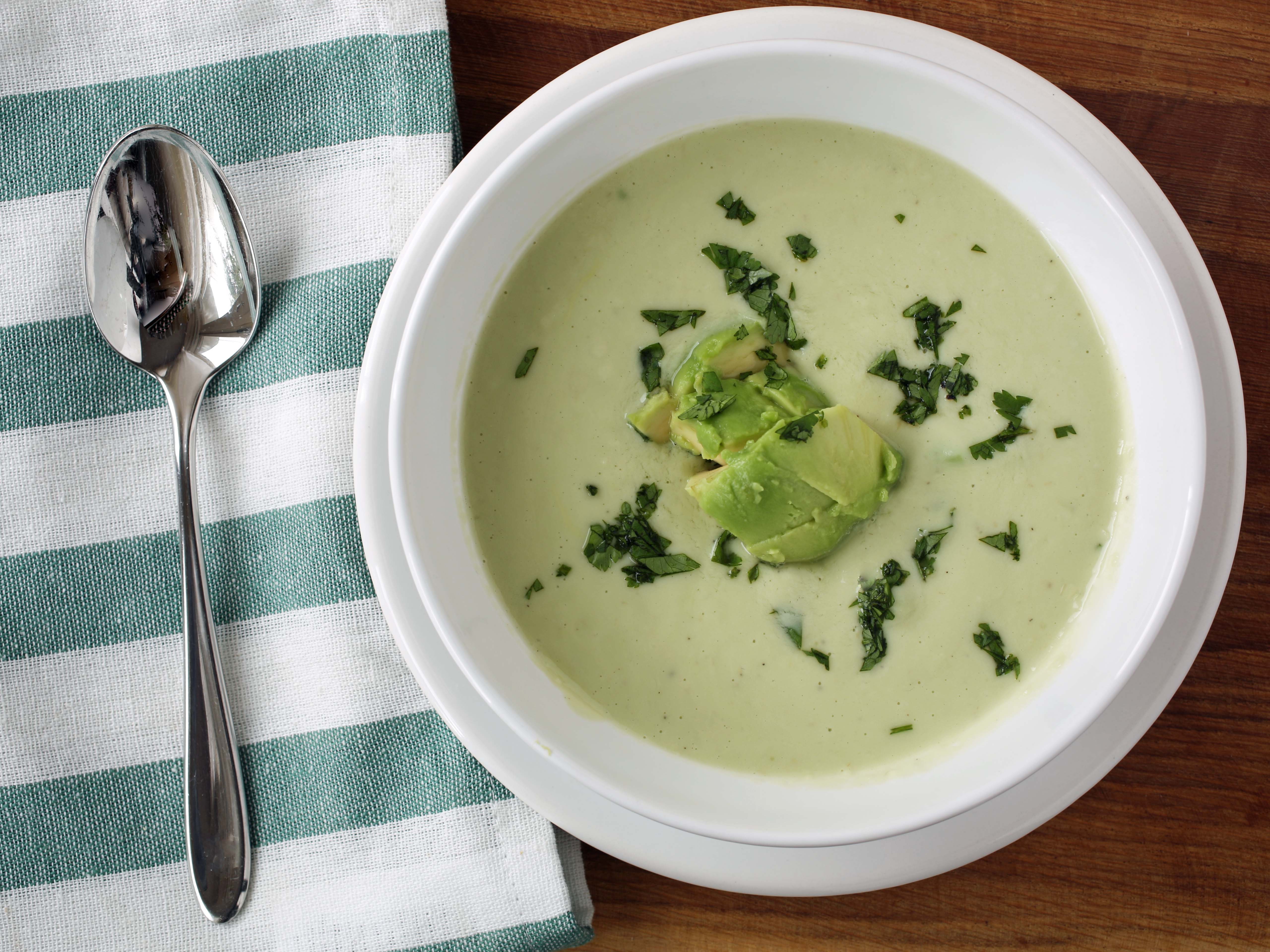 Avocado Soup Video
The video below show all the steps involved in making the avocado soup.
Avocado Soup Recipe
Creamy Avocado Soup
2015-01-26 05:11:24
Serves 4
A creamy and delicious avocado soup that is simple to make. Plus, with a little creativity, it can be made it can be made in a variety of international cuisine styles. This is certainly one of those easy avocado recipes.
Nutrition Facts
Amount Per Serving
* Percent Daily Values are based on a 2,000 calorie diet. Your Daily Values may be higher or lower depending on your calorie needs.
Ingredients
3 ripe avocados (3/4lb avocado flesh hold back a little for garnish)- Haas is best
1 medium sweet onion (about 1/4 lb)- like Vdalia
4 cups of vegetable or chicken stock
1 cup of cream or fat free greek yogurt
1 lime
salt and pepper
1/2 oz. fresh cilantro
avocado oil (optional)
Instructions
Peel the avocado and remove the seed.
Peel the onion and quarter.
Finely chop the cilantro.
Place the onion and avocado into a blender. Add the greek yogurt or cream. Squeeze in the juice of the lime.
Bring the stock to a simmer. Carefully add the stock to the blender and blend until smooth about 1 minute. Make sure the top of the blender cap is open slightly so steam does not build up. Hold the blender cover down firmly with a dish towel.
Pass through a fine sieve (optional, but makes a nice luxurious soup). Cool completely.
Season to taste with salt and pepper.
Store in the refrigerator until ready to serve. Serve cold or at room temperature.
Garnish with diced avocado, cilantro and drizzle with avocado oil.
Vegan or Vegetarian Option
Use soy cream or other cream alternative or skip it all together. Be sure to use vegetable stock.
The can be made ahead. Store the soup in the refrigerator with cling wrap touching the surface to avoid any dis-coloration.
The Culinary Exchange http://www.theculinaryexchange.com/
Spicy Black Bean Quesadillas Recipe
Spicy Black Bean Quesadillas
2015-01-26 05:44:54
Serves 4
Simple and delicious Spicy Black Bean Quesadillas
Nutrition Facts
Amount Per Serving
* Percent Daily Values are based on a 2,000 calorie diet. Your Daily Values may be higher or lower depending on your calorie needs.
For The Black Beans
1 16 oz can of Black Beans
1/2 of a medium sweet onion (about 4 oz) - like Vidalia
1 small bunch of fresh cilantro (about 1/4 oz)
2 tsp Chill powder (use ancho chili powder if you want it mild)
1 ear of fresh corn (4 oz) (a small can of corn if fresh is not available)
1/2 of a red pepper (3-4 oz)
1 jalapeño pepper
olive oil
salt an pepper
For The Pico de Gallo
1/2 lb of tomatoes
1 small bunch of cilantro (1/4 oz.)
1 medium sweet onion (4oz)
salt and pepper
1 lime
For The Quesadillas
8 corn or flour tortillas
1/2 lb pepperjack or cheddar cheese
For The Beans
Drain the beans and rinse well.
Peel and dice the onion.
Chop the cilantro leaves finely.
Slice the corn from the ear.
Dice the red pepper into small dice. Dice the jalapeño pepper.
In a large bowl, mix the beans, onion, cilantro, corn, and red pepper. Add jalapeño to taste.
Season to taste with chill powder, salt and pepper.
Stir in 2 tbsp of olive oil.
For the Pico de Gallo
Chop the tomatoes.
Finely chop the cilantro.
Peel and dice the onion.
In a bowl, mix the tomato, cilantro and onion.
Squeeze in the juice of the lime to taste.
Season to taste with salt and pepper.
For the Quesadillas
Preheat the oven to 200F.
Shred the cheese on the fine side of a box grater.
Place one tortilla in a large saute pan, over medium heat.
On the tortilla, sprinkle some cheese. Spoon on a layer of beans. Spoon some pico de gallo over the beans.
Sprinkle on another layer of cheese. Top with another tortilla.
When the bottom tortilla is golden and the cheese begins to melt, flip the quesadilla and cook until the tortilla is golden. (It may be helpful to flip onto a plate then place the quesadilla back in the pan.)
Remove from pan to an oven proof tray.
Place the oven proof tray in the oven to keep the quesadilla warm.
Repeat, cooking 3 more quesadillas.
Notes
Another option is to place tortillas on a baking tray, add the filling and cheese then leave open faced. Bake in the oven 10 minutes until the cheese is melted and the tortilla begins to brown.
The Culinary Exchange http://www.theculinaryexchange.com/
Delicious avocado soup perfectly paired with spicy black bean quesadillas! This is fantastic Eating! Both add up to a great meal that everyone is sure to love. Remember, if you are not in a Mexican state of mind, change it up a little and put your own twist on it. I hope you enjoy!
Keep Eating! Keep Innovating!
What are your Avocado Soup secrets? Do you have a favorite Quesadilla? Let us know all about it in the comments or on Facebook.
The Culinary Exchange can also be found on Twitter, Instagram, Pinterest, Google+ and YouTube.
Come on! Follow Along!